Austin Peay Sports Information Office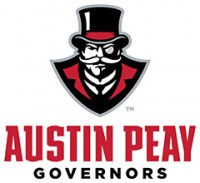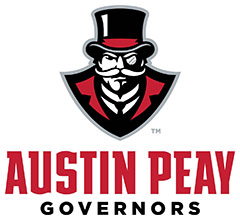 Dallas, TX – Austin Peay State University senior punter Ben Campbell is one of 167 semifinalists for the 2014 National Football Foundation Campbell Trophy, college football's premier scholar-athlete award.
A Johnson City, TN native, Campbell is one of three Ohio Valley Conference and 37 Football Championship Subdivision nominees for the Campbell Trophy.
An elementary education major with 3.4 grade-point average, Campbell is a five-time member of the Athletics Director's Honor Roll, including one semester on the Dean's List.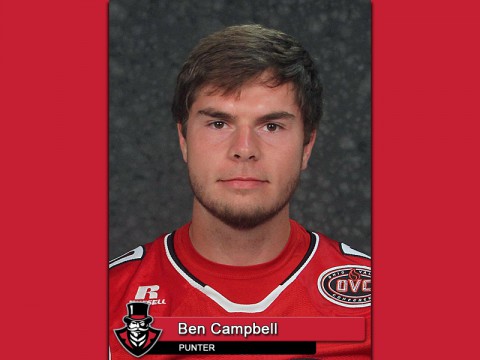 Off the field he is a Young Life campus leader and has been involved in local grade-school reading programs. This past summer he spent a six-week internship with Tennessee District 1 Congressman Phil Roe, an Austin Peay alum.
Campbell is a four-year starter on the field. Last season he set the APSU record for single-season punts (87) and yards (3376). He already has punted 30 times in three games this season.
The award recognizes an individual as the absolute best football scholar-athlete in the nation, and up to 16 of the candidates will be named recipients of a prestigious NFF National Scholar-Athlete Award, also presented by Fidelity Investments.
Launched in 1959, the NFF National Scholar-Athlete program awards $18,000 scholarships that can be used for the honorees' postgraduate educations. This year's recipients will be announced October 30th, and one will be declared the winner of the Campbell Trophy December 9th at the 57th NFF Annual Awards Dinner.
Named in honor of Bill Campbell, the chairman of Intuit, former player and head coach at Columbia University and the 2004 recipient of the NFF's Gold Medal, the award comes with a 25-pound bronze trophy and increases the amount of the recipient's grant by $7,000 for a total post-graduate scholarship of $25,000.
A total distribution of $300,000 in scholarships will be awarded at the NFF Annual Awards Dinner.
Launched in 1959, the NFF scholar-athlete program became the first initiative in history to award post-graduate scholarships based on both a player's academic and athletic accomplishments. The William V. Campbell Trophy, first awarded in 1990, adds to the program's mystique, having previously honored two Rhodes Scholars, a Rhodes Scholar finalist, two Heisman Trophy winners and five first-round NFL draft picks.
Earlier this month, Fidelity Investments became the first presenting sponsor of the Campbell Trophy.