Tennessee Titans (1-2) at Indianapolis Colts (1-2)
Sunday, September 28th, 2014 | 1:00pm EDT/Noon CDT
Indianapolis, IN | Lucas Oil Stadium (capacity 63,000) | TV: CBS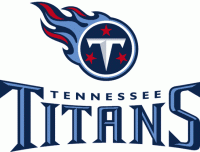 Nashville, TN – This week the Tennessee Titans play their second consecutive road game against a reigning division champion, traveling to Indianapolis to face the Colts. Kickoff at Lucas Oil Stadium  is scheduled for 1:00pm EDT/noon CDT on Sunday, September 28th.
The Titans and Colts own identical 1-2 records heading into the Week 4 matchup, the Titans' first divisional clash of 2014. The clubs are tied for second place in the AFC South, one game behind the Houston Texans (2-1).
Sunday marks the 40th all-time meeting between the two franchises, including the regular season and playoffs. The Colts lead the series 25-14 and can boast a current streak of five consecutive wins against the Titans dating back to 2011.
This week's game will be televised regionally on CBS, including Nashville affiliate WTVF NewsChannel 5. Kevin Harlan will handle play-by-play duties, and Rich Gannon will serve as analyst.
The Titans Radio Network, including Nashville flagship 104.5 The Zone, will broadcast the game across the Mid-South with the "Voice of the Titans" Mike Keith, analyst Frank Wycheck, gameday host Rhett Bryan and sideline reporter Jonathan Hutton.
Tennessee Titans Last Week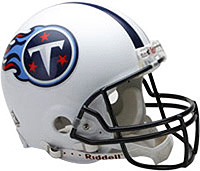 The Titans were on the road in Week 3 to face the defending AFC North Champion Cincinnati Bengals. Despite the Titans winning a number of statistical battles such as total yards (326 to 300), rushing yards (149 to 116) and time of possession (31:16 to 28:44), the Bengals built an early lead and never looked back, winning 33-7.
Titans running back Shonn Greene provided a late touchdown on a one-yard run, capping a rushing day by the Titans that also included a team-high 61 yards on 10 carries by rookie second-round pick Bishop Sankey. Quarterback Jake Locker accounted for 50 rushing yards, followed by Greene's 33.
The Bengals countered with three rushing touchdowns, two by Giovani Bernard and one by Jeremy Hill. Additionally, wide receiver A.J. Green caught six passes for 102 yards. The Titans suffered their second loss in as many weeks after beginning the campaign with a 26-10 win at Kansas City. In Week 2, they dropped a 26-10 decision at the hands of the Dallas Cowboys.
After their trip to Indianapolis, the Titans will return to LP Field for two straight home games. They face the Cleveland Browns on October 5th and the Jacksonville Jaguars on October 12th.
Indianapolis Colts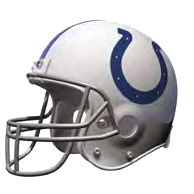 The Colts are hoping in 2014 for their third consecutive playoff berth and second consecutive AFC South title under head coach Chuck Pagano. Pagano was hired in January 2012, and since that time, the Colts have built a 23-12 record in the regular season.
Like Pagano, quarterback Andrew Luck is in his third season in Indianapolis. He was named to the Pro Bowl after each of his first two campaigns, and in 2013, he surpassed Cam Newton (7,920) for the most passing yards by a quarterback in his first two NFL seasons. Luck became the first quarterback in NFL history to throw for more than 8,000 yards in Years 1-2.
Last week the Colts traveled to Jacksonville to face the division-rival Jaguars. They built a 30-0 lead in the first half and eventually prevailed by a final score of 44-17. Luck was 31-of-39 for 370 yards, four touchdowns, no interceptions and a passer rating of 140.4, helping the Colts net 529 yards on offense.
Titans-Colts Series at a Glance
Overall series (regular & postseason): Colts lead 25-14
Regular season series: Colts lead 25-13
Postseason series: Titans lead 1-0
Total points: Titans 749, Colts 968
Current streak: Five wins by Colts
Titans at home vs. Colts: 7-10
Titans on road vs. Colts: 7-15 (including 1-0 in playoffs)
Longest winning streak by Titans: 3 (twice, last 1999-02)
Longest losing streak by Titans: 7 (2003-06)
Titans vs. Colts at LP Field: 4-8
Last time at LP Field: Colts 30 at Titans 27 (11/14/13)
Titans vs. Colts at Lucas Oil Stadium: 0-6
Last time at Lucas Oil Stadium: Titans 14 at Colts 22 (12/1/13)
First time: Colts 24 at Oilers 20 (10/11/70)
Ken Whisenhunt's record vs. Colts: 0-1
Chuck Pagano's record vs. Titans: 4-0
Ken Whisenhunt's record vs. Chuck Pagano: 0-0
A Titans Victory Would
Improve Ken Whisenhunt's career record as a head coach to 51-55 (including playoffs).
Improve Jake Locker's career record as a starting quarterback to 10-12.
Give the Titans their first win at Lucas Oil Stadium and their first win over the Colts since October 30th, 2011.
What To Look For This Week
Ken Whisenhunt will participate in his 100th career game in the regular season as a head coach.
S Michael Griffin (23 career interceptions) needs one interception to tie Zeke Moore for ninth place on the franchise career interceptions list.
P Brett Kern is scheduled to play in his 100th career game.
QB Jake Locker (4,659 career passing yards) needs 280 passing yards to pass Matt Hasselbeck (4,938) for ninth place on the franchise's top 10 passing yards list.
LT Michael Roos (146 career games) can tie Robert Brazile for 11th place on the franchise's all-time games played list.
KR Leon Washington (6,940 career kickoff return yards) needs 60 kickoff return yards to become the second active player to reach 7,000 (Darren Sproles) kickoff return yards and the 11th player in NFL history to reach 7,000.
KR Leon Washington needs one kickoff return for a touchdown to become the NFL's all-time leader (currently tied with Josh Cribbs for first in NFL history with eight).
WR Nate Washington (272 receptions with the Titans) needs one reception to pass Chris Johnson (272) for 10th on the team's alltime list, and Washington needs two receptions to pass Drew Bennett (273) for ninth place.
WR Nate Washington (4,004 receiving yards with the Titans) needs 30 more receiving yards to surpass Drew Bennett's total (4,033) for eighth place in franchise history.
Titans-Colts Series History
This week's game will mark the 40th all-time contest between the Titans and Colts. The Colts lead the series 25-14.
The Colts currently own a five-gave winning streak over the Titans, including both encounters in 2012 and 2013.
In the first meeting of 2013, played on a Thursday night at LP Field (November 14th), the Titans established a 17-3 lead in the first half. However, the Colts stormed back with 20 unanswered points and eventually won by a final score of 30-27.
The rematch was played only two weeks later at Lucas Oil stadium (December 1st). In that matchup, the Colts used four takeaways from their defense and five field goals by Adam Vinatieri to vanquish the Titans 22-14.
From 2002–2010, the AFC South crown was won by either the Titans or Colts every season. The Titans took the 2002 and 2008 titles, while the Colts won the division the other seven seasons.
The Titans and Colts have met only once in the postseason, a 19-16 Titans victory in a Divisional Playoff game in the RCA Dome on January 16th, 1999. Eddie George rushed for 162 yards, including a 68-yard touchdown run to help lead Tennessee during its run to Super Bowl XXXIV.
The teams first clashed in 1970 following the AFL-NFL merger. The then-Baltimore Colts defeated the then-Houston Oilers 24-20 during the Colts' run to a Super Bowl V Championship.
Titans-Colts: The Last Meeting
Tennessee Titans 14 at Indianapolis Colts 22
Sunday, December 1st, 2013
Lucas Oil Stadium, Indianapolis, IN
| | | | | | |
| --- | --- | --- | --- | --- | --- |
| | 1 | 2 | 3 | 4 | Final |
| Tennessee Titans | 0 | 7 | 7 | 0 | 14 |
| Indianapolis Colts | 6 | 6 | 3 | 7 | 22 |
The Colts used four takeaways from their defense and five field goals by Adam Vinatieri to defeat the Titans 22-14 at Lucas Oil Stadium.
For more than three quarters, the Colts were consistently thwarted by the Titans defense in their attempts to get to the end zone. But then, with a one-point lead midway through the fourth quarter, Colts quarterback Andrew Luck led them on an 11-play, 92-yard drive that culminated with a four-yard touchdown run by Donald Brown. The drive, which took more than six critical minutes off the clock, featured only two passes by Luck, whose 24-yard run on third-and-two got the Colts into Titans territory.
The Titans, quarterbacked by Ryan Fitzpatrick, went to work in the two-minute offense, looking for a touchdown and two-point conversion to potentially send the game to overtime.
Fitzpatrick completed a 35-yard pass to wide receiver Kendall Wright to lift their hopes, only to see the comeback slip away four plays later with an interception by Colts linebacker Jerrell Freeman. It was Fitzpatrick's third interception of the day.
The Titans lost the game despite recording five sacks of Luck and winning several statistical battles, including first downs (24 to 18), total yards (347 to 264) and time of possession (33:55 to 26:06). The Colts were limited to 21 percent (three out of 14) on third down against a Titans defense that only allowed six points off four turnovers by the offense.
Nevertheless, Vinatieri produced in the clutch, as four of his five field goals were from 45 yards or longer. It was only the seventh time an opponent made five or more field goals in a game against the Titans/Oilers in the franchise's then-54-year history.
Vinatieri gave the Colts a 6-0 lead with field goals of 47 and 48 yards, but the Titans responded with a 10-play, 80-yard march. Fitzpatrick completed a 31-yard pass to Nate Washington and later scrambled for a 16-yard run. Then, on first-and-goal from the one yard line, the quarterback snuck across the goal line for a touchdown.
After Vinatieri nailed a 45-yard field goal, it appeared the score would remain 9-7 heading into halftime, but a crucial mistake by the Titans allowed the Colts to tack three points onto their lead. In the waning seconds of the half, Luck completed a 20-yard pass to T.Y. Hilton at the Tennessee 34-yard line with no timeouts remaining. Hilton was tackled in bounds with one second remaining, but because a personal foul was called on linebacker Moise Fokou, the clock stoppage allowed Vinatieri to come on and make a 37-yard field goal.
To open the second half, the Titans embarked on another 80-yard scoring drive to retake the lead. The methodical, 14-play series took 7:31 off the clock and only included two plays of more than 10 yards. One of those was a 16-yard run by Fitzpatrick. Later, on fourth and goal from the one-yard line, Fitzpatrick completed a touchdown pass to running back Chris Johnson.
The Titans' next two consecutive possessions were spoiled by turnovers. A 33-yard punt return by Leon Washington put them in scoring territory, but a strip-sack by Colts outside linebacker Robert Mathis and recovery by Freeman led to Vinatieri's final field goal, this time from 49 yards to put the Colts back on top 15-14.
Fitzpatrick was intercepted by cornerback Cassius Vaughn for a second time soon thereafter, setting the stage for a fourth quarter in which the Titans were unable to move the ball effectively enough to ever reclaim the lead. Despite the Colts earning a first down on only one of their five second-half drives (not including a final kneel-down), that one drive for 92 yards was enough to put the game out of reach for the Titans in the final moments.