Austin Peay Sports Information Office

Clarksville, TN – A pair of Austin Peay State University men's tennis seniors will compete at the 2014 Saint Francis Health System ITA Men's All-American Championships hosted by Tulsa, beginning Saturday, September 27th, at the Michael D. Case Tennis Center.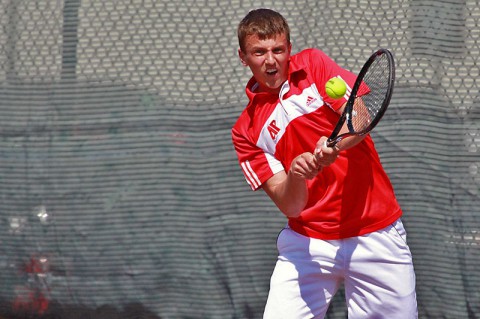 Seniors
Iago Seffrin
and
Aleksas Tverijonas
will compete in the Pre-Qualifying tournament.  Winners in the pre-qualifying advance to the qualifying rounds beginning September 29th and running through October 1st.
Winners from the qualifying round advance to the main draw, which will be held October 2nd-6th.
Tverijonas, who finished the season ranked 20th in the final ITA Ohio Valley Region rankings, compiled a 20-5 record in singles action during spring 2014.  He went 1-2 last weekend in singles play at the Dale Short Invitational, hosted by Middle Tennessee.
Seffrin finished last season 15-10 in singles play, playing some of the best, playing some of the best singles matches of his career.  He is looking to bounce back from an 0-3 singles weekend at the Dale Short Invitational.
"This tournament features the best players in the nation and I am extremely pleased we have players in this event," said head coach Ross Brown.  "It's always a good thing to be exposed to the best and any chance to play at this level is a huge benefit."
Tverijonas earned the No. 10 seed in the pre-qualifying tournament and will receive a bye in the first round.  He will face the winner of the match between Jonny Rigby (Southern Illinois) and Todd Volmari (Loyola Marymount) at 2:00pm, Saturday. Sefferin will take on Zachary Goldberg (North Florida) in his first round match at 11:30am, Saturday.
Video – Aleksas Tverijonas
[youtube]https://www.youtube.com/watch?v=vGBxT9AAz9I[/youtube]