APSU Sports Information Office

Clarksville, TN – In front of a raucous home crowd, Austin Peay State University's volleyball team swept Murray State (25-20, 25-23, 25-17) to remain unbeaten in Ohio Valley Conference play, Tuesday night, at the Dunn Center.
Austin Peay (9-10, 3-0 OVC) cruised to a 25-20 victory in the opening set as senior outside hitter
Jada Stotts
recorded six kills without an error in the frame. The Lady Govs recorded 16 kills and a .316 attack percentage in the first set while holding Murray State to 14 kills and a .189 attack percentage.
Murray State (11-4, 2-1 OVC) threatened to run away with the second set, using a 10-1 run to build a 16-9 advantage. Austin Peay cut into the lead with four straight points, but it was a 6-0 APSU run – with three kills by sophomore Sammie Ebright – that closed the gap to one point, 20-19.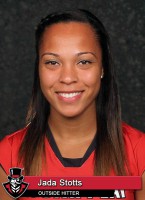 Murray State got on the cusp of set point, leading 23-21, but could not find a 24th point. Instead, Austin Peay scored the final four points of the set with freshman Ashley Slay providing two kills and Stotts another before a Racers attack error ended the set with APSU winning, 25-23.
Murray State opened the third set with a 6-0 run, including four kills, before Austin Peay responded with a 6-0 run of its own, with just two kills and a service ace. The Lady Govs used a 7-2 run, including three kills by Ebright, to take control of the set, 17-12. The teams would trade points until Ebright struck again with back-to-back kills to secure a 25-17 victory for the match.
Ebright finished with 14 kills and a team-leading .444 attack percentage, while chipping in three blocks. Stotts added 15 kills at a .282 attack percentage. Austin Peay finished with 47 kills and a .267 attack percentage for the match.
Scottie Ingram led Murray State with 10 kills, but was the only Racers hitter to reach double-digit kill territory. Murray State recorded just 38 kills at a .131 attack percentage in the loss.
Austin Peay concludes its four-match homestand when it hosts defending OVC champion Morehead State in a 2:00pm, Saturday contest at the Dunn Center.
Box Score
Murray State 0 vs Austin Peay 3
| Set Scores | | 1 | 2 | 3 | Team Records |
| --- | --- | --- | --- | --- | --- |
| Austin Peay | (3) | 25 | 25 | 25 | 9-10, 3-0 OVC |
| Murray State | (0) | 20 | 23 | 17 | 11-4, 2-1 OVC |
Murray State (11-4, 2-1 OVC)
| ## | Player | SP | K | E | TA | PCT | A | E | SA | SE | RE | DIG | BS | BA | Pts |
| --- | --- | --- | --- | --- | --- | --- | --- | --- | --- | --- | --- | --- | --- | --- | --- |
| 1 | LELM, Alyssa | 3 | 7 | 6 | 17 | .059 | 1 | 0 | 0 | 0 | 0 | 1 | 2 | 1 | 9.5 |
| 4 | BEDARD, Sam | 3 | 1 | 1 | 8 | .000 | 30 | 0 | 0 | 0 | 0 | 11 | 0 | 0 | 1.0 |
| 6 | OLDEN, Taylor | 3 | 8 | 4 | 38 | .105 | 1 | 0 | 0 | 0 | 2 | 7 | 0 | 0 | 8.0 |
| 7 | INGRAM, Scottie | 3 | 10 | 4 | 31 | .194 | 0 | 0 | 2 | 0 | 1 | 11 | 0 | 1 | 12.5 |
| 8 | BESSELSEN, Kristen | 3 | 8 | 6 | 26 | .077 | 1 | 0 | 0 | 1 | 0 | 5 | 0 | 3 | 9.5 |
| 25 | CHATMAN, Olivia | 3 | 4 | 0 | 9 | .444 | 1 | 0 | 0 | 0 | 0 | 1 | 0 | 3 | 5.5 |
| 2 | EMBREY, Kaitlyn | 1 | 0 | 0 | 0 | .000 | 0 | 0 | 0 | 0 | 1 | 0 | 0 | 0 | 0.0 |
| 3 | STULTZ, Hannah | 3 | 0 | 0 | 0 | .000 | 0 | 0 | 0 | 0 | 0 | 4 | 0 | 0 | 0.0 |
| 10 | SCHMAHL, Emily | 1 | 0 | 0 | 1 | .000 | 0 | 0 | 0 | 0 | 0 | 0 | 0 | 0 | 0.0 |
| 18 | LORENZ, Ellie | 3 | 0 | 0 | 0 | .000 | 1 | 0 | 0 | 1 | 0 | 14 | 0 | 0 | 0.0 |
| | Totals | 26 | 38 | 21 | 130 | .131 | 35 | 0 | 2 | 2 | 4 | 54 | 2 | 8 | 46.0 |
Team Attack By Set
Set
K
E
TA
Pct
1
14
7
37
.189
2
13
7
51
.118
3
11
7
42
.095
Total Team Blocks: 6.0
LEADERS:
Kills-Aces-Blocks: INGRAM, Scottie (10-2-1); OLDEN, Taylor (8-0-0); BESSELSEN, Kristen (8-0-3); LELM, Alyssa (7-0-3); CHATMAN, Olivia (4-0-3); BEDARD, Sam (1-0-0)Assists: BEDARD, Sam (30); LELM, Alyssa (1); OLDEN, Taylor (1); BESSELSEN, Kristen (1); CHATMAN, Olivia (1); LORENZ, Ellie (1)Digs: LORENZ, Ellie (14); BEDARD, Sam (11); INGRAM, Scottie (11); OLDEN, Taylor (7); BESSELSEN, Kristen (5); STULTZ, Hannah (4); LELM, Alyssa (1); CHATMAN, Olivia (1)
Austin Peay (9-10, 3-0 OVC)
Total Team Blocks: 7.0
LEADERS:
Kills-Aces-Blocks: STOTTS, Jada (15-0-1); EBRIGHT, Sammie (14-0-3); LANDON, Liz (6-1-2); SLAY, Ashley (5-0-2); STROTHER, Samantha (4-0-0); MARSELLIS, Aubrey (3-3-1)Assists:MARSELLIS, Aubrey (40); EBRIGHT, Sammie (2); LANDON, Liz (1); STOTTS, Jada (1)Digs: STROTHER, Samantha (15); LITCHFIELD, Syd (13); STOTTS, Jada (11); EBRIGHT, Sammie (8); MARSELLIS, Aubrey (8); LANDON, Liz (5)