Clarksville, TN – Clarksville Mayor Kim McMillan recently joined Nashville Mayor Karl Dean and a host of others to celebrate the signing of the Tennessee Silver Jackets Charter.
A federal program, Silver Jackets is implemented by a participating state which then organizes a team of cooperating agencies, including federal, state and local agencies.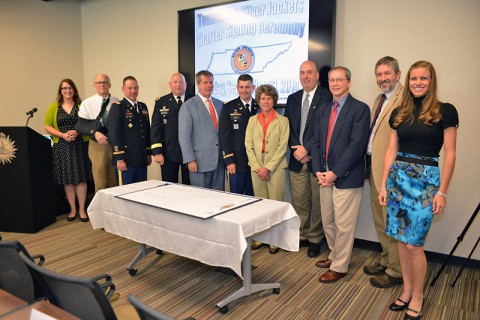 The purpose of the program is to improve coordination and communication among disaster-response agencies to prepare for impending emergencies and to speed up recovery efforts afterwards.
"I am honored to have been chosen to be a part of the program at the charter signing," said Mayor McMillan. "Having survived a tornado and a hundred year flood, both of which changed the face of Clarksville, I know how important it is to build relationships that will help us respond in emergencies."
"I'm very glad that Tennessee has joined the Silver Jackets program and I look forward to working with our partner agencies," stated McMillan.