Clarksville, TN – The Headless Horseman rides this fall at the Roxy Regional Theatre! Washington Irving's classic tale "The Legend of Sleepy Hollow" opens for the Roxy's traditional pay-what-you-can preview on Friday, October 10th, at 8:00pm.
John McDonald's world premiere adaptation breathes new life into an old story which has entertained readers and influenced writers of horror for almost 200 years and features two of literature's most iconic characters: Ichabod Crane and the Headless Horseman.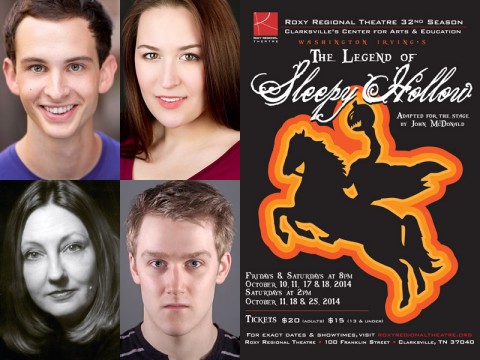 Featuring Tommy Winters as Mr. Van Tassel, Cameron Perry as Ichabod Crane, Allie McCaw as Katrina Van Tassel, Leslie Greene as Mrs. Van Tassel and Michael Spaziani as Brom Bones, "The Legend of Sleepy Hollow" recounts the frightening events which took place in Sleepy Hollow, New York, during the late eighteenth century.
This production is made possible in part through the generous support of Larry & Barbara Goolsby. Additional funding support has been provided by Dr. Ernest & Joan DeWald, Chris & Nicole O'Connor, and Starlene Sykes.
"The Legend of Sleepy Hollow" plays at 8:00pm on October 10th, 11th, 17th and 18th, and at 2:00pm on October 11th, 18th and 25th.
Tickets are $20.00 (adults) and $15.00 (ages 13 and under) and may be reserved online at www.roxyregionaltheatre.org , by phone at 931.645.7699, or at the theatre during regular box office hours (9:00am to 2:00pm, Monday through Friday, and one hour prior to curtain).