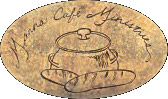 Clarksville, TN – Manna Café Ministries' third annual Pirate Fest and Chili Cook-Off is taking place this Friday, October 10th.
Sponsored by Clarksville Lighting and Appliance, this event will run from 4:00pm–10:00pm on Public Square and will feature all-you-can-eat chili, live music from favorite local artists, a KidZone just for children, costume and chili cook-off prizes, and more.
Information
Bring the whole family, and wear your best pirate costume.
Last-minute chili cook-off teams can still join the competition until the end of the business day on Thursday, by calling Jaemi at 931.449.0591 or emailing .
All proceeds will remain local to assist and feed Clarksvillians in need.