Clarksville, TN – Austin Peay State University's softball team closed out its 2014 fall schedule, October 13th at Cheryl Holt Field, on a down note, as they fell to Trevecca Nazarene University, 9-1 in five innings.
The second game of the scheduled doubleheader was called due to severe weather after four innings, giving Austin Peay a 3-2 overall record in its fall contests.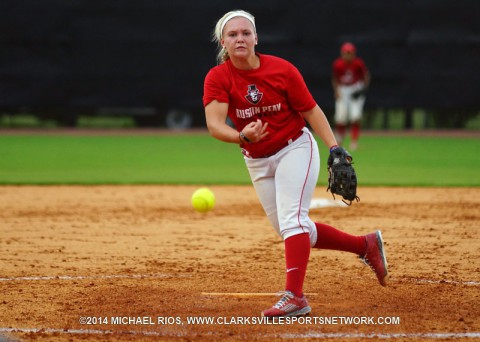 Early-on it looked like it would be a pitcher's duel between Austin Peay starter Natalie Ayala and her Trojan counterpart Sammie Jo Ivy, as the two held the other team hit less over the first two innings.
But Trevecca would be the first to strike, with Kaitlin Crumpler hitting a one-out, line-drive over the left field fence for a solo homer to give the Trojans a 1-0 advantage.
Austin Peay would pick up its first hit in the game in the bottom of the inning – a two-out double into right-center field by Laurel Burroughs – but couldn't advance her any farther.
Trevecca would extend its lead in the fourth inning, scoring four runs – two unearned – on four hits, to go up 5-0.
Kat Brubrink had the big hit in the inning, with a two-run single, while Crumpler also drove in a run with a ground out.
The Trojans would add four more run in the fifth inning, with Kelsey Kemp, Shelby Andrews and Brubrink recording RBIs in the frame.
Austin Peay would finally get on the board in the bottom of the inning, with Allie Blackwood getting things started with a one-out single and move into scoring position at second when Kemp misplayed the ball in center.
Courtney Brower would follow with a single into right field scoring Blackwood to make it 9-1.
Rikki Arkansas would also have a hit in the inning, but the Lady Govs failed to move anymore runs across the plate for the 9-1 final.
Alexis Hill would have the only other hit in the contest for Austin Peay.
Austin Peay's next action will come with their 2015 regular-season opener at the Mississippi State University Bulldog Kickoff Classic on February 6th.
Photo Gallery