Clarksville, TN – On Monday, October 13th, 2014 at 4:32pm, the Clarksville Police Department responded to a Aggravated Assault at the 200 block of Northridge Drive.
The victim stated that he was standing outside by the garage when individuals he knew as "TJ" and a juvenile (first & last name of juvenile was given) drove by and shot him. The victim did not provide any more details.
The victim was transported by EMS to Gateway Medical Center. He does not appear to have life threatening injuries from being shot.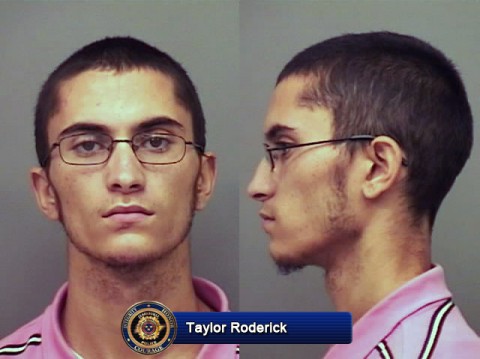 There were multiple witnesses who confirmed that TJ and the juvenile, in an older model 4 door Red Saturn, were the individuals responsible for shooting the victim.
The witnesses stated that the victim yelled "you won't fight me one on one with your hands" and the suspects stopped their vehicle and opened their doors as if they were going to exit the vehicle. The witnesses stated that they then closed their doors and TJ fired a shot into the air from the passenger side of the vehicle then the vehicle turned around and drove back in front of the residence.
The witnesses gave conflicting statements as to who they actually saw fire the weapon when it struck the victim, but they each claimed that the shot came from the passenger side window.
Detective Ronald Parrish took over the investigation.
Due to the witness information, Law Enforcement Officers from the CPD and the Montgomery County Sheriff's Office, including SRO Runyon-Davis, were able to apprehend both suspects and the weapon involved in the shooting only a few hours after the incident occurred. They were both charged with Aggravated Assault.
CPD Officers and Detective Parrish apprehended Taylor Roderick (TJ), an 18-year-old Clarksville resident, in Woodlawn, TN near the Woodlawn Papa Rock Travel Center.
MCSO Deputies apprehended the juvenile at a county address with the backpack that contained the weapon involved in the shooting.
This was not a random shooting. The victim and the suspects knew each other.
There is no further information at this time.
Taylor Roderick
Name: Taylor Roderick
Date of Birth: 1/ 12/ 96
Gender: M
Race: B
Address: 261 Raintree Drive, Clarksville, TN
Arresting Officer: Ronald Parrish
Charge With: Aggravated Assault, Simple Possession/Casual Exchange, and Six Counts of Reckless Endangerment
Booked Into: Montgomery County Jail
Bond: $170,500.00