APSU Sports Information Office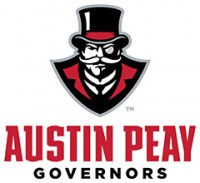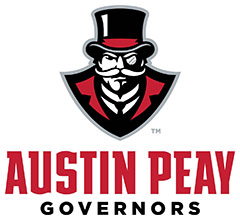 Clarksville, TN – Austin Peay State University officially will introduce the 2014-15 squads, 6:30pm, Thursday, October 16th at the Peay Basketball Preview, presented by Wendy's.
Governors Club members, season-ticket holders and basketball fans alike will have an opportunity to preview Austin Peay's men and women's teams in a light-hearted mixed scrimmage at the Dunn Center.
The "Peay Team" – Austin Peay basketball broadcast duo of Greg Walker and David Loos – will be on the bench during the scrimmage.
Leading up to the Preview, the duo will host a mock draft with Coaches Loos and Daniels during one of their Sports Talk Shows, broadcast each Monday and Thursday, 4:00pm-6:00pm.
Fans will be treated to a Wendy's chili dinner and the opportunity to win a pair of basketball season tickets for the upcoming season. Austin Peay students, meanwhile, will have a chance to qualify for a PeayNutsConnect Spring Semester Book Scholarship.
The event formally known as Midnight Magic had a different tone when it served as a tip-off to the first official practice for the Governors and Lady Govs basketball teams. NCAA rule changes have created a lengthened preseason calendar, allowing the Governors to start last Saturday morning while the Lady Govs began Sunday.
The Austin Peay broadcasting team of Greg Walker and David Loos chose up sides in draft fashion for Thursday night's Peay Preview scrimmage game. With Walker and Loos coaching their charges, www.LetsGoPeay.com decided to analyze Greg and David's drafting ability, Chad Ford-style.
Team Walker
Team Walker got the jewel in the draft class. Junior Chris Horton will anchor the inside game, be a defensive presence and is a guaranteed double-double when properly involved. A sneaky-good combination will be he and Team Walker's second pick, junior point guard Tiasha Gray, running pick-and-rolls – or pick-and-pop, after Horton worked hard during the summer to expand his range.
Team Walker's size will be a factor – even without Horton, Team Walker will have a host of post players in Jennifer Nwokocha, Serigne Mboup and Beth Rates to help control the paint. Rates is another who has expanded the range on her jump shot and gives Team Walker some size at the three if he wants to go big with Horton in the middle, Mboup or Nwokocha at the four and Rates on the wing.
Long-range shooting could be Team Walker's Achilles heel. Khalil Davis, a junior college addition, is more of a slasher-type who can attack the basket at will. Gray can get hot but is streaky for her career from beyond the arc (24.7 percent). Tre Ivory, Falon Baker and Domas Budrys are newcomers to the Dunn Center, so any or all could be the key piece for Team Walker from deep.
Team Walker's dark horse could be Jeremy Purvis. The senior point guard redshirted last season and has added about 15 pounds of muscle to his frame – he's shaping up as a point who can steal minutes for the Govs in 2014-15.
Emily Fox, Savannah Foister and Symantha Norton round out Team Walker, offering depth in the front and backcourt. Fox is in the mix at both guard spots, while Norton is a solid wing who offers qualities similar to those of Rates. Foister, a freshman from Clarksville, is a bulldog-type who can play guard or forward but needs to add muscle.
Greg Walker On His Team
"David's been saying he's going to beat us by 20 points, but I like my team and I like our chances. I can't give away much, but we've got a game plan and we're going to stick with it.
"I don't mind telling you that Purvis will be starting. We could put the four giants out there and see what happens, but I think we've got good balance. And having Horton helps – I think he's a special player and I look forward to watching him this year."
Team Loos
The wing is the thing for Team Loos, which spent its top two picks on Ed Dyson and Kristen Stainback. Known for his slashing style, Dyson quietly shot 42.4 percent from three-point land last season, while the senior Stainback is well-known for her long-range shot (103 career three-pointers).
Their abilities to stretch the defense could open things up down low for post-players Chris Freeman and Tearra Banks. The 6-6 Freeman is the only four-year senior on the men's roster this year, while Tearra Banks showed up in camp in the best shape of her career and could be an All-OVC candidate if she can play more minutes without a production drop-off – she averaged 9.6 points and 6.0 rebounds in just 16.8 minutes per game as a freshman. Depth in the post will be a concern, however – Team Loos has only Lauren Maki, Assane Diop and Sydney Gooch to turn to in the event that Banks or Freeman get into foul trouble.
Point guard is up in the air for Team Loos – Zavion Williams and Jacey Scott saw time in their respective starting lineups a year ago but are more naturally suited working off the wing, as is freshman guard Josh Robinson from St. Louis. Madison Rich and April Rivers are natural points, but Rich is a freshman from Bee Spring, KY, and Rivers played sparingly last season, her first in Clarksville.
Team Walker may have gotten the best player in Horton, but Team Loos' second-tier pick-ups could pay dividends. Robinson averaged 35.8 ppg at St. Mary's (MO) last season, tops in the St. Louis area.
Assane Diop
can be a stretch four with range, but has to prove himself against in a conference notorious for rugged power forwards.
And Gooch, sister of Western Kentucky All-American standout Chastity Gooch, averaged a double-double as a senior at Franklin-Simpson (KY) High School.
David Loos On His Team
"I like this team. We've got a couple of really good shooters in Dyson and Stainback. While the lack of size is a concern, I think Freeman and Banks make a good inside combination.
"Though Walker got Horton, I feel like I did well with Dyson on the perimeter. I think we'll be able to spread the floor with Dyson, Stainback, Diop and Robinson."