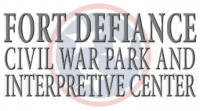 Clarksville, TN – The Fort Defiance Interpretive Center, located at 120 Duncan Street, will host a Civil War carbine demonstration on Saturday, November 8th, from 10:00am to 4:00pm.
During the event, Mr. George Wernke will be demonstrating firing techniques of numerous Civil War carbines and repeating rifles, as well as fielding questions.
Discussions will also take place regarding equipment, shelter, rations, camp life, and women in war from that era.
This free event is open to the public and would be excellent for any fan of Civil War History or weaponry.
For more information please contact the Fort Defiance Interpretive Center at 931.472.3351, or check out Fort Defiance's website: www.fortdefianceclarksville.com
About Fort Defiance
Fort Defiance, which overlooks the confluence of the Red and Cumberland Rivers, was a cornerstone of the Confederate defense of the area and, subsequently, an important part of the eventual Union occupation of Clarksville. In 1982, Judge and Mrs. Sam Boaz, donated the property to the City of Clarksville.
In 2008, the City secured a $2.2 million federal grant that was combined with local funding and the process of construction of the interpretive center and walking trails began. The more than 1,500-square-foot Center features exhibits about the local area and the fort during the Civil War.
The Interpretive Center is open Monday-Saturday, 10:00am to 4:00pm and Sunday, 1:00pm to 4:00pm during the Fall and Winter. During the Spring and Summer, the Center is open Monday-Saturday, 10:00am to 5:00pm and Sunday, 1:00pm to 5:00pm.