Austin Peay Sports Information

Clarksville, TN – Five Austin Peay State University men's tennis players will compete at the ITA Ohio Valley Regionals, hosted by Vanderbilt at the Currey Tennis Center. The tournament opens, 8:30am, Thursday with the first round of doubles play.
The day will conclude with the first and second rounds of singles action. Play continues through Sunday.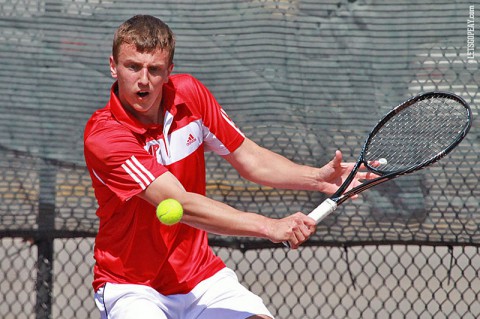 Seniors
Dimitar Ristovski
,
Aleksas Tverijonas
and
Iago Seffrin
will be joined by sophomore
Manuel Montenegro
in singles competition while sophomore
James Mitchell
will play doubles only.
Tverijonas earned the No. 14 seed for the tournament and will receive a first-round bye.
In the second-round he will face either IUPUI's Adam Renihart or Dayton's Aidan Koross, Thursday afternoon. In first-round play Seffrin will face off with Louisville's Jeff Brown, while Ristovski will play Dayton's Zach Berry and Montenegro will accept the challenge of Vanderbilt's Baker Newman.
In doubles action, the duo of Ristovski and Seffrin received the No. 16 seed and a first-round bye. In second-round action they will face either Dayton's Carsten Fisher and Aidan Koross or Eastern Kentucky's Sebastian Mueller and Diego Asis. The Governors other doubles team of Tverijonas and Mitchell will accept the challenge of Belmont's Mauricio Antun and Marko Lovrinovic.