Austin Peay Sports Information

Clarksville, TN – After holding tough against the Ohio Valley Conference's most prolific offense in the first half, Austin Peay State University could not stem the tide against Jacksonville State over the final 45 minutes, falling 5-0 to the Gamecocks, Friday, at Morgan Brothers Field.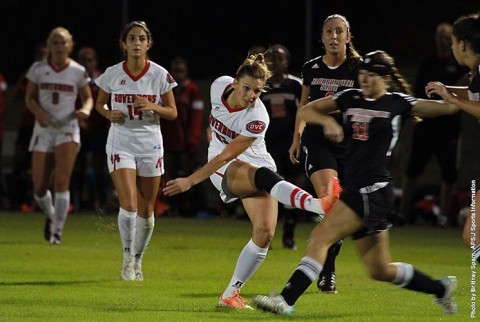 Austin Peay (4-10-0, 3-3-0 OVC) saw some of the momentum from last weekend's sweep at Southeast Missouri and SIU Edwardsville disappear, suffering its first shutout in nearly a month.
Jacksonville State (9-6-0, 4-2-0 OVC) gave itself a little separation in the OVC race.
The first half was balanced, with both sides putting up eight shots.
Jacksonville State got on the board thanks to Courtney Hurt penalty kick in the 11th minute following a handball call in the box, but the Gamecocks offense, leading the OVC at 2.78 goals per game, was otherwise stymied in the opening period.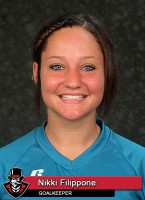 Despite nine total saves from junior Nikki Filippone, with more than a few being of the acrobatic variety, the second half belonged to the Gamecocks. Jackie Rush scored in the 73rd minute, and that was followed less than two minutes later by a Lindsey Jackson tally.
Shelby Olszewski did what she could for the offense. In her season's third appearance after missing two months due to injury, Olszewski got forward time and again for Austin Peay, attempting five shots and putting three on net to lead the squad. Caroline Robinson was solid for the Gamecocks in net, securing six saves for the clean sheet.
Kayla Thompson got the last two helpers for Jacksonville State, assisting on goals by Nicola Dominikovich and Brianna Boutzvious in the 83rd and 87th minute, respectively.
"We've got to refocus ourselves," said head coach Kelley Guth. "We have to focus on Tennessee Tech, come out and play better on Sunday."
Austin Peay seeks a quick bounce-back, with Tennessee Tech coming to town on Sunday. The Lady Govs host the Golden Eagles in a 2 p.m. tilt that doubles as Austin Peay's Senior Day – before the match, seniors Claire Pultz and Frankie Carbajal will be honored for their contributions to the program.
Video – Kelley Guth
Box Score
Austin Peay (4-10-0 (3-3-0 OVC)) vs Jacksonville State (9-6-0 (4-2-0 OVC))
| Goals By Period | 1 | 2 | Total |
| --- | --- | --- | --- |
| Jacksonville State | 1 | 4 | 5 |
| Austin Peay | 0 | 0 | 0 |
| Goal | Time | Team | Goal Scorer | Assists | Description |
| --- | --- | --- | --- | --- | --- |
| 1. | 11:00 | JSU | Courtney Hurt () | | JSU Courtney Hurt PENALTY KICK GOAL, goal number for season. |
| 2. | 71:42 | JSU | Jackie Rush (0) | Kelsey Bright | GOAL by JSU Jackie Rush, Assist by Kelsey Bright, goal number 0 for season. |
| 3. | 73:17 | JSU | Lindsey Jackson (0) | Katt Dowd | GOAL by JSU Lindsey Jackson, Assist by Katt Dowd, goal number 0 for season. |
| 4. | 82:57 | JSU | Nicola Dominikovich (0) | Kayla Thompson | GOAL by JSU Nicola Dominikovich, Assist by Kayla Thompson, goal number 0 for season. |
| 5. | 86:51 | JSU | Brianna Boutziouvis (0) | Kayla Thompson | GOAL by JSU Brianna Boutziouvis, Assist by Kayla Thompson, goal number 0 for season. |
Jacksonville State
| ## | Goalie | Minutes | GA | Saves |
| --- | --- | --- | --- | --- |
| 1 | Caroline Robinson | 90:00 | 0 | 6 |
Pos
##
Player
Sh
SOG
G
A
Fouls
1
Caroline Robinson
0
0
0
0
0
2
Olivia Drapes
0
0
0
0
0
4
Brianna Salverda
0
0
0
0
0
5
Courtney Hurt
4
4
1
0
0
10
Jackie Rush
6
3
1
0
0
13
Chelsi Bender
0
0
0
0
0
14
Lindsey Jackson
1
1
1
0
0
17
Mackenzie BelLows
3
2
0
0
0
21
Katt Dowd
0
0
0
1
0
22
Kelsey Bright
3
2
0
1
0
23
Justine Panchuk
0
0
0
0
0
–Substitutes–
TM
TEAM
1
0
0
0
12
3
Nicola Dominikovich
1
1
1
0
0
6
Carsen Taylor
0
0
0
0
0
7
Abbey Clausen
0
0
0
0
0
11
Nicole Heiser
0
0
0
0
0
16
Brianna Boutziouvis
1
1
1
0
0
18
Kayla Thompson
1
0
0
2
0
Totals
21
14
5
4
12
Austin Peay