Recognized for Impacting the Quality of Life of Service Members and their Families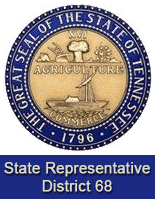 Nashville, TN – Tennessee State Representative Curtis Johnson (R-Clarksville) was recognized recently by the United States Department of Defense for his "leadership on public policy changes positively impacting the quality of life of Service members and their families."
The award of appreciation comes after Rep. Johnson successfully passed several bills to aid military service members and their families, including House Bill 1372 which was approved this year. That new law would allow certain out-of-state veterans to pay in-state tuition and fees at state colleges and universities.
"It is with great pleasure that the Department of Defense presents you with this certificate of appreciation signed by Rosemary Freitas Williams, Deputy Assistant Secretary of Defense for Military Community and Family Policy," said Dr. Thomas L. Langdon, State Liaison and Education Opportunity Director, in a letter to Johnson. "Please accept our appreciation and that of the Service members and families residing in your state for your dedicated effort towards improving their quality of life."
Since being elected to the General Assembly in 2004, Representative Johnson has passed several major bills helping veterans including the Interstate Compact on Educational Opportunity for Military Children, several bills dealing with child custody issues of deployed parents, and was instrumental in obtaining state funding for the new Veterans Home in Montgomery County.
"I am honored and humbled to be recognized for helping our troops and their families," said Representative Johnson, who is veteran of the U.S. Navy. "I am constantly inspired by the courage and dedication to country that I see here at Fort Campbell and across the state from our soldiers. I am also inspired by the truly remarkable support they get from their families who serve this country through great sacrifice as well. It is my honor to help them in any way that I can."
Representative Johnson serves as Speaker Pro Tempore in the Tennessee General Assembly.