Unifying Community and Embracing Diversity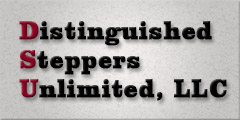 Clarksville, TN – Distinguished Steppers Unlimited (DSU) of Clarksville in its continued effort to cultivate a wholesome social climate in our community and to promote the art of dance as a socially acceptable means of group fitness and entertainment, has partnered with Clarksville Parks and Recreation to extend its programmatic reach to the Hispanic community.
The group is sponsoring a Family Salsa Night event at the Kleeman Community Center under the authority of Ms. Tonya Wacker, Center Director.
The event, while targeting the Hispanic population, is welcome to all community members, anyone who enjoys Latino music, food and festivities.
Family Salsa Night will be held 6:00pm-10:00pm on Friday, October 24th at the Kleeman Community Center (located at 166 Cunningham Lane). Free and open to the public, during the event a variety of food will be served, Latino music and dance, and there will be entertainment by a local Zumba dance troupe and a Latino couples dance demonstration.
Game area will be provided for children (ages 6 to 15) in which a variety of game activities will be available, making this event accessible to families without the necessity of childcare. In observance of breast cancer awareness month, an information table will be available to provide pamphlets and small gift items on women's breast health in both English and Spanish.
Ms. Tonya Wacker, Kleeman Center Director and the Administration at Clarksville Parks and Recreation have been a tremendous support in this groundbreaking event. We have also been fortunate to have a resourceful community connection with Ms. Carmen Ortiz who has been a tremendous help in developing this event intended to bridge the gap with the Hispanic community–a first for DSU.
It is only with their combined support and that of so many community members that the Distinguished Steppers can offer this and other programs that are free and open to the public. The hope is that with this program we will stimulate a true spirit of diversity in our community, that we can embrace and appreciate the "melting pot" of a city where all people feel welcome and appreciated
For more information on the Family Salsa Night event or other Clarksville Parks and Recreation activities contact 931.645.7674.
For information on the Distinguished Steppers Unlimited contact Kathleen Evans 931.378.9422, or visit our website at www.distinguishedsteppers.com , or join our facebook group at www.facebook.com/distinguished.steppers