Written by Sgt. Duncan Brennan
101st Combat Aviation Brigade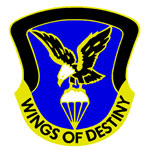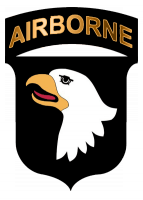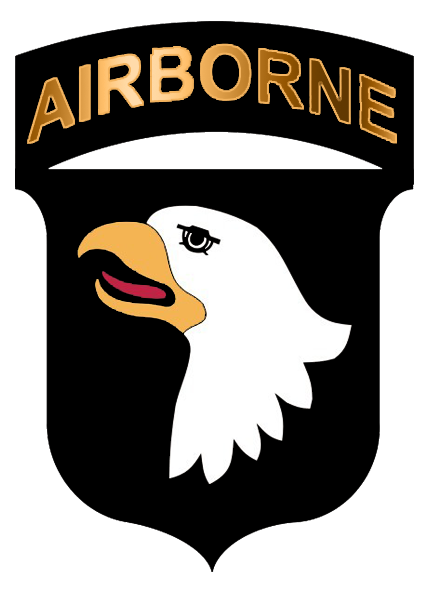 Fort Campbell, KY – A Soldier from 6th Battalion, 101st Combat Aviation Brigade, 101st Airborne Division (Air Assault), was the honor graduate for the expert field medical badge class at Fort Campbell, KY, October 3rd, 2014.
1st Lt. Kenneth Danos, aeromedical-evacuation pilot, Company C, 6-101st CAB, was recognized as the honor graduate for getting zero no-gos throughout the testing phase. Because of his achievement, Danos will be half of a two-Soldier team representing the 101st Airborne Division (AASLT) at the U.S. Army best-medic competition.
For a pilot to earn a badge most associated with medics may seem out of place. It turns out that the EFMB is open to all medical services Soldier.
"The EFMB is an Army-medical-department badge," said Lt. Col. Dave Zimmerman, commander, 6-101st CAB. "Any Army-medical-department military occupation specialty is allowed to compete for. That includes any pilot that has completed the aeromedical-evacuation course at Fort Rucker, AL, and received the medevac additional-skill identifier."
The expert field medical badge is open to a lot of Soldiers, but it is also one of the hardest to achieve. There are many Soldiers who do not meet with success during their lanes.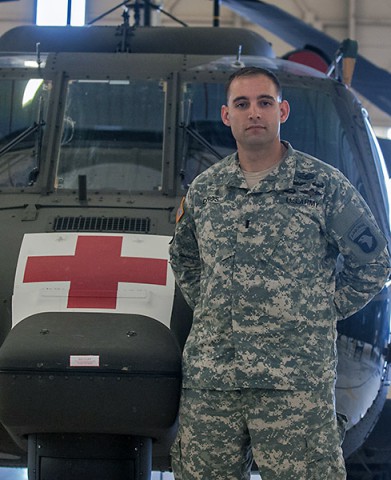 "The EFMB is one of the toughest badges in the Army to earn," said Zimmerman. "There is an overall pass rate of 19 per-cent. The standards require a lot of attention to detail and there is very little room for error."
Danos passed with flying colors, and did it while helping his teammates. During the lanes, he could be counted on to help his fellow Soldiers out and to do everything he could to keep morale high among his teammates.
"Working with Lt Danos is a genuine pleasure," said 1st Lt. Amberly Glitz, aeromedical-evacuation pilot, Company C, 6-101st CAB. "He's quiet, but can always be counted on for humorous input, and is one of the most kind-hearted people I've ever met. He's very professional, with valuable experience that he uses to better the group. He was definitely a motivator during EFMB; he was always willing to run through lanes with others, and his one-liners and impersonations kept everyone smiling."
The path through the EFMB lanes was difficult. The road leading up to the event was equally challenging. Danos' regular duties interfered with his preparation.
"Our company training program started around the end of June," said Danos. "I wasn't able to do much before I went to our Joint Readiness Training Center rotation which was the whole month of July and into August. I really started training hard in August and I got about a month and a half of hard studying before it started."
In spite of the reality of his situation, Danos still has a little bit of a hard time believing what he has accomplished.
"It seems crazy that I got honor grad," said Danos. "I was trying hard just to pass. At the time it seemed very hard. It's nerve-wracking going through the lanes. You hear about all the no-gos everyone's getting. You're wondering to yourself 'did I practice it right, do I have all the details?'"
Danos did, indeed, have all the details while executing the tasks during the lanes. His next rendezvous with destiny fast approaches, but in the mean time, he can let the reality of what he's done sink in. His peers and superiors have taken note of his success.
"It's just incredible knowing that we have those kinds of professionals in our organization," said Maj. Jason Yellman, commander, Co. C, 6-101st CAB. "All the credit is on his shoulders; he put in an incredible amount of work getting ready for EFMB. I'm proud of him as a Soldier. You might say I'm kind of like a proud dad; I had very little to do with it, but I'm still very proud."