Tennessee Titans (2-5) vs. Houston Texans (3-4)
Sunday, October 26th, 2014 | Noon CDT
Nashville, TN | LP Field (69,143) | TV: FOX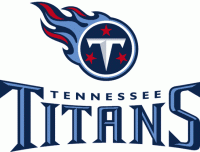 Nashville, TN – The Tennessee Titans (2-5) reach the midpoint of their season this week, hosting the Houston Texans (3-4) in the final game before their bye. Kickoff at LP Field is scheduled for noon CDT on Sunday, October 26th.
In a departure from tradition, this week's game between AFC South rivals will be televised regionally on FOX, including Nashville affiliate WZTV FOX 17.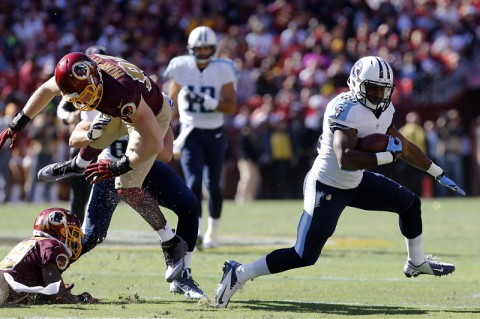 The telecast was "cross-flexed" by the NFL and its broadcasting partners from its normal home on CBS to FOX. Kenny Albert will handle play-by-play duties, while Daryl Johnston and Tony Siragusa will serve as analysts.
The Titans Radio Network, including Nashville flagship 104.5 The Zone, will broadcast the game across the Mid-South with the "Voice of the Titans" Mike Keith, analyst Frank Wycheck, gameday host Rhett Bryan and sideline reporter Jonathan Hutton.
Additionally, Westwood One Sports will broadcast the game to a national radio audience. Kevin Lee (play-by-play) and Ross Tucker (analyst) will have the call.
Tennessee Titans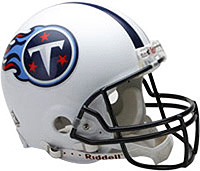 Last week the Titans traveled to Washington, where they were dealt a 19-17 defeat by the Redskins. They went ahead 17-16 in the fourth quarter after Charlie Whitehurst completed a 38-yard touchdown pass to Derek Hagan, but they lost the lead—and the game—when Redskins kicker Kai Forbath made a 22-yard field goal as the game clock expired.
With quarterback Jake Locker inactive for the second consecutive week due to a right thumb injury, Whitehurst started for the seventh time in his nine-year career and for third time in 2014. Against Washington, he was 17-of-26 passing for 160 yards, a pair of touchdowns and an interception.
Including the loss at Washington, the last three Titans games have been decided by a total of five points. They fell to the Cleveland Browns by a final score of 29-28 on October 12th, and the next week they prevailed in a 16-14 decision over the Jacksonville Jaguars.
Against the Texans, the Titans will hope for their fourth win in their last five AFC South matchups, dating back to the final two weeks (both wins) of the 2013 campaign. One of those wins came against the Texans, a 16-10 victory in last year's December 29th finale at LP Field. The Titans are 15-9 all-time against Houston.
Houston Texans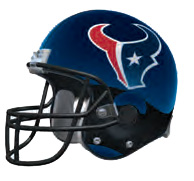 The Texans are in their first year under head coach Bill O'Brien, who was named to the post in January. O'Brien spent the last two seasons as the head coach at Penn State, and prior to that, he spent five seasons (2007–2011) as an assistant with the New England Patriots.
O'Brien will be forced to prepare his team for the Titans on a short week after the Texans play at the Pittsburgh Steelers on Monday Night Football (October 20th). To begin the year, they won three out of their first four games before suffering a pair of close losses—20-17 in overtime at the Dallas Cowboys (October 5th) and 33-28 at home against the Indianapolis Colts (October 9th).
Texans quarterback Ryan Fitzpatrick is in his first season with the team after spending 2013 with the Titans. In Tennessee, he appeared in 11 games with nine starts, throwing for 2,454 yards and 14 touchdowns. Now with Houston, the 10th-year signal caller is completing 65 percent of his passes (104 of 160) with an 86.1 passer rating through the first six weeks.
Cell Phones For Soldiers Drive
Fans are encouraged to bring their old cellular phones to the Titans-Texans game and donate them at collection sites outside of LP Field. The collection will benefit Cell Phones for Soldiers, a non-profit that collects old cell phones, sells them for recycling and then uses the income to purchase prepaid calling cards for U.S. servicemen and women stationed overseas.
"Salute To Service" Military Appreciation
Also, in keeping with the Titans' long-standing tradition of honoring America's armed forces, Sunday has been designated as the team's "Salute to Service" game, sponsored by Lend-Lease and LP Building Products.
Included in the day's festivities will be soldiers from Fort Campbell's 101st Airborne Division holding a United States-shaped flag for the national anthem, a performance by the 101st Airborne Division Band, a reenlistment ceremony of 101st Airborne soldiers and an appearance by the 101st Airborne "Screaming Eagles" parachute team (weather permitting).
Titans-Texans Series At A Glance
Overall series (regular & postseason): Titans lead 15-9
Regular season series: Titans lead 15-9
Postseason series: None
Total points: Titans 512, Texans 511
Current streak: One win by Titans
Titans at home vs. Texans: 8-4
Titans on the road vs. Texans: 7-5
Longest winning streak by Titans: 7 (2005-08)
Longest losing streak by Titans: 3 (2012-13)
Titans vs. Texans at LP Field: 8-4
Last time at LP Field: Texans 10 at Titans 16 (12/29/13)
Titans vs. Texans at NRG Stadium: 7-5
Last Time at NRG Stadium: Titans 24 at Texans 30 in OT (9/15/13)
First time: Texans 10 at Titans 17 (11/10/02)
Ken Whisenhunt's record vs. Texans: 1-0
Bill O'Brien's record vs. Titans: 0-0
Ken Whisenhunt's record vs. Bill O'Brien: 0-0
A Titans Victory Would
Improve Ken Whisenhunt's career record as a head coach to 52-58 (including playoffs).
Improve Jake Locker's career record as a starting quarterback to 10-13 or improve Charlie Whitehurst's career record as a starting quarterback to 3-5.
Give the Titans a regular-season home record of 74-50 in 16 seasons at LP Field.
Give the Titans their fourth win in their last five AFC South games, dating back to the final two weeks (both wins) of the 2013 season.
What To Look For This Week
RB Shonn Greene (3,908 career rushing yards) needs 92 rushing yards to reach 4,000 for his career.
S Michael Griffin (24 career interceptions) needs one interception to tie Ken Houston for eighth place on the franchise career interceptions list.
QB Jake Locker (4,738 career passing yards) needs 201 passing yards to pass Matt Hasselbeck (4,938) for ninth place on the franchise's passing yards list.
PR Dexter McCluster (997 career punt return yards) needs three punt return yards to reach 1,000 for his career.
TE Delanie Walker (2,474 career receiving yards) needs 26 receiving yards to reach 2,500 for his career.
WR Kendall Wright (190 career receptions) needs 10 receptions to become the 15th player in franchise history to reach 200 career receptions.
WR Kendall Wright (four touchdown receptions in 2014) needs one touchdown reception to establish a new single-season high.
Titans-Texans Series History
The Titans-Texans rivalry is in its 13th year since the expansion Texans began play and the AFC South was formed in 2002. In 24 games, the Titans are 15-9 against the Texans, including an 8-4 mark at LP Field and a 7-5 record at Reliant Stadium.
The Texans won three consecutive contests against the Titans until the most recent battle. At Houston on September 30th, 2012, Texans quarterback Matt Schaub passed for two touchdowns, and the Houston defense returned a pair of interceptions for touchdowns to defeat the Titans 38-14.
Then, on December 2nd, 2012, the teams squared off at LP Field, and despite 309 passing yards from Jake Locker, the Texans forced six turnovers to pull away with a 24-10 win. In Week 2 of the 2013 campaign (September 15th), the Texans came back from an eightpoint deficit in the final 3:07 of the fourth quarter. Schaub completed a three-yard touchdown pass to DeAndre Hopkins on the first drive of overtime to give Houston a 30-24 victory.
The Titans finally ended the Texans' streak at LP Field in last year's season finale. They forced four Texans turnovers (two interceptions, two fumbles) and rushed for a team-total of 151 yards, including 127 yards and a touchdown by Chris Johnson.
The Titans have separate winning streaks of four games and seven games in the series, the latter of which was ended at Reliant Stadium on December 14th, 2008.
The Titans franchise has a rich and storied history with the city of Houston. Under late owner K.S. "Bud" Adams Jr., the Titans existed as the Houston Oilers from 1960-96. In Houston, the Oilers won the first two American Football League Championships and made a total of 15 playoff appearances.
Nine players that wore a Houston Oilers uniform are enshrined in the Pro Football Hall of Fame, including most recently former quarterback Warren Moon, defensive tackle Curley Culp and offensive lineman Bruce Matthews, who currently serves as Titans offensive line coach.
The team moved to Tennessee in 1997 and in 1999 adopted the "Titans" moniker.
Titans-Texans: The Last Meeting
Houston Texans 10 at Tennessee Titans 16
Sunday, December 29th, 2013
LP Field, Nashville, TN
| | | | | | |
| --- | --- | --- | --- | --- | --- |
| | 1 | 2 | 3 | 4 | Final |
| Houston Texans | 7 | 0 | 0 | 3 | 10 |
| Tennessee Titans | 0 | 6 | 7 | 3 | 16 |
After falling behind early against the Texans, the Titans rallied for 16 unanswered points to win their 2013 season finale 16-10 at LP Field. Rob Bironas kicked three field goals, and Chris Johnson rushed for a touchdown in the win. The Titans defense forced four turnovers, two of which led to scores.
Johnson helped the Titans control the ball for more than 32 of the game's 60 minutes. He totaled 27 rushing attempts for 127 yards, accounting for most of the team's 36 carries and 151 ground yards.
It was the Texans who jumped out to a quick lead, however. Keshawn Martin returned the opening kickoff 42 yards, and Houston's offense did the rest, going 63 yards on nine plays. Jonathan Grimes capped the series with a four-yard touchdown run. They would not score again until less than three minutes remained in regulation.
The Titans were held scoreless in the first quarter but cut into Houston's lead in the second stanza. After driving 32 yards, Bironas made a 42-yard field goal to make the score 7-3.
Later in the second quarter, the teams exchanged turnovers, beginning with a pair of Titans linebackers combining for a takeaway. Grimes had the ball knocked away by Akeem Ayers, and Zach Brown was able to recover it. But soon thereafter, Titans quarterback Ryan Fitzpatrick was hit as he attempted a pass, and the ball fluttered into the arms of Texans cornerback Brice McCain.
On the ensuing series, Titans coach Mike Munchak threw the challenge flag on a DeAndre Hopkins catch that would have given the Texans a first down in Titans territory. The call was reversed, and Houston was forced to punt two plays later.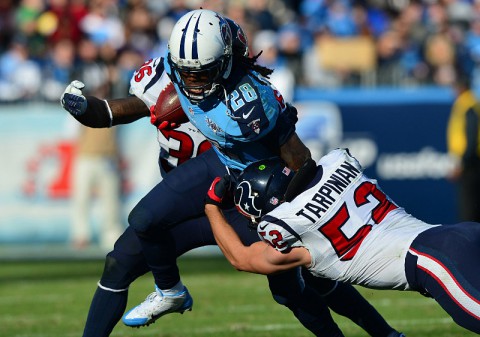 The Titans got the ball at their own five-yard line with 1:53 remaining in the first half. Kendall Wright turned a short pass from Fitzpatrick into a 34-yard gain, and as the clock ran to zero, Bironas booted a field goal from 55 yards to cut the Texans' lead to one point.
In the third quarter, the Titans' second takeaway led to their only touchdown. Matt Schaub tried to throw deep to tight end Ryan Griffin, but the ball bounced off the helmet of safety Bernard Pollard. Ayers made a diving grab to give the Titans possession Houston's 35-yard line. Seven plays later, Johnson crossed the goal line on an 11-yard run to give the Titans their first lead of the game, one they would not relinquish.
Less than a minute into the fourth quarter, Schaub mishandled a snap, and defensive tackle Sammie Hill recovered the fumble at Houston's 33-yard line. That led to the Titans' final points of the game on a 37-yard field goal by Bironas.
The Texans later made it a one-score game with an eight-play, 89-yard drive that was highlighted by a 31-yard catch by Grimes. With 2:53 on the clock, they were forced to settle for a 19-yard field goal from Randy Bullock when the march stalled deep in Tennessee territory.
The Texans kicked deep to the Titans rather than attempt an onside kick. After a 15-yard run by Johnson for a first down, the Titans were able to run the clock down to 1:06 before a 56-yard punt by Brett Kern pinned the Texans on their own nine-yard line.
On the first play of what would prove to be Houston's final time with the ball, Schaub was intercepted deep over the middle by safety Michael Griffin, and the Titans were able to kneel on the ball to finish the victory.
Fitzpatrick completed 15 of 24 passes for 166 yards in the win, while Schaub was 22-of-34 for 229 yards.