APSU Sports Information

Martin, TN – A week after most everything went right for Austin Peay State University's football team in defeating Murray State, the Govs literally could not get out of their own way against UT Martin, Saturday, in Ohio Valley Conference action.
The Skyhawks took advantage of two interceptions and one fumble to roll past the Governors 37-7, during homecoming action at Hardy Graham Stadium.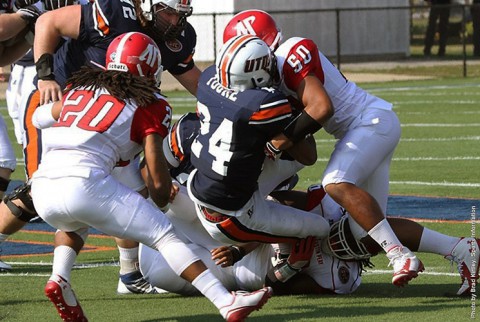 The loss dropped APSU to 1-7 overall (1-3 in the OVC) while UTM won its third straight game to improve to 4-5 overall and 3-3 in the OVC.
The Skyhawks also clinched the Sgt. York Trophy—the annual trophy that goes to the winner of the quadrangular series between the four Tennessee OVC schools. UTM went 3-0 in this year's series.
APSU struggled offensively the entire contest but more so early against a veteran and physical UT Martin, that honored 22 seniors prior to the contest. In fact, on APSU's first series, Otis Gerron was slammed to the ground after catching a shovel pass from Macius. He would never return—that meant the Govs did not have the running back who had rushed for 327 total in the previous two weeks.
APSU finished the opening half with just 70 yards total offense. The offensive struggles resulted in a turnover in the Govs' second possession when Mickey Macius completed a pass to the flat to Javier Booker, who fumbled at his own 19.
The Skyhawks recovered and immediately turned the gift into points, a short TD run. Then the Skyhawks turned to Dylan Favre, the nephew of the former NFL great. He led the Skyhawks to a pair of second-quarter TDs and a field goal to allow UTM to take a 23-0 lead into intermission.
The Favre-led offense then was responsible for two more third-quarter TDs, including his second TD pass—a 48-yarder to Taylor Higgason to put the Skyhawks up 37-0. APSU's only score came when Darrien Boone, who missed the Murray State game with a knee injury, found Wesley Thomas with a 43-yard fourth-quarter strike.
Boone replaced Macius in the second quarter as the last week's OVC Newcomer of the Week struggled wearing a glove over a bruised right thumb and it was evident in his passing numbers—he finished 6-of-11 passing for 16 yards. Boone was 3-of-8 for 56 yards. Both threw interceptions, Trey Taylor, who started the Memphis game to open the season before incurring a knee injury, completed his only pass attempted.
In total the Govs had just 170 offensive yards compared to 496 for UT Martin,. Favre finished 11 of 17 for 205 yards while Abou Toure, whom the Govs bottled up early in the contest, finished with 114 yards on 13 carries.
Adam Noble led the Govs defensive effort with 10 tackles while Montez Carlton recorded his season's first interception—fourth for his career.
Box Score
UT Martin (4-5 , 3-3) vs. Austin Peay (1-7 , 1-3)
| | 1st | 2nd | 3rd | 4th | Total |
| --- | --- | --- | --- | --- | --- |
| Austin Peay | 0 | 0 | 0 | 7 | 7 |
| UT Martin | 7 | 16 | 14 | 0 | 37 |
| Qtr | Time | Scoring Play | APSU | UTM |
| --- | --- | --- | --- | --- |
| 1st | 08:47 | UTM – TOURE, Abou 9 yd run (REDDITT, Jackso kick ), 3 plays, 19 yards, TOP 0:51 | 0 | 7 |
| 2nd | 10:22 | UTM – GARLAND, Trent 2 yd run (REDDITT, Jackso kick ), 10 plays, 99 yards, TOP 3:45 | 0 | 14 |
| 2nd | 06:31 | UTM – REDDITT, Jackso 34 yd field goal 6 plays, 33 yards, TOP 2:01 | 0 | 17 |
| 2nd | 00:45 | UTM – TANNER, William 19 yd pass from FAVRE, Dylan (NEAL, Jarod pass failed) 9 plays, 60 yards, TOP 3:09 | 0 | 23 |
| 3rd | 11:19 | UTM – TOURE, Abou 6 yd run (REDDITT, Jackso kick ), 5 plays, 66 yards, TOP 1:38 | 0 | 30 |
| 3rd | 02:07 | UTM – HIGGASON, Taylo 48 yd pass from FAVRE, Dylan (REDDITT, Jackso kick ) 2 plays, 57 yards, TOP 0:27 | 0 | 37 |
| 4th | 12:52 | APSU – THOMAS, Wesley 43 yd pass from BOONE, Darrien (VINCIL, Dakota kick ) 3 plays, 50 yards, TOP 1:30 | 7 | 37 |
| | APSU | UTM |
| --- | --- | --- |
| FIRST DOWNS | 8 | 25 |
| Rushing | 3 | 12 |
| Passing | 4 | 12 |
| Penalty | 1 | 1 |
| NET YARDS RUSHING | 91 | 236 |
| Rushing Attempts | 35 | 49 |
| Average Per Rush | 2.6 | 4.8 |
| Rushing Touchdowns | 0 | 3 |
| Yards Gained Rushing | 128 | 257 |
| Yards Lost Rushing | 37 | 21 |
| NET YARDS PASSING | 79 | 260 |
| Completions-Attempts-Int | 10-20-2 | 20-28-1 |
| Average Per Attempt | 4.0 | 9.3 |
| Average Per Completion | 7.9 | 13.0 |
| Passing Touchdowns | 1 | 2 |
| TOTAL OFFENSE YARDS | 170 | 496 |
| Total offense plays | 55 | 77 |
| Average Gain Per Play | 3.1 | 6.4 |
| Fumbles: Number-Lost | 2-1 | 3-0 |
| Penalties: Number-Yards | 3-26 | 5-49 |
| PUNTS-YARDS | 8-311 | 5-202 |
| Average Yards Per Punt | 38.9 | 40.4 |
| Inside 20 | 3 | 3 |
| 50+ Yards | 0 | 1 |
| Touchbacks | 0 | 1 |
| Fair catch | 4 | 3 |
| KICKOFFS-YARDS | 2 – 99 | 7 – 375 |
| Average Yards Per Kickoff | 49.5 | 53.6 |
| Touchbacks | 1 | 3 |
| Punt returns: Number-Yards-TD | 0-0-0 | 2–1-0 |
| Average Per Return | 0 | -0.5 |
| Kickoff returns: Number-Yds-TD | 3-82-0 | 1-4-0 |
| Average Per Return | 27.3 | 4.0 |
| Interceptions: Number-Yds-TD | 1-38-0 | 2-11-0 |
| Fumble Returns: Number-Yds-TD | 0-0-0 | 0-0-0 |
| Miscellaneous Yards | 0 | 0 |
| Possession Time | 26:55 | 33:05 |
| Third-Down Conversions | 2 of 13 | 5 of 13 |
| Fourth-Down Conversions | 0 of 2 | 2 of 2 |
| Red-Zone Scores-Chances | 0-0 | 5-5 |
| Sacks By: Number-Yards | 0 – 0 | 2 – 10 |
| PAT Kicks | 1-1 | 4-4 |
| Field Goals | 0-0 | 1-1 |