Clarksville, TN – The weekly Clarksville Parks and Recreation Department Recreation Report provides Clarksvillians with a glimpse at the activities and events that are available from the Parks and Recreation Department for them to enjoy together as a family.
This weeks highlights include: Adaptive and Special-Needs programming, Indoor Aquatic Center to host event just for toddlers, Civil War Carbine Demo coming to Fort Defiance, Kleeman Community Center to Host Free Silver Social and Handmade Holidays.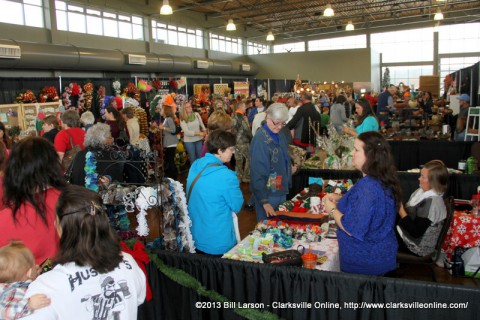 Adaptive and Special-Needs programming
Clarksville Parks and Recreation wants to expand our adaptive and special-needs programming, but we need your help! If you have a spare moment, visit us on Facebook and take a quick survey – only 8 questions! You can also e-mail your suggestions or comments to .
Indoor Aquatic Center to host event just for toddlers
The Indoor Aquatic Center is excited to bring back Toddler Splash, a monthly event for toddlers and their families. The first Toddler Splash of the indoor season will be held Wednesday, November 5th from 10:00am to noon. This monthly event takes place on the first Wednesday of every month at the Indoor Aquatic Center, located at 166 Cunningham Lane.
At Toddler Splash, kids ages 1 to 5-years-old can enjoy activities each month such as, water games, crafts and other seasonal fun! Cost to attend is $3 per person, including adults. A parent or adult guardian must accompany toddlers in the water. This event will allow youngsters to enjoy getting acquainted with the water or practicing previously learned water safety skills.
Pre-registration is available at recpro.cityofclarksville.com and is encouraged.
Civil War Carbine Demo coming to Fort Defiance
A demonstration of Civil War weaponry is planned for Saturday, November 8th, from 10:00am to 4:00pm, at the Fort Defiance Civil War Park and Interpretive Center, located at 120 Duncan Street.
During the event, Mr. George Wernke will demonstrate firing techniques of numerous Civil War carbines and repeating rifles. There will also be discussions about equipment, shelter, rations, camp life, and women in war from that era.
Kleeman Community Center to Host Free Silver Social
Are you at least 50 years of age and looking for something fun to do? The Kleeman Community Center will host a Silver Social, sponsored by the Distinguished Steppers Unlimited, on Saturday, November 15th from 6:00pm to 10:00pm.
Residents, ages 50 and up, are invited to this special holiday-themed concert and dinner to socialize and enjoy entertainment provided by The Garland Family and Rev. Tony Ward and Company. Dress for the event is semi-formal.
Space is limited to 120 seats. Although the event is free, people wanting to attend the event will need to get paper tickets for admittance.
For ticket information, contact the Kleeman Community Center at 931-647-3056 or the Distinguished Steppers Unlimited at 931.378.9422.
Handmade Holidays
Looking to do some early Christmas shopping? Don't miss the 3rd Annual Handmade Holidays event, Saturday, November 15th from 10:00am to 5:00pm and Sunday, November 16th from noon to 4:00pm at the Wilma Rudolph Event Center at Liberty Park.
Visitors can shop from over 60 local artists featuring handmade and handcrafted items, enjoy door prizes, concessions and free admission!