APSU Sports Information

Jacksonville, AL – Austin Peay State University's football team has played four ranked Football Championship Subdivision (FCS) teams in 2015.
Prior to Saturday, the Govs faced No. 14/17 Chattanooga, No. 22/23 Illinois State and No. 18/19 Eastern Kentucky earlier this season. But none has been better than No. 5/5 Jacksonville State, the first Top 10 team the Govs faced this year.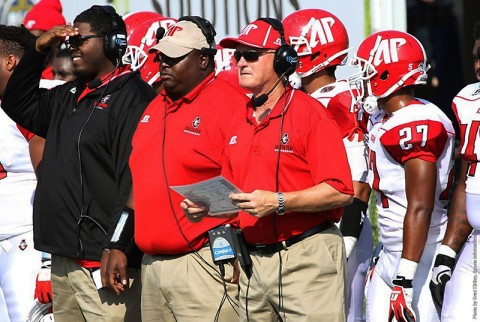 The Gamecocks more than lived up to their lofty billing, jumping out to a 28-0 first-quarter lead and rolling to a convincing 56-0 win against APSU, Saturday afternoon, in Ohio Valley Conference football action in JSU Stadium.
The loss dropped APSU to 1-8 on the season, 1-4 in the OVC. JSU improved to 7-1 with a perfect 5-0 OVC mark. In fact, no Govs' opponent proved as dominating as Jacksonville State. The Gamecocks, who entered the contest ranked 12th in FCS for total offense and ninth in rushing, finished with 655 yards, including 416 on the ground. Defensively, they limited APSU to just eight first downs and 144 yards total offense.
The Governors actually had a chance early to gain some early momentum. The Gamecocks' JD Williams fumbled the opening kickoff, with Montez Carlton recovering at the JSU 30. But the Govs' offense gained absolutely no offensive traction, gaining zero yards on consecutive Justin Roberson rushes—Roberson started in place of freshman Otis Gerron, who missed Saturday's game still recovering from a concussion suffered against UT Martin.
Wesley Thomas dropped a third-down pass from Mickey Macius, leaving the Govs facing fourth down. APSU has not attempted a field goal all season and it eschewed the three-point opportunity in this situation. JSU collapsed Macius' protection and sacked him for a five-yard loss, ending the early Govs' threat.
In fact, the momentum immediately shifted to Jacksonville State as it took the ball 65 yards in nine plays, using just 1:55 on the clock, to take a 7-0 lead on a Troymaine Pope 7-yard run to the delight of the homecoming crowd. It was the start of a 28-point Gamecock first quarter as JSU never looked back.
Running back DaMarcus James, the OVC Preseason Player of the Year who scored five times against APSU a year ago, had 99 yards rushing and a TD—that coming out of the Wildcat. But it was sophomore quarterback Eli Jenkins who confounded the Govs during the first and third quarters—the only two quarters he played. Jenkins finished the contest 10-of-11 passing for 146 yards and one TD while rushing for another 75 yards and a score on only eight attempts.
APSU finished with just 31 yards passing as Macius and Darrien Boone combined for 8-of-21 passing. Boone did gain 40 rushing yards on nine attempts. Roberson led all Govs rushers with 57 yards on 17 carries.
Defensively, cornerback-turned-safety Buddy Mitchell led all tacklers with a career-high 13 tackles, including two for loss. Freshman David Wall continued his emergence at safety with seven stops, the same number as linebackers Adam Noble and Zach Stuart.
Senior punter Ben Campbell enjoyed perhaps his finest 2014 performance with a 43.1 average on eight punts, including two more than 50 yards and three downed inside the 20.
Box Score
Jacksonville State (7-1 , 5-0) vs. Austin Peay (1-8 , 1-4)
| | 1st | 2nd | 3rd | 4th | Total |
| --- | --- | --- | --- | --- | --- |
| Austin Peay | 0 | 0 | 0 | 0 | 0 |
| Jacksonville State | 28 | 7 | 14 | 7 | 56 |
| Qtr | Time | Scoring Play | APSU | JSU |
| --- | --- | --- | --- | --- |
| 1st | 11:37 | JSU – POPE,Troymaine 9 yd run (ROULEAU,Connor kick ), 7 plays, 65 yards, TOP 1:55 | 0 | 7 |
| 1st | 07:16 | JSU – BRUMMEL,Bo 0 yd fumble recovery (ROULEAU,Connor kick ) | 0 | 14 |
| 1st | 05:33 | JSU – JONES,Miles 4 yd run (ROULEAU,Connor kick ), 5 plays, 31 yards, TOP 1:33 | 0 | 21 |
| 1st | 01:15 | JSU – JENKINS,Eli 1 yd run (ROULEAU,Connor kick ), 6 plays, 62 yards, TOP 2:09 | 0 | 28 |
| 2nd | 03:36 | JSU – LeMAY,Christian 7 yd run (ROULEAU,Connor kick ), 12 plays, 74 yards, TOP 4:46 | 0 | 35 |
| 3rd | 09:19 | JSU – JONES,Miles 21 yd run (ROULEAU,Connor kick ), 9 plays, 82 yards, TOP 2:59 | 0 | 42 |
| 3rd | 02:00 | JSU – JONES,Miles 22 yd run (ROULEAU,Connor kick ), 6 plays, 79 yards, TOP 1:48 | 0 | 49 |
| 4th | 12:01 | JSU – JAMES,DaMarcus 2 yd run (ROULEAU,Connor kick ), 11 plays, 86 yards, TOP 3:13 | 0 | 56 |
| | APSU | JSU |
| --- | --- | --- |
| FIRST DOWNS | 8 | 36 |
| Rushing | 7 | 23 |
| Passing | 1 | 12 |
| Penalty | 0 | 1 |
| NET YARDS RUSHING | 113 | 416 |
| Rushing Attempts | 38 | 60 |
| Average Per Rush | 3.0 | 6.9 |
| Rushing Touchdowns | 0 | 7 |
| Yards Gained Rushing | 143 | 438 |
| Yards Lost Rushing | 30 | 22 |
| NET YARDS PASSING | 31 | 239 |
| Completions-Attempts-Int | 8-21-1 | 18-28-0 |
| Average Per Attempt | 1.5 | 8.5 |
| Average Per Completion | 3.9 | 13.3 |
| Passing Touchdowns | 0 | 1 |
| TOTAL OFFENSE YARDS | 144 | 655 |
| Total offense plays | 59 | 88 |
| Average Gain Per Play | 2.4 | 7.4 |
| Fumbles: Number-Lost | 1-1 | 2-1 |
| Penalties: Number-Yards | 4-35 | 2-10 |
| PUNTS-YARDS | 8-345 | 2-79 |
| Average Yards Per Punt | 43.1 | 39.5 |
| Inside 20 | 3 | 0 |
| 50+ Yards | 2 | 0 |
| Touchbacks | 0 | 1 |
| Fair catch | 1 | 1 |
| KICKOFFS-YARDS | 1 – 65 | 9 – 477 |
| Average Yards Per Kickoff | 65.0 | 53.0 |
| Touchbacks | 0 | 3 |
| Punt returns: Number-Yards-TD | 0-0-0 | 2-6-0 |
| Average Per Return | 0 | 3.0 |
| Kickoff returns: Number-Yds-TD | 5-106-0 | 1-30-0 |
| Average Per Return | 21.2 | 30.0 |
| Interceptions: Number-Yds-TD | 0-0-0 | 1-7-0 |
| Fumble Returns: Number-Yds-TD | 0-0-0 | 0-0-0 |
| Miscellaneous Yards | 0 | 0 |
| Possession Time | 29:52 | 30:08 |
| Third-Down Conversions | 3 of 15 | 8 of 13 |
| Fourth-Down Conversions | 0 of 3 | 1 of 2 |
| Red-Zone Scores-Chances | 0-1 | 6-6 |
| Sacks By: Number-Yards | 1 – 14 | 4 – 23 |
| PAT Kicks | 0-0 | 8-8 |
| Field Goals | 0-0 | 0-0 |