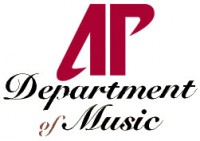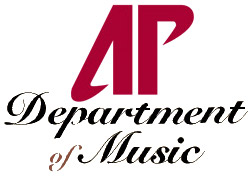 Clarksville, TN – On Friday evening Austin peace State University played host to the 30th Annual Percussion Ensemble Halloween Concert. The sell out performances featured Music department students and faculty dressed in costumes while performing on a ghoulishly decorated stage.
This year's program featured "This is Halloween," from the film "The Nightmare Before Christmas;" "Once Upon a Dream," from the recent "Maleficent" movie; Franz Schubert's "Erlkönig," about magical beings attacking a young boy; and a Halloween rap arranged by Steinquest.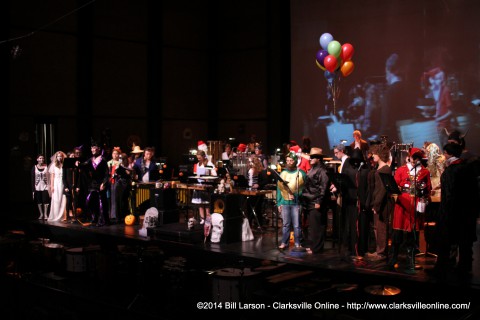 "After watching a concert where the percussion group STOMP uses a kitchen sink, I wrote a piece called 'The Kitchen Sink and Everything Else.' It is probably the ultimate percussion novelty piece." said Steinquest. "It has everything."
"I want to thank Chris and Chris; Chris Brooks and Chris Crockarell are two of my percussion buddies from Nashville. They've started coming up every year and they are usually involved in the novelty piece with trash cans or whatever," Steinquest said.
He continued, "I did that piece, the kitchen sink thing because it kind of used all of the different kind of novelties that we've done before. So it was really cool to have them come interrupt that and do some of their foolishness too. It was great!"
Each year Steinquest comes out as a different Halloween character. This year was Maleficent which he joked was "Male-icificent". Talking about this year's costume Steinquest said, "This one was literally a stretch! Because even though it is a large it is a woman's costume so I'm wearing some unmentionables under here to try to keep myself altogether." He loved the response he got from the audience this year, "Kids dug it, they just flipped out when I walked out the door the dressing room and they saw what I was doing. And I think that the audience were quite amused."
I asked him what was his most memorable memory over the last 30 years, and he stated that after doing so many they tend to start to blend together. "I think I always like whatever the last one that we did, and then I end up kind of forgetting because t here's been so many over the years. Then someone will come up to me and start talking to me about when you wore that costume, or when you did that song it was like the greatest thing ever," and I have to really try to remember what that was. "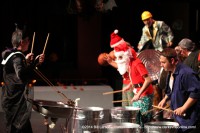 But as he concluded "There have been so many great moments."
When I asked 10 year old Hunter McDaniel what his favorite part of the show was he responded without hesitation, "Frankenstein!". He didn't elaborate on what specifically that he liked about the green monster, but he said he really enjoyed the show, and would tell all of his friends that they should come next year. This was his first time coming.
Four-year-old Julian was at the Halloween concert with his mother Tara Villanueva. He said his favorite part of the show with the costumes and there were plenty to choose from. They said it was the first time coming to the Halloween concert, and so I asked his mother if they would be back to see the show again next year. "Oh definitely," she responded. "We will be back to every one."
Steinquest is already starting to plan next years concert.
Photo Gallery