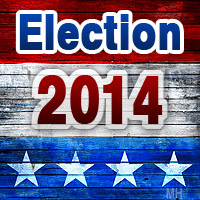 Clarksville, TN – Tennessee's General Election is tomorrow, so voters who did not already take advantage of early voting, will be heading to the polls to cast ballots on a range of offices and issues.
Amongst these will be selecting the next Mayor for the City of Clarksville. Voters will have their choice between current Mayor Kim McMillan, City Councilman Bill Summers, or City Councilman Jeff Burkart.
Clarksville Online asked City Councilman Jeff Burkhart his position on some important local issues on the minds of Clarksville citizens.
Jeff Burkhart is the City Councilman for Ward 12 in Clarksville, TN. He has a daughter Meredith.
Education
Clarksville Online: What are your thoughts on future development of the education/school system.
Jeff Burkhart:They do an incredible job with the resources they have and we should support them. One thing I would like to do is have the council members go through Leadership CMCSS to connect with students and school employees. There are lots of positive ways to become involved.
Mass Transit
Clarksville Online: What are your thoughts on mass transit to Nashville, commuter train, etc.
Jeff Burkhart: The bus system to Nashville is working well and if there is demand, I think we should support mass transit. It is already in the long range plan for TDOT and this would be one answer to alleviating some of the congestion.
Draw Down at Fort Campbell
Clarksville Online: What are your thoughts on the proposed draw down at Fort Campbell. Worst case is listed at 16,000 military and civilians. Best case is no change at all. Seems to be no middle ground. What can be done to possibly reach a middle ground or even prevent these loses.
Jeff Burkhart: The Hopkinsville Chamber has taken the lead in sharing the information about the definite draw down. As with anything, I think we have to prepare for the worst and hope for the best. Most importantly, we need to address ways to help the military families through this time. Their sacrifices have helped to make Clarksville and Hopkinsville so we need to support them through whatever transition there may be.
Transportation Improvements
Clarksville Online: What are your thoughts on future needs/development of infrastructure. What can be done to lobby to the State of Tennessee/TDOT for improvements?
Jeff Burkhart: We have many infrastructure issues because most of our state roads are the only way to get from point A to point B. I would start with the least expensive and logical ways to make changes such as realigning roads and adding turning lanes.
Last week TDOT was here for public input from our community and I was the only mayoral candidate who attended. I found out about the meeting through a county employee who shared the info because city leadership chose not to share it. We must continue to press how critical their involvement is because we rely so heavily on state roads. One way to do that is to be responsive, communicate consistently and keep Clarksville on the map in a positive way.
Parks and Recreation
Clarksville Online: What are your thoughts on recent additions to Clarksville Parks, Ford Street Mountain Bike Trail Park, Splash Pad at Edith Pettus Park
Jeff Burkhart
: I think, when possible, we need to offer additional recreational opportunities. Our community has been going backwards in obesity rates which impacts health. We need to offer opportunities that will get people outside. As far as Edith Pettus Park, that was a very long time overdue for the children in that community. I was there the day it opened and there were families lined down the block. Thanks to Councilman Harris and Community Development for making it making it happen.
Clarksville Online: What are your thoughts on Expanding Fort Defiance.
Jeff Burkhart: I would like to tie it into the Riverwalk across the Red River at some point. We need to look for an economical way to tie it into McGregor Park so people can enjoy both parks without having to drive from one park to the other. We also need to look for a way to lessen the odor from the sewer plant so it is not a deterrent for people to enjoy that area.
Clarksville Online: What are your thoughts on future park developments/improvements.
Jeff Burkhart: For the sake of brevity, I think we need to do a better job of offering equitable recreational opportunities across the city. Focusing the majority of our resources on one park in one area of the community has not been a fair deal for the citizens.
Convention Center
Clarksville Online: What are your thoughts on a Clarksville Convention Center.
Jeff Burkhart: I would like to see a convention center with a public/private partnership. Like some other cities in Tenn. such as Kingsport, which has a private hotel with a convention center. I envision something similar to what they have accomplished. The hotel is nicely done and very well attended but also is not a burden for taxpayers.
Performing Arts Center
Clarksville Online: What are your thoughts on a Clarksville Performing Arts Center, should city work with Roxy Regional Theatre or start it's own project.
Jeff Burkhart: I think we should work with the Roxy because the lot is already in place and it is the most economical solution.
Jobs
Clarksville Online: What can be done to bring in more jobs, like Hankook Tire, especially with the upcoming proposed Fort Campbell changes?
Jeff Burkhart: More jobs can come in many shapes and sizes, from large industry to small businesses. As the owner of several small businesses, I employ up to 100 people at a time. We must look at all avenues for bringing in jobs to include working in a more regional capacity with our neighbors in other counties. Just as we have many people from Clarksville who are employed in industries in surrounding counties, many of their people are working in Montgomery County. We need to build those relationships to strengthen our entire MSA. Because we have the most to offer by way of retail and restaurants, a lot of the sales tax dollars are spent in our community. As far as industries like Hankook go, I think Mike Evans and his team are doing a great job and we as a city need to continue to support them in their efforts.
Telecommunications
Clarksville Online: What are your on CDE Lightband, recent internet problems, importance to Clarksville's Growth.
Jeff Burkhart: With the investment the city has already made, we need to make sure we are up to date with equipment needed to make Lightband competitive in the marketplace.
The Future
Clarksville Online: What goals and projects would you like to see started/finished in the next 4 years?
Jeff Burkhart: I'd like to see several road projects started to relieve traffic on Trenton, Warfield and Madison St. I'd like to see the completion of the downtown park/retail space completed and I would like to see more start up and thriving businesses in the community. At minimum, I would at least like to see the start of something significant to honor our military men and women. I have been to many communities that have beautiful tributes to the sacrifices of our men and women in uniform and I feel we can do a better job here.
Clarksville Online: How/What do you see in Clarksville's future.
Jeff Burkhart: I envision Clarksville's future with a thriving downtown mixed with residents and retail establishment. I'd like to see the reemergence of New Providence and Fort Camp Blvd to get their retail back to where it was in the late 80s, I want Madison Street near Exit 11 to go back to being business friendly, and to see many new businesses open. I'd also like to focus on the infrastructure to make commuting from one side of town to the other easier. This would include new ways of transportation such as walking and biking.