Written by Sgt. Leejay Lockhart
101st Sustainment Brigade, 101st Airborne Division (AA) Public Affairs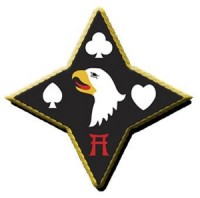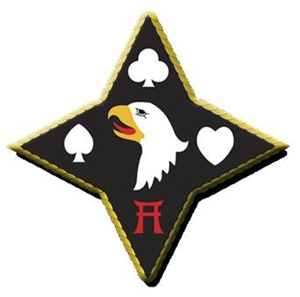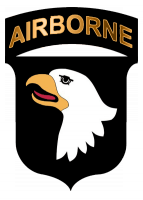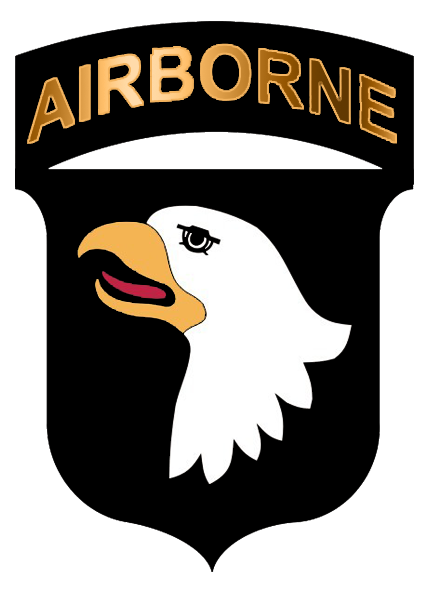 Fort Campbell, KY – Soldiers from the 2nd Battalion, 44th Air Defense Artillery Regiment, supported by the 101st Sustainment Brigade, 101st Airborne Division, returned to Fort Campbell, Kentucky, and uncased their battalion colors October 30th signifying the end of a successful mission.
In addition to the air defenders from the battalion's headquarters and Battery A, approximately 20 members of the 72nd Veterinary Detachment, 86th Combat Support Hospital, returned home as well.
Nearly 140 members of the "Strike Fear" battalion returned in this flight and an earlier one that arrived October 21st.
As Lt. Col. Timothy Shaffer, the battalion commander, and Command Sgt. Maj. Michael Brown, the battalion's senior enlisted adviser, uncased the battalion colors, it marked the first time since July 2013 that the entire battalion was at Fort Campbell.
July 2013 is when the first of the battalion's most recent deployments began, with Battery B, 2-44th ADA, deploying to Afghanistan in support of Operation Enduring Freedom.
After Battery B arrived in theater and started successfully performing its counter-rocket, artillery and mortar mission, the battalion headquarters received orders in mid-October 2013 to deploy to Afghanistan. Due to the urgency of the need, the battalion had a short amount of time to prepare for a mission outside of the battalion's traditional role of using Avenger weapon systems to launch Stinger missiles at low-flying aerial threats. Never losing focus, the battalion quickly trained on their new equipment, the Land-based Phalanx Weapon System.
The LPWS combines a powerful 20mm cannon, which resembles a Gatling gun, with sophisticated detection systems that allows it to detect then intercept incoming indirect fire attacks. The training culminated with a first for Fort Campbell – a test fire of 10 LPWS in December 2013. By early February, the battalion had cased its colors and started to deploy to Afghanistan for their nine-month mission.
"The primary mission was to shoot down rockets and mortars that were being shot at the different FOBs [forward operating bases] from the enemy," said Maj. Ronald S. Crowther, the battalion's rear detachment commander. "The importance of the mission was that they were literally directly involved in saving Soldiers' lives by shooting and destroying mortars and rockets that were fired directly at our forces."
The troops arrived on Fort Campbell shortly after midnight to a gathering of spouses, children, parents, grandparents, friends, battle buddies and other loved ones. As always, members of the Association of the United States Army were at Hangar 3 to give out refreshments, including popcorn, cookies and drinks to the Soldiers' families as they waited for their Soldiers. Many family members had signs letting the Soldiers know they had kept their promise to support and meet them upon their return.
The Soldiers also received a warm welcome from the 101st Airborne Division honor guard and band, as well as Brig. Gen. Mark R. Stammer, acting senior commander of the 101st Airborne Division and Fort Campbell.
According to Crowther, the families played a crucial role in the battalion's success.
"In our case, it was absolutely critical," said Crowther. "They were the ones that made sure we had gift packages going forward and sending letters … it just helps keep the morale up for the Soldiers that are deployed."
Sgt. Vincent J. Bartolomeo, like many other parents in the battalion that deployed, met Lucy, his 8-month-old daughter, for the first time during the October 21st welcome home ceremony. His wife, Melinda Bartolomeo, said she had Lucy four weeks and two days after he left.
"I think it's hard that he missed so much," said Melinda. "She can crawl, he missed the rolling over, everything pretty much so far other than walking."
She said the best thing about a welcome home ceremony was "having her family back." Her husband didn't waste any time embracing his wife, 3-year-old son and daughter as they reunited.
Crowther said that welcoming home Soldiers was an important duty that helped honor both warriors and their families.
"It helps the Soldiers realize their mission is important, and we appreciate what they've done. It's a way to come back and tell them thanks for the service they've provided," he said. "Second of all, I think it's a way to allow the families to see that same thing, that we do appreciate what they've done, and that ceremony helps the families see that we're willing to come back and celebrate their efforts and their commitment and the sacrifice that both they and their families make."
Photo Gallery