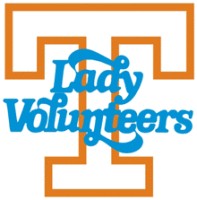 Knoxville, TN – The Tennessee Lady Vols held a media session and open practice period Wednesday in advance of Friday's season opener vs. Penn.
No. 4/4 UT and the Quakers will meet at Thompson-Boling Arena in a contest slated to tip at 7:00pm ET and be streamed live by SEC Network+.
The contest will be the first between the two programs and only Tennessee's second vs. a school from the Ivy League. The Lady Vols, who were ranked No. 1 at the time, toppled Princeton, 107-39, on December 20th, 2005, in their only other meeting with an Ivy program.
Friday's night's contest marks the first of four straight home games to open the season.
The last time the Big Orange women had that type of beneficial early spree was 2003-04, when they also hosted four straight tilts at Thompson-Boling Arena.
Penn Presents a Challenge for Short-Handed Lady Vols
The Lady Volunteers' basketball schedule annually consists of a challenging non-conference schedule. Out of the ten non-SEC matchups on this year's schedule, eight are among the 64 teams that made the NCAA tournament last year.
A tough schedule filled with several high-caliber programs it is, but the hardest part of the scheduling process may be getting teams to come play Tennessee in Thompson-Boling Arena.
One of those teams that has taken on this challenge is the opponent in the 2014-15 season opener: the reigning Ivy League champion University of Pennsylvania Quakers.
This will be Penn's second consecutive game against a UT school, having lost in the NCAA first round to Texas last March, 79-61, in College Park, MD.
"We watched Penn and they gave Texas a tough game last year," said Head Coach Holly Warlick. "They're very well-coached. They won the Ivy League and so we thought it'd be a great game for us. It's a different style and that always seems to be very difficult for us to adjust to and defend."
Head Coach Mike McLaughlin leads the Quakers into Knoxville for the first time in series history, soon after taking Penn to Italy for three international exhibition games.
This will be just the second time the Ivy League representative will face off with an SEC school, previously falling to Florida at the 1993 Lady Gator Classic (80-49).
"They're a very skilled basketball team," Warlick said. They can shoot threes. They've got a couple good kids inside. They're great passers. They spread the floor, and those types of things tend to give us the biggest headaches, so guarding them is going to be a task for us.
They're not going to power us, (but) they're well-coached and they know A + B = C. They have got the formula down. "
Tennessee will not have an easy time with the reigning No. 12 seed, as they continue to play through the suspensions of four players. Andraya Carter, Cierra Burdick, Ariel Massengale and Jannah Tucker are all out, but UT does get Isabelle Harrison back into the lineup after the senior center wasn't feeling well and didn't play in the exhibition game against Carson-Newman.
As is typical for a Lady Vols game, defense will be a key factor in determining the winner, and Penn is the same way. The Red and Blue are 13-47 when allowing 60 or more points since McLaughlin took over the program. Points will be more hard to come by Friday night, but center Nia Moore almost scored half of that number by herself against C-N, tallying 29 points without the aid of Harrison in the paint.
"It's a huge test, Warlick said. "They're conference champions, and I think they're smart and intelligent kids. It'll be a challenge for us. We're going to have to play well and we've got to be smart and not get in foul trouble. We've got play our game, but not let them get caught up in their game."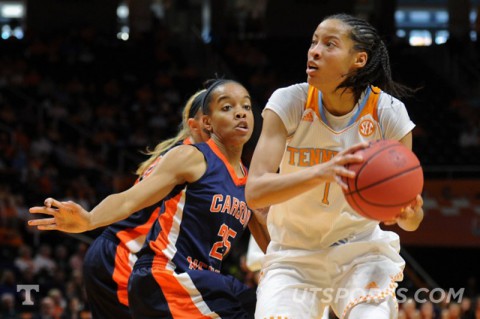 UT Building Program Through Strong Recruiting
With the Lady Vol basketball program being one of the most storied in women's hoops, head coach Holly Warlick and her staff have consistently been able to attract and sign talent players. The start for the 2015 freshman class is no different.
As of today, the Lady Vols have added two distinguished players, Te'a Cooper and MeMe Jackson. All Star Girls Report ranks Tennessee's 2015 group, also including transfer Diamond DeShields, the No. 4 ranked class.
Since 2011, Tennessee has signed three top-5 classes according to espnW HoopGurlz. The Lady Vols had the No. 1 freshman class in 2011, No. 5 in 2012, No. 3 in 2013 and No. 6 in 2014. The 2015 group stands at No. 12 with the potential for upward mobility with additional signees.
"Recruiting is your success," Warlick said. "It wins games and makes your coaching job a lot easier, look a lot easier anyway. It's about recruiting, and it's about getting people that fit into your system, program and kids."
Moore's 29-Point GEM Opened Eyes
If Sunday's exhibition game is any indication of what lies ahead for Nia Moore, the junior center is bound to have her best season yet donning the orange and light blue.
Moore's 29-point display in Tennessee's lone exhibition game against Carson-Newman proves that she has the ability to contribute to the Lady Vols' dominant front court.
Head Coach Holly Warlick was not surprised with Moore's breakout game.
"[Nia] has had that capability," Warlick said. I think just floor experience, just getting out there and playing [helped her]. I think Nia is capable of putting up good numbers every night."
The Chicago native not only had a good shooting night, going 12-of-16 from the floor, but she also grabbed five rebounds and blocked four shots.
In Moore's first two seasons in Knoxville, she averaged just 2.5 points per game in seven minutes per game. Coach Warlick credits Moore's struggles to injury and believes a healthy Nia Moore will pay dividends for her Lady Vol squad.
"She got hurt, she got behind. She came in late, she got behind," Warlick said. "I think, this year, you're seeing a healthy Nia Moore who has been through the summer working out, and, now, you see the result of her putting in the extra time and work."