Clarksville, TN – To hear the words "you've got Cancer" is the most devastating news a person can hear. For those who have lived and died with the disease, the journey to recovery, or the walk with death, can be a devastating experience to family and friends.
It's because of that experience that Doug and Vickie Wall, and their daughter, Candace Ursery, used their company resources to help make lives a little easier for those who will hear those words, "You've got Cancer."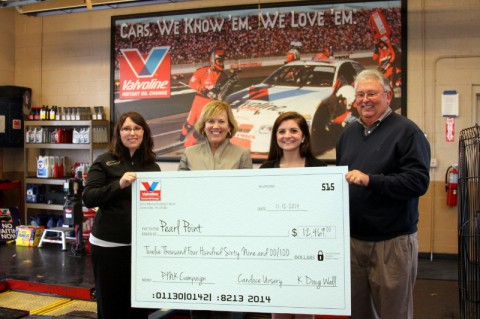 As owners of Convenient Car Care Inc., a Clarksville based corporation that owns and operates the Valvoline Instant Oil Change Service Centers, and Valvoline Complete Car Care Centers, they decided it was time to get involved with cancer awareness in a big way. During the month of October, the company decided to raise money and awareness to fighting the disease by painting their Wilma Rudolph Boulevard facility pink, and raising money for cancer awareness.
"We have experienced this dreadful disease first-hand" said Wall, whose family experienced the devastation of cancer up close and personal. "It's a terrible thing to watch someone you love go through this illness, and I was just going to make sure we did what we could do to help those who would have to fight this disease in the future."
Painting their buildings was just the first thing that Valvoline would do. In addition, they would donate $2.00 for every oil change they performed during October to the Pearl Point Cancer Support Group, who offers immediate support to cancer patients who don't know which way to turn when they hear the news, "you've got cancer."
Valvoline Corporate was extremely impressed with the pro-active community involvement of their franchisee, Convenient Car Care Inc., so they offered to add an additional $2.00 per oil change to the fundraising effort, making a total $4.00 donation per vehicle throughout the month of October.
Marshall Wheaton, a Franchise Business Consultant with Valvoline, expressed the company's excitement over what their Clarksville group was doing.
"We stand with our franchisee's at every level of their efforts, and when we heard what Doug and Candace had planned, we were extremely excited to join in and support them in any way we could" said Wheaton.
Candace Ursery, President of Convenient Car Care Inc. said the greatest part of being able to conduct this campaign was the affect it had on the employees of the company.
"Our employees were so excited about what we were doing, it was a great experience for them. They couldn't wait to wear their pink shirts to show their support of this effort. I really think the encouragement they experienced and the knowledge that they were making a difference in someone's life was worth what we did" according to Ursery.
On Wednesday, a dark and dreary rainy day, somewhat symbolic of the cloud that Cancer represents, Convenient Car Care Inc. presented a check for $12,469 to Susan Hosbach, President and CEO of Pearl Point cancer support.
"We couldn't be more grateful to the folks at Valvoline for what they have done" said Hosbach. "This was an amazing campaign for cancer support and awareness, and we couldn't be more excited about what they have done for us and the families that we will be able to help with this donation."
"We couldn't have done this without the support of our customers" according to Wall. "It's extremely important to us that we give back to our community in every way we possibly can, and I'm very pleased that we were able to do our part in helping someone else who has to hear the news, "you've got cancer"."
About Valvoline Instant Oil ChangeSM
Valvoline™, a brand of Ashland Inc. (NYSE: ASH), has been serving American motorists for more than 140 years. In addition to commercial and industrial lubricants, the Valvoline family of products includes Eagle One™ appearance products, Car Brite™ car restoration products, Zerex™ antifreeze, SynPower™ performance products, MaxLife™ products created for higher-mileage engines, and NextGen™ motor oil created with 50 percent re-refined oil.
With approximately 900 locations throughout the United States, Valvoline Instant Oil ChangeSM is a leader in serving the quick-lube market, and is looking for franchisee partners to establish a presence for the brand in markets across the country.