Austin Peay Sports Information

Las Vegas, NV – Austin Peay State University's basketball team scored a season-high 79 points but that was the last thing anyone was talking about as the Govs snapped a three-game losing streak with a 79-58 Continental Tire Las Vegas Invitational victory, Thursday morning, against Brown in the Orleans Arena.

No, it was the other end of the floor—the defensive end—that saw the Govs erase a five-point halftime deficit in outscoring Brown 46-20 in the final half.

After APSU allowed Brown to shoot 16 of 29 (55.2 percent) in the first half it was the opposite in the second half—the Bears didn't even shoot half as good, going 7-of-26 (26.9 percent) in the closing half. The half was highlighted by a Govs' 26-2 run.

"We didn't have the energy required in the first half—Brown really executed well and just picked us a part," APSU coach Dave Loos said. "When we played with a little more energy we made a few things happen with our defense in the second half."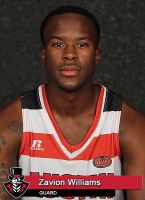 Junior point guard Zavion Williams led the assault, literally frustrating point guards Tavon Blackmon and Tyler Williams from getting where they wanted to start Brown's offense. The duo had nine turnovers between them, thanks to Williams and his backup, freshman Tre' Ivory.  APSU's Williams finished with five steals and five assists while Ivory added two steals and three assists. The Govs finished with 13 steals on the day.
"Zavion set the tone for everyone else," Loos said. "He really got after it. He put some heat on the ball. When we put Tre' in and there was no breather for them.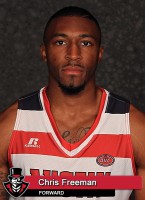 "Khalil (Davis) was good also. It just became infectious. The other guys started picking up on it and they just really got into it (their offense) in the second half."

The defensive effort led to multiple second-half transition baskets as APSU shot 59.8 percent (19 of 32) in that 20 minutes, finishing at 53.2 percent for the game—it was the first time all season APSU shot better than 45 percent from the floor all season.

The inside-outside duo of seniors Chris Freeman (career-high 20 points) and Ed Dyson (18 points) combined for 38 points. Freeman ended 10-of-12 from the floor while Dyson connected on 4-of-6 three point attempts as APSU connected on a season-high seven three pointers.

"Freeman was really good down there and a lot of that had to do with the fact he really ran the floor well," Loos said. "As a result, they got it to him where he could do something with it around the basket."

Early in the second half Brown was able to extend its lead to 44-38 with 17:34 left but that is when the Governors went on their suffocating run. When Brown finally nailed a three to make it a 64-49 contest, the game essentially was over.
In addition to Freeman and Dyson, Davis narrowly missed a double-double as did Chris Horton.
Davis finished with 10 points and nine rebounds to go with three assists while Horton ended with eight points and 12 rebounds—APSU out-rebounded Brown 27-10 in the second half, wiping out a five-rebound first-half deficit.
The Govs now will play the winner of the Stephen F. Austin-Prairie View A&M contest, to be played later Thursday afternoon.
Sections
Sports
Topics
APSU, APSU Athletics, APSU Basketball, APSU Men's Basketball, APSU Sports, Austin Peay State University, Brown, Chris Freeman, Chris Horton, Continental Tire Las Vegas Invitational, Dave Loos, Ed Dyson, Governors, Govs, Khalil Davis, Las Vegas NV, Ohio Valley Conference, Orleans Arena, OVC, Prairie View A&M, Stephen F. Austin, Tre Ivory, Zavion Williams