Austin Peay Sports Information


Las Vegas, NV – Stephen F. Austin advanced to the third round of last March's NCAA basketball tournament. Austin Peay State University found out why Friday.
The Lumberjacks, who return most of their players from a 32-winn 2013-14 team, shot 63 percent from the floor while limiting the Governors to only 42 percent shooting as APSU fell 83-62 in the upper division title game of the Continental Tire Las Vegas Invitational.
"We could never get anything going offensively because their defensive pressure pushed us out so far (starting the offense)," APSU coach Dave Loos said. "They are an excellent defensive team and their pressure affected us—we could not execute, we tried to do much off the dribble. We talked about it before the game, during the game and at halftime."
The disruptive Lumberjacks forced APSU into 17 turnovers, many created by the constant pressure from point guard Trey Pinkney. As result, it led to Loos' point about attempting to do too much off the dribble. Austin Peay had just nine assists against the Stephen F. Austin — the Govs had 19 assists against Brown, Thursday.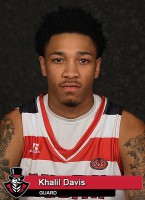 Stephen F. Austin led almost from start to finish. After the Lumberjacks scored the game's first bucket a Chris Horton tip-in tied the contest at 2. But Stephen F. Austin scored the game's next six points. APSU cut the deficit to two, 8-6, but would never get closer as the initial half was interrupted 30 times in the opening half with foul calls.
Only Khalil Davis of APSU's starters picked up two first-half fouls, forcing all to the bench for extended stretches. In addition, back-up point guard Tre' Ivory had three first-half fouls and back-up post Assane Diop two. APSU finished the first half down by 16, 44-28.
"We had some of our more experienced guys on the bench," APSU coach Dave Loos said. "Certainly it affected us on both ends of the floor. But that certainly is not what got us beat."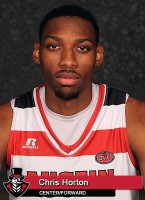 Any Govs' hope of a comeback ended early in the final 20 minutes when the Lumberjacks scored the initial six points. In fact, APSU was down by 26 before the first media timeout. Stephen F. Austin connected on 18 of 26 (69 percent) second-half floor shots
"As bad as we were tonight on the offensive end, we were equally so on the defensive end," Loos said. "We didn't communicate, we didn't help each other, we didn't play together and we couldn't keep the ball in front of us."
Jacob Parker led the Lumberjacks with 19 points while Thomas Walkup added 16. Khalil Davis scored a career-high 25 points, going 6-of-11 from the floor, for the Governors. Davis was named to the all-tournament team.
Chris Horton recorded a double-double with 12 points and 10 rebounds while freshman Josh Robinson came off the bench to added 12. Leading scorer Chris Freeman, who had 20 points against Brown, was held to two points, partly resulting from first-half foul woes.
"I thought we had a two or three guys who I thought gave great effort," Loos said. "They may have played that well, but I could not question their effort."
The Govs will have a week off from competition before playing their sixth straight game away from the Dunn Center when they travel to Carbondale, IL, to face Southern Illinois, Saturday, December 6th.
Video – Dave Loos
Box Score
Austin Peay 62 (2-5) vs Stephen F Austin 83 (3-3)
| | 1 | 2 | Total | Records |
| --- | --- | --- | --- | --- |
| Stephen F Austin | 44 | 39 | 83 | 3-3 |
| Austin Peay | 28 | 34 | 62 | 2-5 |
Stephen F Austin 83
##
Player
FGM-FGA
3FGM-3FGA
FTM-FTA
OFF-DEF
TOT
PF
TP
A
TO
BLK
STL
MIN
34
Parker, Jacob
8-14
3-6
0-0
2-6
8
3
19
3
2
0
1
29
0
Walkup, Thomas
7-9
0-0
2-2
0-1
1
3
16
3
0
0
0
13
30
Clayton, Tanner
5-6
0-0
2-2
2-4
6
3
12
2
1
2
1
28
10
Pinkney, Trey
1-3
0-1
5-6
1-3
4
2
7
3
3
0
2
30
3
Johnson, Jared
2-3
0-1
2-2
0-2
2
3
6
3
3
0
1
17
31
Brooks, Connor
4-5
1-1
0-0
0-0
0
3
9
0
0
0
1
15
11
Geffrard, Clide
3-4
0-0
2-3
0-1
1
2
8
0
2
0
0
11
4
Charles, Ty
1-1
0-0
2-2
2-0
2
2
4
0
0
0
0
6
12
Cameron, Dallas
0-1
0-1
2-2
0-0
0
1
2
2
2
1
1
13
1
Floyd, Demetrious
0-0
0-0
0-0
0-0
0
0
0
0
2
0
0
8
5
Dotson, Justin
0-2
0-1
0-0
1-3
4
3
0
2
1
0
0
11
15
King, Bobby
0-0
0-0
0-0
0-0
0
2
0
0
2
0
0
9
21
Martin, Jason
0-0
0-0
0-0
0-2
2
0
0
0
0
0
0
2
25
Holden, Jaxon
0-1
0-0
0-0
0-1
1
2
0
0
1
0
0
5
33
Johnston, Caleb
0-0
0-0
0-0
0-0
0
0
0
0
0
0
0
3
0
TEAM
0-0
0-0
0-0
1-0
1
0
0
0
0
0
0
0
Totals
31-49
4-11
17-19
9-23
32
29
83
18
19
3
7
200
Percentages
63.3%
36.4%
89.5%
Austin Peay 62
##
Player
FGM
-FGA
FGM3
-FGA3
FTM
-FTA
OFF
-DEF
TOT
PF
TP
A
TO
BLK
STL
MIN
11
Davis, Khalil
6-11
2-5
11-16
1-0
1
2
25
1
5
0
1
37
05
Horton, Chris
5-9
0-0
2-4
6-4
10
2
12
0
3
3
2
36
02
Willams, Zavion
2-4
0-1
0-0
0-0
0
2
4
3
1
0
1
21
15
Freeman, Chris
1-2
0-0
0-0
1-0
1
3
2
0
3
0
1
19
24
Dyson, Ed
0-6
0-3
0-2
1-4
5
3
0
1
2
0
1
23
04
Robinson, Josh
5-7
2-3
0-1
0-1
1
0
12
1
2
0
0
17
10
Ivory, Tre
0-3
0-0
4-5
0-0
0
3
4
1
1
0
0
19
01
Diop, Assane
1-4
0-2
0-0
0-1
1
2
2
1
0
0
0
15
20
Bubrys, Domas
0-1
0-0
1-2
0-1
1
0
1
0
0
0
0
3
23
Mboup, Serigne
0-1
0-0
0-1
2-0
2
0
0
1
0
1
0
10
TM
TEAM
0-0
0-0
0-0
1-0
1
0
0
0
0
0
0
0
Totals
20-48
4-14
18-31
12-11
23
17
62
9
17
4
6
200
Percentages
41.7%
28.6%
58.1%