Written by Cody Bush
APSU Sports Information

Hattiesburg, MS – Austin Peay State University women's basketball team dominated the bulk of action but a nine minute span in the first half proved its undoing in a 80-71 nonconference loss to Southern Miss, Friday afternoon, at Reed Green Coliseum.
Austin Peay (1-4) opened the game by making its first four shots and jumped out to a 10-3 lead in the first two minutes. Southern Miss rallied to tie the game, 10-10, in the next three minutes. The two teams traded baskets over the next five minutes, senior guard Tiasha Gray's three-pointer moving APSU within a point, 19-18, with 10:30 left.
But as was the case Monday at Chattanooga, a critical nine minute stretch decided the contest. Austin Peay went just 1-of- 13 from the floor and committed eight turnovers after Gray's three pointer.
Meanwhile, Southern Miss went 10-of-18 during the same span, including a stretch where it made eight consecutive baskets. The Golden Eagles lead reached 22 points, 44-22, when Brittanny Dinkins hit a free throw with 3:27 left. Sophomore forward Beth Rates ended Austin Peay's field-goal drought at the 1:43 mark, but the Lady Govs could only trim its deficit to 19 points, 47-28, at halftime.
"I thought we came out and did some good things to start the game," said Lady Govs head coach Carrie Daniels. "But then Southern Miss came at us and that took us out of our flow. We started taking some quick shots and they got the rebound and attack us, they got a lot out of transition in the first half."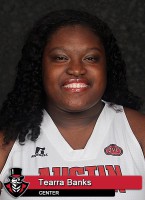 Austin Peay dominated the second-half action, opening the period with five straight baskets and a 10-0 run to slash the deficit to nine points at the 17:41 mark. Southern Miss would push back and built a 15-point lead seven minutes later.
The Lady Govs had one more burst in reserve, an 11-2 run that saw it close within five points, 68-63, with 4:48 left.
Sophomore center Tearra Banks made three free throws to start the run and Rates added a pair of jumpers. Gray would end the run with two baskets, the final one close them within two possessions.
"I was proud of the way we responded in the second half," said Daniels. "We did a much better job of maintaining our composure, actually running our offense and getting the shots we wanted. It showed in the stat sheet, both in our shooting percentage and our turnover number."
Southern Miss (4-1) scored on its next two possessions to end the threat Jerontay Clemons hit a jumper and then Kierra Jordan scored after an Austin Peay offensive foul, extending the lead to nine points. The Lady Govs would get within six points twice in the final two minutes, but would get no closer.
Gray led the Lady Govs with 20 points and seven assists, but was 7-of-19 from the floor. Banks added 15 points and five rebounds, going 5-of-8 from both the floor and the free-throw line. Kristen Stainback finished with 14 points while Rates added a 10-point, nine rebound outing.
Tamara Jones led Southern Miss with a 20-point, 15-rebound effort off the bench. Clemons added 16 points.
Austin Peay will face Oral Roberts in the 11:00am, Saturday consolation game. It will be the first meeting between the two teams in a game that will be broadcast on WAPX 91.9 FM.
Box Score
Southern Miss 80 (4-1) vs Austin Peay 71 (1-4)
| | 1 | 2 | Total | Records |
| --- | --- | --- | --- | --- |
| Austin Peay | 28 | 43 | 71 | 1-4 |
| Southern Miss | 47 | 33 | 80 | 4-1 |
Austin Peay 71
##
Player
FGM

-FGA

3FGM

-3FGA

FTM

-FTA

OFF

-DEF

TOT
PF
TP
A
TO
BLK
STL
MIN
1
Gray, Tiasha
7-19
4-9
2-3
0-6
6
3
20
7
6
0
5
36
25
Banks, Tearra
5-8
0-0
5-8
1-4
5
3
15
0
2
1
0
26
4
Stainback, Kristen
6-12
2-5
0-0
0-2
2
2
14
2
1
0
1
32
24
Rates, Beth
4-9
0-0
2-2
3-6
9
2
10
2
2
3
1
30
42
Norton, Symantha
2-4
0-1
3-3
1-4
5
1
7
2
3
0
0
16
44
Scott, Jacey
1-3
1-3
0-0
0-1
1
3
3
2
0
0
1
15
21
Nwokocha, Jennifer
1-1
0-0
0-0
0-1
1
1
2
0
1
0
0
6
3
Rivers, April
0-3
0-2
0-0
0-0
0
0
0
0
0
0
0
3
12
Rich, Madison
0-1
0-1
0-0
0-1
1
0
0
1
0
0
0
14
23
Gooch, Sydney
0-1
0-0
0-0
1-2
3
2
0
0
3
1
1
22
0
TEAM
0-0
0-0
0-0
2-0
2
0
0
0
1
0
0
0
Totals
26-61
7-21
12-16
8-27
35
17
71
16
19
5
9
200
Percentages
42.6%
33.3%
75.0%
Southern Miss 80
##
Player
FGM

-FGA

FGM3

-FGA3

FTM

-FTA

OFF

-DEF

TOT
PF
TP
A
TO
BLK
STL
MIN
10
Clemons, Jerontay
6-16
0-1
4-6
3-3
6
1
16
4
3
0
3
33
00
Coyne, Alex
4-7
2-4
2-2
0-2
2
1
12
7
2
0
2
28
02
Cotton, Lashyra
5-7
0-0
0-0
0-2
2
1
10
0
2
0
0
16
23
Rhodes, Brooke
1-6
0-3
0-0
0-4
4
2
2
0
0
0
0
29
24
Folsom, Ashley
0-2
0-0
0-0
1-1
2
2
0
1
1
1
1
13
04
Jones, Tamara
8-13
2-5
2-3
4-11
15
3
20
2
2
0
2
25
20
Jordan, Kierra
5-11
0-0
0-2
5-4
9
1
10
1
2
0
0
26
12
Dinkins, Brittanny
1-4
0-0
1-2
2-0
2
0
3
1
2
0
2
9
22
Brown, Megan
1-1
1-1
0-2
0-0
0
2
3
0
2
0
0
5
03
Edwards, Shakoa
1-2
0-0
0-0
0-0
0
1
2
3
1
0
0
6
11
Martin, Voche'
1-1
0-0
0-0
0-3
3
4
2
0
0
1
0
10
TM
TEAM
0-0
0-0
0-0
1-1
2
0
0
0
0
0
0
0
Totals
33-70
5-14
9-17
16-31
47
18
80
19
17
2
10
200
Percentages
47.1%
35.7%
52.9%