Austin Peay (2-7) vs. Saint Louis (4-5)
Friday, December 19th, 2014 | 6:30pm CT
Missoula, Montana | Dahlberg Arena

Clarksville, TN – Big Sky Country awaits the Austin Peay women's basketball team as it begins a 30-day, six-game road trip at the 34th annual Lady Griz Holiday Classic, hosted by Montana, Friday-Saturday.
The Lady Govs open the tournament with a 6:30pm (CT), Friday contest against Saint Louis.
APSU then will face either host Montana or Utah Valley in a Saturday contest before returning home.
Austin Peay begins the road trip seeking its first win away from the Dunn Center this season. Currently, the Lady Govs are winless in five games this season, including one neutral court loss, and have a nine-game losing streak on the road.
In addition, Austin Peay has not won a game in an in-season tournament since defeating Utah Valley in the final game of the 2010 Preseason Women's NIT Consolation Round, a streak of eight losses.
The Lady Govs hope the long trip to Missoula will provide opportunity to leave Tuesday's 91-68 loss against Western Kentucky behind. Junior Tiasha Gray scored 33 points in that contest, her second 30-point outing of 2014-15. However, Austin Peay surrendered a 19-1 run early in the first half, trailed by as much as 28 points in the second half and could not recover.
On the season, Gray is making a splash in the national rankings as she ranks among the nation's top 50 in steals (5th, 3.8 pg), assists (13th, 6.2 pg) and scoring (22nd, 21.3 ppg). She leads all Ohio Valley Conference players in both scoring and steals per game while ranking second in assists per game.
APSU returns four starters among 10 letterwinners from last season's squad. That group includes the Lady Govs top five in both scoring and rebounding. Despite the large number of returnees, the projected APSU starting five includes one senior, one junior and three sophomores – still a relatively young squad.
Saint Louis Billikens
Saint Louis brings a two-game losing streak to Montana, dropping a contest at Missouri and against Indiana State. However, the Billikens are 2-0 against OVC opponents, downing SIUE (74-63, November 17th) and Southeast Missouri (74-56, November 21st) in consecutive games.
Sophomore center Sadie Stipanovich has posted double-digit scoring in each of her last five games (15.4 ppg) and leads Saint Louis with 11.9 points per game. Freshman guard Jackie Kemph, the Chicago Sun-Times 2014 Player of the Year, has started her collegiate career by averaging 10.0 points and 6.2 assists per game and posted 8 points and 5 assists against Indiana State.
Last Game: Austin Peay vs. Western Kentucky
Junior guard Tiasha Gray scored 33 points against the Lady Toppers, going 12-of-22 from the field with four three-pointers, she also had 6 assists and 5 steals in her fourth game of playing the full 40 minutes.
Sophomore center Tearra Banks was the second-leading scorer for APSU, adding 11 points on 5-of-8 shooting.
Junior guard Jacey Scott notched a pair of career-highs on the night, dishing six assists while also nabbing four steals.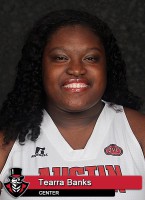 WKU's Chastity Gooch scored 24 points in the first half, and finished the game with a career-high 32 points (14-of-26).
The Lady Toppers jumped out to a 20-point lead at halftime, sparked by a 19-1 run which spanned nearly five minutes.
Austin Peay cut the gap to 15 points, 74-59, with 6:31 left thanks to a 15-2 run that lasted 4:35, Gray scoring 12 points in that span.
However, the last five shots the Lady Toppers made were all three-pointers, which pushed the final margin out to 23 points.
The Lady Govs claimed the turnover advantage for the sixth time this season, but they are now 1-5 in those games.
The More You Know
An Austin Peay Win Would:  Be its first win away from the Dunn Center this season… End its nine-game losing streak away from the Dunn Center… Make it 5-3 against Saint Louis all-time and be its first neutral court win against the Billikens… Improve Daniels' record to 91-165 overall… Make the Lady Govs 444-638 overall since 1976-77.
An Austin Peay Loss Would: Keep it winless away from the Dunn Center in 2014-15 (0-6)… Be its 10-straight loss away from the Dunn Center… Be its second straight loss to Saint Louis, leveling their all-time series at 4-4… Drop Daniels' record to 90-166 overall… Make the Lady Govs 443-639 overall since 1976-77.
In the Next Round
Host Montana currently owns a 4-4 record and a two-game win streak prior to a Wednesday contest at Seattle. Kellie Rubel leads the Lady Griz in scoring (12.4 ppg) and assists (4.0 apg). Kayleigh Valley has been a regular visitor to the free-throw line, where she is 34-of-37 (91.9 percent), and it accounts for 4.2 of her 10.1 points per game this season, she also leads the team with 5.0 rebounds per game.
Austin Peay and Montana have not met previously and it would be APSU's first-ever contest against a current member of the Big Sky Conference.
Utah Valley will bring a 5-6 record and two-game losing streak into the Lady Griz Holiday Classic, but will seek their first road win this season (0-4). Rhaiah Spooner-Knight paces the Wolverines offense with 14.7 points per game, converting on 53.2 percent (67-of-126) of her shots.
Karlee Norris is UVU's rebounding threat, with a team-best 8.4 rebounds per game. The Lady Govs and Wolverines have met once previously, APSU winning a 73-69 contest, November 20th, 2010, as part of the Preseason Women's NIT Consolation Round at Lamar.
Next Team Up
Central Arkansas | December 30th
Following the Christmas Break, Austin Peay continues its road trip with a 2:00pm, Tuesday, December 30th contest at Central Arkansas. UCA owns a 5-5 record this season, but is 0-3 against OVC teams this season, falling to Eastern Kentucky, Jacksonville State and Southeast Missouri already this year.
The Lady Govs and Sugar Bears met in Clarksville last season, APSU winning an 81-60 decision.
Video – Carrie Daniels