APSU Sports Information

Clarksville, TN – Freshman guard Josh Robinson came off the bench to score 23 points, including seven three pointers, to lift Austin Peay State University to a 76-52 non-conference victory against Oakland City, Thursday night, in Dave Aaron Arena.

The victory was the Govs' second straight and improved them to 4-7 on the season.  Division II Oakland City, which came in at 7-1, recorded the contest as an exhibition.

With Oakland City sporting a smaller lineup and the Govs struggling on the offensive end, head coach Dave Loos inserted Robinson less than three minutes into the game.

He missed his first three pointer but then caught fire. He hit a layup to give APSU a 7-2 lead. A short time later he hit his first three pointer to push the Govs advantage to 12-4. Later his back-to-back three pointers gave APSU a 23-6 advantage less than halfway into the first stanza.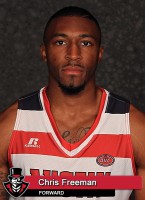 Robinson's three pointer to close the half gave APSU a 35-16 halftime advantage. He finished the opening half with 14 points, 4-of-6 from three-point range.
With forward Chris Freeman out after suffering a cut eye that needed stitches and a chip tooth in a late first-half collision, Robinson started the second half. Robinson hit three more three pointers barely five minutes into the half before growing leg weary, all but halting his career night.
It was the fourth time Robinson has reached double figures in his first APSU season—his previous high was 12 points.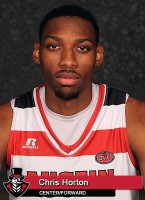 Without his perimeter presence, Oakland City's zone began having success and the Might Oaks cut their deficit to seven, 50-43, on a Matt Lucas layup, but that was as close as they would get as APSU's offensive patience saw Chris Horton get open inside as well as Khalil Davis, who played some forward without Freeman on the court.

Although Davis struggled from the field (2-of-9), he did connect on 8-of-11 free throws after being fouled knifing his way underneath. Davis finished with 12 points and nine rebounds—seven on the offensive glass.

Ed Dyson finished with 13 points, going 3-of-4 from three-point range.

However, APSU's other key figure Thursday was center Chris Horton, who tallied his second straight double-double with 13 points and 14 rebounds to go with three steals. Horton finished the night 5-of-5 from the floor.

Point guard Jeremy Purvis dished out six assists to go with four steals in the victory.

Oakland City was led by Jonathan Sulak with 12 points while Trevor Smith added 11. Brandon Morton recorded 11 rebounds. Despite holding Oakland City well below their scoring average (95.9 points per game), head coach Dave Loos was not pleased with his club's defensive effort.
"We were a couple of notches below where we have been the last couple of games on the defensive end," Loos said. "The intensity and effort were not there and we didn't communicate like we have been."
Offensively, the Govs finished the night 24 of 61 from the floor, including 12-of-32 from three-point range.
"The ball movement was good," Loos said. "From an execution standpoint, we passed the ball well. We just have to knock down shots."
APSU will conclude the pre-Christmas schedule when it travels to Nashville, TN, 2:00pm, Sunday, to play Lipscomb at Allen Arena. It will be the second time in eight days the two teams have played.
Box Score
Austin Peay 76 (4-7) vs Oakland City 52 (7-2)
| | 1 | 2 | Total | Records |
| --- | --- | --- | --- | --- |
| Oakland City | 16 | 36 | 52 | 7-2 |
| Austin Peay | 35 | 41 | 76 | 4-7 |
Oakland City 52
##
Player
FGM
-FGA
3FGM
-3FGA
FTM
-FTA
OFF
-DEF
TOT
PF
TP
A
TO
BLK
STL
MIN
42
Sulak, Jonathan
4-12
4-10
0-0
0-0
0
3
12
2
3
0
1
37
34
Smith, Trevor
3-5
1-3
4-6
1-7
8
5
11
1
4
0
3
30
12
Kinney, Lawrence
3-9
1-5
3-4
0-1
1
1
10
4
2
0
2
36
24
Lucas,Matt
4-10
2-4
0-0
0-0
0
2
10
2
5
0
0
35
53
Morton, Brandon
2-3
0-0
2-2
2-9
11
4
6
4
2
1
0
38
22
Simmons, Jordan
1-3
1-3
0-0
0-0
0
1
3
0
0
0
1
9
14
Wittmer, Alex
0-0
0-0
0-0
0-0
0
0
0
0
0
0
0
3
20
Hinton Jr, Joe
0-1
0-1
0-0
0-0
0
1
0
0
0
0
0
1
25
Bell, Tommie
0-0
0-0
0-0
0-0
0
0
0
0
0
0
0
1
32
Vrkas,Leo
0-1
0-1
0-0
0-0
0
2
0
0
0
0
0
7
45
Dulin, Byron
0-1
0-0
0-0
0-0
0
1
0
0
0
0
0
3
0
TEAM
0-0
0-0
0-0
1-2
3
0
0
0
2
0
0
0
Totals
17-45
9-27
9-12
4-19
23
20
52
13
18
1
7
200
Percentages
37.8%
33.3%
75.0%
Austin Peay 76
##
Player
FGM
-FGA
FGM3
-FGA3
FTM
-FTA
OFF
-DEF
TOT
PF
TP
A
TO
BLK
STL
MIN
05
Horton, Chris
5-5
0-0
3-4
6-8
14
2
13
1
2
0
3
32
24
Dyson,Ed
3-6
3-4
4-4
0-2
2
0
13
4
1
0
1
29
11
Davis, Khalil
2-9
0-3
8-11
7-2
9
3
12
2
3
0
1
33
12
Purvis, Jeremy
2-6
1-5
0-0
0-2
2
1
5
6
2
0
4
32
15
Freeman, Chris
0-0
0-0
0-0
1-3
4
0
0
0
1
0
0
9
04
Robinson, Josh
8-19
7-14
0-0
1-2
3
0
23
0
1
0
0
24
20
Budrys, Domas
2-5
1-4
0-1
1-0
1
0
5
0
0
0
0
8
10
Ivory,Tre
2-6
0-2
0-0
0-1
1
2
4
3
1
0
0
17
23
Mboup, Serigne
0-1
0-0
1-2
1-1
2
2
1
0
2
0
1
9
01
Diop, Assane
0-4
0-0
0-0
3-1
4
0
0
2
1
0
0
7
TM
TEAM
0-0
0-0
0-0
2-2
4
0
0
0
0
0
0
0
Totals
24-61
12-32
16-22
22-24
46
10
76
18
14
0
10
200
Percentages
39.3%
37.5%
72.7%
Sections
Sports
Topics
Allen Arena, APSU, APSU Athletics, APSU Basketball, APSU Dunn Center, APSU Men's Basketball, APSU Sports, Austin Peay State University, Chris Freeman, Chris Horton, Clarksville TN, Dave Loos, Ed Dyson, Governors, Govs, Jeremy Purvis, Josh Robinson, Khalil Davis, Lipscomb, Nashville TN, Oakland City