APSU Sports Information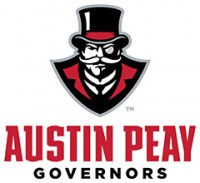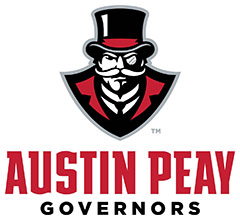 Clarksville, TN – The man known as "Coach" to many and mentor to many others has passed away.
Dr. George Fisher, who was associated with the Austin Peay athletics program from 1946-77 as a star Austin Peay player, standout coach and later as athletics director, died Saturday night. He was 90 years old.
Born July 9th, 1924, the Greenbrier, TN native came to Austin Peay in the mid-1940s and really never left, being involved with APSU and APSU athletics literally for the rest of his life.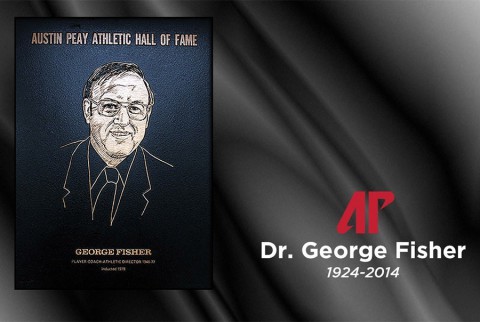 How important was Fisher to Austin Peay? He was the first recipient of the Joy Award as the most valuable senior athlete in 1947.
Fisher also was selected to succeed the legendary Dave Aaron as basketball coach (1962) and Athletics Director (1972). He was part of the first APSU Athletics Hall of Fame class in 1978 and was inducted into the OVC Hall of Fame in 1988.
Fisher was one of the captains of Dave Aaron's first football team in 1946 and was named All-Volunteer State Athletic Conference in 1947. He held most of the school pass receiving records until broken by his future son-in-law, Harold Roberts. He recently was honored as one of the 1940s football greats when new Governors Stadium opened last fall.
Fisher also starred in basketball. He was captain of the 1947-48 team, also earning All-Volunteer Athletic Conference that season, and was part of the program's first VSAC title a year later. He was selected VSAC all-tourney for a third straight year that season.
But it was baseball where Fisher cast his lot as at a higher level. His professional baseball career took him to such stops as Waycross and Greenville, Texas, as well as Shreveport, Louisiana. In fact, baseball delayed his finishing his degree requirements from APSU until 1952.
However, Fisher got his taste for coaching/managing in Corpus Christi, Texas. He also taught and coached in Texas school system from for six years.
In 1958, Fisher returned to his alma mater as an assistant football coach while working on his master's, which he received in 1959. Along the way he served as the program's head golf coach, freshman basketball coach and coached the track team to two VSAC titles during his three-year stint as head coach.
In 1962-63, he succeeded his mentor, Aaron, as basketball coach and coached for nine seasons. His overall record was 90-125, but he was the man who helped guide the Governors from the VSAC to the OVC in 1963-64. He was chosen OVC Coach of the Year in 1967.
During his tenure his tenure, Doug Stamper and Howard Wright were named All-OVC while Tommy Head and Dennis Snyder were chosen OVC all-tourney. Wright later became APSU's first basketball player to sign a professional contract, that with the Kentucky Colonels of the American Basketball Association.
In addition, Blakey Bradley, Jimmy Darke and Seldon Sledd were named to the All-OVC Academic squad.
In fact, the most impressive statistic of Fisher's basketball coaching career was only one player who completed his eligibility failed to receive his undergraduate degree.
Fisher remained close to the basketball program after stepping down in favor of assistant Lake Kelly in 1971—his son Mickey, who preceded him in death in 2009, was a guard for the Governors during the Fly Williams Era in the early 1970s.
Fisher was Athletics Director and was instrumental when APSU chose to honor the University's outstanding athletes with the initation of the Athletics Hall of Fame. Aaron was the only in the Hall of Fame's first year in 1977. A year later Fisher was part of the initial Hall of Fame seven-person class. In 1988, Fisher became only the third APSU inductee-following former APSU President Joe Morgan and Aaron-in the OVC Hall of Fame.  .
After leaving as Athletics Director after the 1977 school year, Fisher remained at the University in the physical education department as an instructor into the 1990s. However, he continued his association with the Athletics Department. He became chairman of APSU Athletics Hall of Fame in 1993 and served in that capacity until the early 2000s.