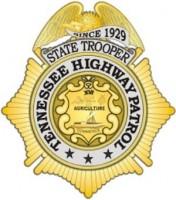 Nashville, TN – The Tennessee Highway Patrol (THP) will conduct a "No Refusal" traffic safety enforcement campaign during the 2014 New Year's Eve holiday period, beginning at 12:01am, Wednesday, December 31st and concluding at 11:59pm, Sunday, January 4th.
State troopers will perform saturation patrols, seat belt, sobriety and driver's license checkpoints and bar/tavern checks during the holiday.
The state statute regarding "No Refusal" allows law enforcement officials to seek search warrants for blood samples in cases involving suspected impaired drivers.
The "No Refusal" enforcement will take place in eight counties across the state – one county in each of the eight THP Districts.
This campaign is aimed at deterring impaired driving and reducing fatal crashes on Tennessee roadways.
"Our goal is to help ensure safe roadways for citizens traveling to and from Tennessee during the holiday. We must remove impaired drivers from the road in order to accomplish that goal. State troopers will aggressively seek those violators throughout this New Year's holiday period," THP Colonel Tracy Trott said.
The participating "No Refusal" counties include Roane (Knoxville District); McMinn (Chattanooga District); Rutherford (Nashville District); Shelby (Memphis District); Washington (Fall Branch District); Cumberland (Cookeville District); Maury (Lawrenceburg District); and Hardin (Jackson District).
During last year's New Year's holiday period, 16 people were killed in traffic crashes on Tennessee roadways. Of the 16 vehicular fatalities, 15 were vehicle occupants and one was a pedestrian. Alcohol was involved in six (37.5 %) of the traffic deaths, while seven individuals killed were not wearing seat belts.
Driving under the influence is a category targeted by the state's highway patrol throughout the year. State troopers have arrested 8,068 individuals for alcohol-impaired driving from January 1st through December 19th, 2014. In 2013, the number of arrests made during that time was 6,192. That's a 30 percent increase during those same dates.
In Tennessee, the preliminary number of alcohol-related crashes has decreased 6.2 percent in 2014, compared to this same time period last year. As of December 19, there have been 6,262 crashes involving alcohol-impaired drivers investigated by all Tennessee law enforcement agencies. That is 416 fewer than the 6,678 crashes during those same dates in 2013.
Overall, as of December 29th, 2014, preliminary statistics indicate 952 people have died on Tennessee roadways, compared to the 986 fatalities at this same time last year.
A list of the scheduled "No Refusal" enforcement checkpoints is attached. A 2013-14 New Year's Eve holiday statistical sheet also accompanies this release.
The Tennessee Department of Safety and Homeland Security's (www.TN.Gov/safety) mission is to serve, secure, and protect the people of Tennessee.