APSU Sports Information

Oxford, MS – Ole Miss closed the first half on a 14-3 run and were never headed as Austin Peay State University dropped a 92-63 decision, Saturday afternoon, in Tad Smith Coliseum.
This was the final non-conference game for the Govs, who are now 5-9 on the season.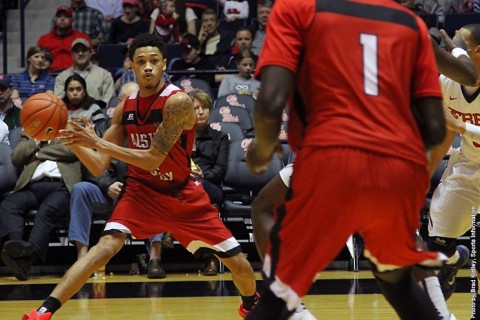 They will open Ohio Valley Conference play, 8:00pm, at Jacksonville State still seeking their seasons' first road victory. Ole Miss improved to 9-4 before heading to Southeastern Conference action.
Saturday's game slipped away from the Governors in the final 2:40 of the opening half. Trailing 28-26 after a pair of Chris Horton free throws, APSU had no answer for the Ole Miss onslaught.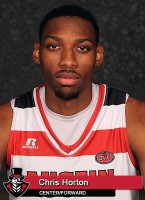 Stefan Moody knocked down a three pointer to extend the Rebels lead to five before two Govs turnovers against the Ole Miss half-court trap and a missed APSU layup turn into Ole Miss points. A minute after trailing by just two, the Govs now were down 37-26.
Another wayward Govs shot was followed by a Jarvis Summers three pointer.
APSU's only answer in the final 2:44 was a free throw by Jeremy Purvis and a Purvis layup at first-half buzzer, allowing the Govs to trail 42-29 going to intermission.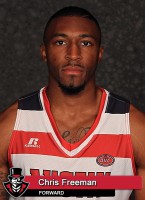 That late first-half spurt wiped out APSU's opening salvo that saw it race out to 7-2 and 10-4 leads behind Ed Dyson's perimeter shooting and Chris Freeman's inside scoring. APSU's final lead came on a Josh Robinson three pointer with 8:18 left to lift the Govs to a 17-16 advantage.
Ole Miss opened the final half on a 14-6 burst, ending APSU's hopes for a comeback. The Govs fell behind by as much as 27 before a 13-4 run, punctuated by a Dyson dunk, sliced it to 18, 71-53, with 8:15 left and forcing Ole Miss to call timeout. But the Rebels depth and strength inside immediately shut off the Govs momentum.
Khalil Davis scored 18 of his game-high 20 points in the second half to lead the Govs while Freeman finished with 12 points on 5-of-7 shooting while Dyson ended 10 points after a promising start. Leading scorer Chris Horton scored six points—all at the free-throw line—as he went 0-of-7 from the floor. Horton did grab eight rebounds as Ole Miss dominated the glass 41-30.
Summers led four Ole Miss players in double figures with 18 points while leading scorer Stefan Moody added 14, including four three pointers. Former UT Martin guard Terence Smith tallied 10 points off the bench as the Rebels reserves outscored the Govs by a definitive 39-10 margin.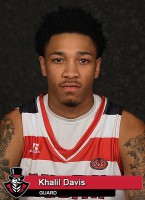 The Rebels finished the night shooting 54.8 percent (34 of 62) from the floor, including 11-of-21 from three-point range. Leading the nation in free-throw shooting, the Rebels were 13 of 17 (76.5 percent), barely off their 78.5 percent shooting entering the contest.
The Govs, meanwhile, shot just 19 of 54 (35.2 percent)—the seventh time the Govs shot less than 40 percent from the floor. The Govs also were victimized by 16 turnovers—seventh time this season with 15 or more turnovers, with 10 coming in the opening half.
Box Score
Ole Miss 92 (9-4) vs Austin Peay 63 (5-9)
| | 1 | 2 | Total | Records |
| --- | --- | --- | --- | --- |
| Austin Peay | 29 | 34 | 63 | 5-9 |
| Ole Miss | 42 | 50 | 92 | 9-4 |
Austin Peay 63
##
Player
FGM-FGA
3FGM-3FGA
FTM-FTA
OFF-DEF
TOT
PF
TP
A
TO
BLK
STL
MIN
11
Davis, Khalil
6-13
3-6
5-5
0-4
4
1
20
1
2
1
1
35
15
Freeman, Chris
5-7
0-0
2-3
1-5
6
3
12
2
2
2
0
32
24
Dyson, Ed
4-12
2-6
0-0
2-1
3
3
10
3
3
0
2
33
5
Horton, Chris
0-7
0-0
6-6
2-6
8
4
6
1
4
0
0
28
12
Purvis, Jeremy
1-5
0-4
3-4
1-0
1
1
5
2
0
0
4
19
1
Diop, Assane
1-2
1-2
0-0
0-0
0
2
3
0
1
0
0
9
10
Ivory, Tre
1-2
1-2
0-2
0-0
0
0
3
1
0
0
0
9
4
Robinson, Josh
1-5
1-1
0-0
0-0
0
0
3
0
1
0
0
10
2
Williams, Zavion
0-1
0-1
1-2
0-2
2
0
1
2
2
0
0
11
23
Mboup, Serigne
0-0
0-0
0-1
0-1
1
3
0
2
1
0
0
12
0
TEAM
0-0
0-0
0-0
3-2
5
0
0
0
0
0
0
0
20
Budrys, Domas
0-0
0-0
0-0
0-0
0
0
0
0
0
0
0
2
Totals
19-54
8-22
17-23
9-21
30
17
63
14
16
3
7
200
Percentages
35.2%
36.4%
73.9%
Ole Miss 92
##
Player
FGM-FGA
FGM3-FGA3
FTM-FTA
OFF-DEF
TOT
PF
TP
A
TO
BLK
STL
MIN
32
Summers, Jarvis
6-12
2-4
4-4
0-2
2
3
18
4
1
0
0
22
42
Moody, Stefan
4-8
4-7
2-2
0-2
2
2
14
1
1
0
3
22
11
Saiz, Sebastian
4-7
0-0
0-0
0-3
3
2
8
0
1
0
1
18
10
White, LaDarius
3-6
2-3
0-1
0-3
3
1
8
1
3
1
0
18
04
Rhett,M.J.
2-3
0-0
1-1
0-4
4
3
5
4
0
0
0
22
23
Coleby, Dwight
5-6
0-0
2-2
3-4
7
5
12
0
1
0
0
20
03
Smith, Terence
4-7
2-3
0-0
0-1
1
2
10
2
0
0
0
21
34
Jones,Aaron
3-5
0-0
2-3
2-2
4
1
8
2
1
2
1
17
01
Newby,
Martavious
2-3
0-1
1-2
3-5
8
2
5
5
1
1
1
23
00
Lawrence,Roderick
1-3
1-2
0-0
0-4
4
2
3
4
2
0
2
14
13
Perez,Anthony
0-2
0-1
1-2
1-0
1
0
1
0
0
0
0
3
TM
TEAM
0-0
0-0
0-0
1-1
2
0
0
0
0
0
0
0
Totals
34-62
11-21
13-17
10-31
41
23
92
23
11
4
8
200
Percentages
54.8%
52.4%
76.5%