Tennessee Civil War National Heritage Area Expands Traveling Exhibition on Emancipation and Reconstruction in Tennessee

Clarksville, TN – As we begin the last year of the 150th anniversary of the Civil War, the Tennessee Civil War National Heritage Area has expanded its traveling exhibition about emancipation and Reconstruction.
"Free at Last!" tells the momentous story of the transition from slavery to freedom and the development of citizenship among formerly enslaved African Americans.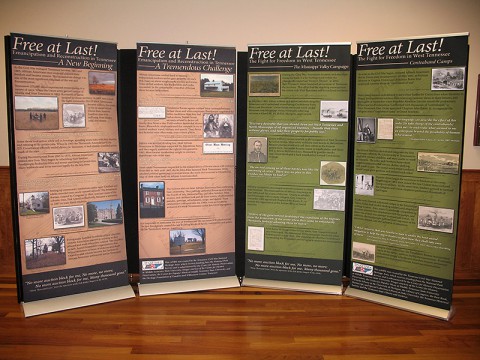 Doubled in size to eight banner stands, the exhibition now has panels focused on each of Tennessee's three grand divisions.
"Free at Last!" is available to museums and historic sites free of charge and will be on view at the Customs House Museum and Cultural Center in Clarksville from January 6th to February 26th, 2015.
"Free at Last!" debuted in February 2007 with two banner stands providing an overview of emancipation and Reconstruction in Tennessee. "Our goal was to provide sites with a concise, well-illustrated introduction to the significance of emancipation and the agency of slaves in bringing about their freedom," says Antoinette van Zelm, programs manager at the Center for Historic Preservation.
At the beginning of the Sesquicentennial in 2011, the Heritage Area added two panels on West Tennessee that emphasized the connection between the Union army's advance along the Mississippi River, the escape of thousands of slaves to Union lines, and the systematic establishment of contraband camps under Gen. Ulysses S. Grant.
The West Tennessee panels were based on the Master's thesis research of graduate research assistant Cheri LaFlamme Szcodronski.
More than forty venues across Tennessee have hosted "Free at Last!" thus far. Sites will now have the opportunity to share even more of the story with visitors. New panels on East Tennessee look at that region's legacy of emancipation before the Civil War and consider how emancipation has been remembered in the region since the war.
The Middle Tennessee panels highlight the development of Unionism among enslaved Tennesseans and underscore the significance of education and citizenship during Reconstruction.
Later in 2015, the Heritage Area will publish a driving tour of Reconstruction sites across the state. "When completed, the driving tour will go hand in hand with the expanded exhibition to provide Tennessee residents and visitors with in-depth knowledge about this significant and often misunderstood period in Tennessee's history," says Leigh Ann Gardner, interpretive specialist for the Heritage Area.
The Tennessee Civil War National Heritage Area receives funding from the National Park Service and is administered by the Center for Historic Preservation at Middle Tennessee State University.
For more information about the exhibition, please contact Antoinette van Zelm at 615.494.8869.