Clarksville, TN – Austin Peay State University's men's and women's basketball team's enter Ohio Valley Conference play this week looking to end their two-year runs of not making the postseason, have they shown enough in pre-conference play to give Govs fans hope that those runs will end?
In the pre-season polls that were released back in October, the Govs were picked to finish fourth in the OVC's western division and in what would be eighth-place overall – or the last spot into the tournament field.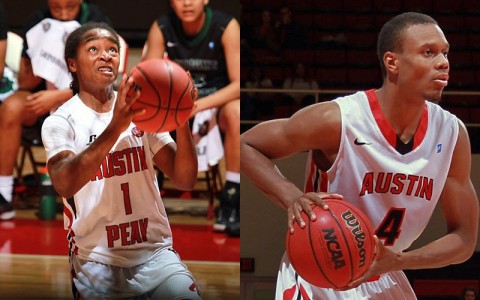 The Lady Govs on the other hand were picked to finish 11
th
overall, in what would mean a third straight season of missing the postseason.
The Governors enter their January 8th game versus Jacksonville State University with a 5-9 overall record in the preseason, this without their senior point guard Damarius 'DeeDee' Smith having not played a minute so far this season after sitting out due to a violation of athletic department policy.
With Smith back, the Govs not only get an experienced point guard back that averaged 8.0 points, 3.3 rebounds and team-best 5.6 assists per game last season, but a guard that will push the ball up the court at ever chance – which should lead to more chances at transition baskets.
Just that in itself should help a squad that suffered five of its pre-conference losses by nine points or less and three of those being by six points of less.
Having Smith back should also help center Chris Horton and forward Chris Freeman get more scoring opportunities, as the Govs top two scorers so far this season — with scoring averages of 11.9 and 11.6 points per game – are averaging less than eight shot attempts per game.
Getting more shots in the paint should in turn help the Governors outside shooting efforts, which has been a struggle for APSU in most games this season — hitting only .303 percent of shots from behind the three-point arc.
As for the Lady Govs, they have already opened OVC play on January 3rd, picking up their first true road win of the season with an 81-71 victory at Eastern Kentucky University to improve to 4-10 on the season.
The win versus the Colonels was a great start for Austin Peay, but if the Lady Govs are to make the postseason they must do a better job rebounding.
How bad is Austin Peay's rebounding?
The Lady Govs are last in the OVC in rebounding margin – by almost three times as many rebounds as the next worst team, Tennessee Tech University – with a -8.5 rebounds per game compared to -3.1 for Tennessee Tech.
Improved rebound should help Austin Peay's scoring margin, as the Lady Govs are giving up 75.4 points per game – the second worst in the OVC – despite also being the second-best scoring team in the conference.
The offensive firepower is there for the Lady Govs, with Tiasha Gray, Tearra Bank and Kristen Stainback all averaging in double figures, as well as Madison Rich, Beth Rates, Jennifer Nwokocha and now a healthier Brianne Alexander also capable of putting up points versus conference teams that as a whole only have one team (Jacksonville State) that currently hold an overall winning record.
As the two teams get into the heart of conference play over the next few weeks, both have questions still to solve, but both have the pieces to earn spots into the OVC tournament for the first time in three years too.
Hopefully the next two months will prove that out.