Clarksville, TN – On Sunday, January 25th, 2015 at 7:01am, the Clarksville Police Department responded to an Aggravated Burglary at 300 block of Broadmore Drive.
The victim, Anthony Sanders, stated that he was awakened by his alarm being activated in his garage. He then went down to the bottom story of his residence to investigate and heard someone in his garage. The individual in his garage was later identified as Mark Stuart.
Sanders stated that Mark made statements to him through the garage door that he was homeless and needed a place to sleep. Sanders asked Mark to meet him at the front door of the residence to discuss what was happening. Sanders brought Mark into his home and downstairs to the basement door that leads into the garage.
Sanders then said that Mark pulled a pair of Beats by Dre headphones out of his pocket and told him that he took it from the victim's garage. Mark also told the victim that he broke the back window that lead into the garage. He then entered the garage through the window.
After finding the headphones, he attempted to make entry into the main residence using a ladder to climb into the insulation of the ceiling. Mark said that when that was unsuccessful he grabbed a crowbar that was in the garage and pried on the door that leads to the main residence.
Anthony Sanders/homeowner held Mark Stuart at gunpoint until police arrived a short time later.
When the CPD Officer arrived, Mark Stuart was on the front porch of the Broadmore Drive residence and was taken into custody without incident.
Sanders did identify the headphones that Mark pulled out of his pocket as being his and were returned to the him. Detective Thomas Tranberg was called to the scene. Mark Stuart was arrested and booked into the Montgomery County Jail.
Mark Stuart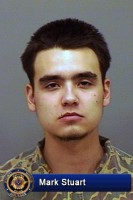 Name: Mark Stuart
Date of Birth: 12/ 22/ 91
Gender: M
Race: W
Address: 336 Broadmore Drive, Clarksville, TN
Arresting Officer: Justin Doolittle
Charged With: Aggravated Burglary, Contempt
Booked Into: Montgomery County Jail
Bond: $60,000.00