Nashville, TN – The schoolroom lesson for February: heart health starts early.
During February, American Heart Month, nearly 400 schools and more than 170,000 students in the region covering 45 counties in Middle Tennessee will be teaching heart health and the importance of physical activity to students with the help of the American Heart Association.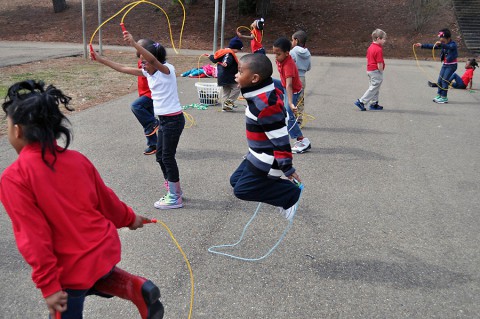 The students will be raising awareness through American Heart Association Jump Rope For Heart events and raising funds for the association's research, public health and community education programs to fight the No. 1 killer, heart disease.
During this fiscal year, students in the Middle Tennessee region will raise a projected one million dollars for the American Heart Association.
Since these youth market programs began in 1978, they have raised about $800 million nationally for the association.
27 Montgomery County schools will be taking part in these programs.
In elementary schools, the American Heart Association's Jump Rope for Heart program teaches kids about healthy hearts and doing good for others at the same time. The program incorporates lessons on heart health and students jump rope as a way to both increase their own physical activity and raise funds to help others' hearts.
For more information on how to get your school involved, visit www.heart.org/JumpRopeForHeart
Here is the list of Montgomery County schools with upcoming Heart events
| School | County | | Date |
| --- | --- | --- | --- |
| Barkers Mill Elementary School | Montgomery | Registered | 2/16/2015 |
| Burt Elementary School | Montgomery | Registered | 2/13/2015 |
| Byrns Darden Elementary School | Montgomery | Registered | 3/6/2015 |
| Carmel Elementary School | Montgomery | Registered | 2/16/2015 |
| Clarksville Academy | Montgomery | Registered | 3/20/2015 |
| Clarksville Christian School | Montgomery | Registered | 2/13/2015 |
| Cumberland Heights Elementary School | Montgomery | Registered | 2/13/2015 |
| Glenellen Elementary School | Montgomery | Registered | 2/27/2015 |
| Hazelwood Elementary School | Montgomery | Registered | 2/27/2015 |
| Immaculate Conception School | Montgomery | Registered | 2/6/2015 |
| Jackson Elementary School | Montgomery | Registered | 2/27/2015 |
| Kenwood Elementary School | Montgomery | Registered | 2/13/2015 |
| Liberty Elementary School | Montgomery | Registered | 2/13/2015 |
| Mahaffey Middle School | Montgomery | Registered | 3/20/2015 |
| Marshall Elementary School | Montgomery | Registered | 2/27/2015 |
| Minglewood Elementary School | Montgomery | Registered | 2/13/2015 |
| Montgomery Central Elementary School | Montgomery | Registered | 2/20/2015 |
| Montgomery Central Middle School | Montgomery | Registered | 2/13/2015 |
| Moore Magnet School | Montgomery | Registered | 2/13/2015 |
| Norman Smith Elementary School | Montgomery | Registered | 2/13/2015 |
| Northeast Elementary School | Montgomery | Registered | 2/13/2015 |
| Richview Middle School | Montgomery | Registered | 2/13/2015 |
| Ringgold Elementary School | Montgomery | Registered | 2/13/2015 |
| Rossview Elementary School | Montgomery | Registered | 2/13/2015 |
| Sango Elementary School | Montgomery | Registered | 3/6/2015 |
| West Creek Elementary School | Montgomery | Registered | 3/13/2015 |
| Woodlawn Elementary School | Montgomery | Registered | 2/27/2015 |