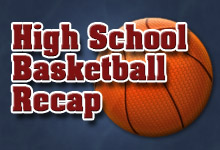 Clarksville, TN – Half of the District 10-AAA high school boys basketball teams have a legitimate shot at this season's regular season title with only four district games remaining. Several teams got crucial wins last week to keep them in title contention.
Only two games separate six of the eight teams and four of the teams are tied for the top two spots in the district, separated by only one game. All the teams are sprinting toward the finish line. It will come down to a photo finish to determine the regular season champion.
Hot List
Both the Kenwood Knights (14-7) and the Northeast Eagles (9-11) won two games last week including pivotal games that kept their regular season title hopes alive.
After defeating the Springfield Yellow Jackets, 67-58, last Tuesday, the Knights went on to stop the surging Clarksville High Wildcats last Friday, 57-51. The two wins put the Knights back at the top of the district in a tie with the Northwest Vikings. The Knights and the Vikings will play each other Friday, January 30th. The Knights won the last time they played earlier this season.
The Eagles two wins last week were very nearly losses. First, they put down the Vikings in a very close game, 58-57, last Tuesday. Afterwards, they beat the Henry County Patriots by two points, 44-42, Friday. The two wins catapulted the Eagles to a tie with the Wildcats, just one game behind the Knights and Vikings.
The Eagles have already played two games against the Wildcats and Vikings, splitting wins with both teams. However, they have already defeated the Knights once and will play them again in a game that may determine the regular season champion Friday, February 6th.
Week 10 Recap
The Vikings (13-9) historic season continued with a win and a loss last week. After losing to the Eagles last Tuesday, they rebounded with a 71-61 win over the West Creek Coyotes. The Vikings have won four of their last five games and are tied with the Knights at the top of District 10-AAA.

The Wildcats (9-10) four game winning streak came to a screeching halt last week. The Wildcats dropped two games. First, they lost to the Rossview Hawks 38-42. Then, they lost a crucial game to the Knights. It was the Wildcats second loss to the Knights this season, giving the Knights an advantage if a tie occurs. The Knights are currently one game ahead of the Wildcats in district play.

The Patriots (8-11) split games last week. Only two games behind the Knights and Vikings, they are still in the race for the regular season title. The Yellow Jackets (12-10) also split games last week and are tied with the Patriots in district play. The two teams will play each other Saturday, January 31st.

The Hawks (11-8) earned their third district win of the season against the Wildcats last Tuesday. However, they followed it with a 43-46 loss to the Yellow Jackets Friday. All of the Hawks district wins have come in the last 10 games. They have gone 6-4 during that span.

The Coyotes (4-19) extended their current losing streak to five games with two losses last week. The Clarksville Academy Cougars (5-14, 2-8) also lost two games last week. The Cougars have won just two of their last 10 games.

The Montgomery Central Indians (12-7, 8-4) defeated Lewis County, 66-46, last Tuesday before being trampled by Waverly, 23-73, Friday. The Indians are currently tied with Camden Central in District 11-AA, four games behind top ranked Creek Wood. The Indians will host Creek Wood Tuesday, January 27th and travel for a rematch against the Cougars Thursday, January 29th.

Top Scorers

Clarksville Academy's Austin Fisher, 27 against McEwen Tuesday, January 20th
Rossview's Cannon Campbell, 18 against Clarksville High Tuesday, January 20th
Kenwood's Matthew Norl 17, against Clarksville High Friday, January 23rd

District 10-AAA Standings

Northwest 7-3
Kenwood 7-3
Clarksville 6-4
Northeast 6-4
Henry County 5-5
Springfield 5-5
Rossview 3-7
West Creek 1-9



About Marlon Scott
Marlon Scott is a freelance journalist and writer. He graduated from Austin Peay State University in 2011 with a B.S. in Communications, majoring in Communication Arts with a concentration in print and web journalism.

His writing career began as a sports writer for The All State, the APSU student newspaper, in 2006. He continued working for the paper until his graduation, serving in various positions including Sports Editor and Editor-in-Chief.

In 2010, Scott contributed stories and photographs as well as designed and served as Editor-in-Chief for the monograph, Civic Art of Clarksville: The stories behind the pieces.

Scott has also produced 60 stories for The Leaf Chronicle.

You can find him on twitter @theMarlonScott and on Facebook
Sections
Sports
Topics
Austin Fisher, Cannon Campbell, Clarksville Academy, Clarksville Academy Basketball, Clarksville Academy Cougars, Clarksville Academy Cougars Basketball, Clarksville Academy High, Clarksville Academy High Basketball, Clarksville Academy High Cougars, Clarksville Academy High Cougars Basketball, Clarksville Academy High School, Clarksville Academy High School Basketball, Clarksville Academy High School Cougars, Clarksville Academy High School Cougars Basketball, Clarksville High, Clarksville High Basketball, Clarksville High School, Clarksville High School Basketball, Clarksville High School Northwest Vikings, Clarksville High School Wildcats, Clarksville High School Wildcats Basketball, Clarksville High Wildcats, Clarksville High Wildcats Basketball, Clarksville Northeast, Clarksville Northeast Eagles, Clarksville Northeast High Eagles Basketball, Clarksville Northeast High School, Clarksville Northeast High School Eagles, Clarksville Northeast High School Eagles Basketball, Clarksville Northwest High, Clarksville Northwest High School, Clarksville Northwest High School Vikings Basketball, Clarksville Northwest High Vikings, Clarksville Northwest High Vikings Basketball, Clarksville TN, Clarksville Wildcats Basketball, District 10-AAA, District 10-AAA Basketball, District 10-AAA Basketball Standings, Henry County, Henry County Basketball, Henry County High, Henry County High Basketball, Henry County High Patriots, Henry County High Patriots Basketball, Henry County High School, Henry County High School Basketball, Henry County High School Patriots, Henry County High School Patriots Basketball, Henry County Patriots, Henry County Patriots Basketball, Kenwood, Kenwood Basketball, Kenwood High, Kenwood High Basketball, Kenwood High Knights, Kenwood High Knights Basketball, Kenwood High School, Kenwood High School Basketball, Kenwood High School Knights, Kenwood High School Knights Basketball, Kenwood Knights, Kenwood Knights Basketball, Matthew Norl, Montgomery Central, Montgomery Central Basketball, Montgomery Central High, Montgomery Central High Basketball, Montgomery Central High Indians, Montgomery Central High Indians Basketball, Montgomery Central High School, Montgomery Central High School Basketball, Montgomery Central High School Indians, Montgomery Central High School Indians Basketball, Montgomery Central Indians, Montgomery Central Indians Basketball, Northeast, Northeast Eagles, Northeast Eagles Basketball, Northeast High, Northeast High Eagles, Northeast High Eagles Basketball, Northeast High School, Northeast High School Eagles, Northeast High School Eagles Basketball, Northwest, Northwest High, Northwest High School, Northwest High School Vikings Basketball, Northwest High Vikings, Northwest High Vikings Basketball, Northwest Vikings, Rossview, Rossview Basketball, Rossview Hawks, Rossview Hawks Basketball, Rossview High, Rossview High Basketball, Rossview High Hawks, Rossview High Hawks Basketball, Rossview High School, Rossview High School Basketball, Rossview High School Hawks, Rossview High School Hawks Basketball, Springfield, Springfield High, Springfield High School, Springfield High School Yellow Jackets, Springfield High School Yellow Jackets Basketball, Springfield High Yellow Jackets, Springfield High Yellow Jackets Basketball, Springfield Yellow Jackets, Springfield Yellow Jackets Basketball, West Creek, West Creek Basketball, West Creek Coyotes, West Creek Coyotes Basketball, West Creek High, West Creek High Coyotes, West Creek High Coyotes Basketball, West Creek High School, West Creek High School Coyotes, West Creek High School Coyotes Basketball