APSU Sports Information

Edwardsville, IL – Austin Peay State University women's basketball team trailed by 19 points at halftime and could not recover, dropping an 87-67 decision to SIU Edwardsville, Wednesday night in Ohio Valley conference action at the Vadalabene Center.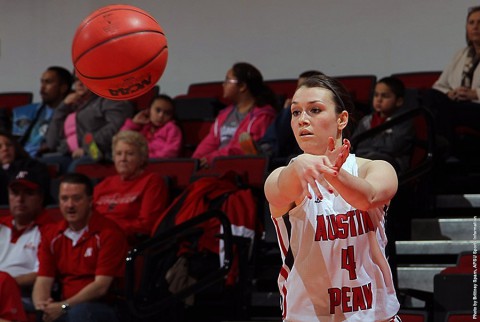 The first half saw a combination of Austin Peay turnovers and SIUE hot shooting turn into a deep deficit quickly.
The Lady Govs committed four turnovers in the opening three minutes, and SIUE converted each time en route to a 12-point, 14-2 lead less than four minutes into the game.
After that opening outburst, Austin Peay (7-14, 4-4 OVC) used a 12-4 run to close back within four points, 18-14, with 11:17 left in the half. But that was as close as the Lady Govs would get.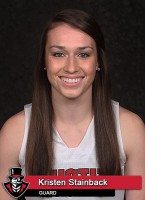 Back-to-back APSU turnovers were turned into the first five points of a 22-8 SIUE run that pushed its lead back to 18 points, 40-22, with 4:37 left. The Cougars led 49-30 at halftime.
For the half, Austin Peay committed just eight turnovers but SIUE scored points on each of the ensuing possessions, ultimately scoring 19 points off the giveaways.
In addition, the Cougars couldn't be stopped offensively, converting on 20 of its 35 shots (57.1 percent) in the first half. That effort included an impressive 60 percent (6-of-10) from three-point range.
Austin Peay had an opportunity to catch SIUE in the second half. The Cougars opened the half making just 13 percent (2-of-15) in the opening eight minutes. However, the Lady Govs could only piece together a 13-8 run to open the half.
SIUE (13-9, 8-1 OVC) took any doubt out of the result with a 20-9 run over a six-minute span later in the half, pushing its lead out to 23 points, 83-60, with 2:17 remaining.
Tiasha Gray posted her season's sixth double-double with a 13-point, 10-assist outing that also saw her finish with six steals and five rebounds. Kristen Stainback led Austin Peay with 15 points. Brianne Alexander added an 11-point, nine-rebound outing and Beth Rates chipped in 10 points.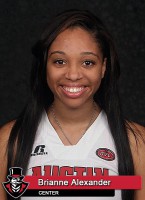 SIUE's Shronda Butts led all scorers with 19 points. Sidney Smith added 17 points. Nine of the 10 Cougars scored in the contest.
SIUE finished the game shooting 44.6 percent (33-of-74) from the field, including 43.8 percent (7-of-16) from three-point range.
Austin Peay returns home to start a four-game homestand with a 4:30pm, Saturday contest against Southeast Missouri.
Box Score
SIUE 87 (13-9, 8-1 OVC) vs Austin Peay 67 (7-14, 4-4 OVC)
| | 1 | 2 | Total | Records |
| --- | --- | --- | --- | --- |
| Austin Peay | 30 | 37 | 67 | 7-14, 4-4 OVC |
| SIU Edwardsville | 49 | 38 | 87 | 13-9, 8-1 OVC |
Austin Peay 67
##
Player
FGM-FGA
3FGM-3FGA
FTM-FTA
OFF-DEF
TOT
PF
TP
A
TO
BLK
STL
MIN
4
Stainback, Kristen
6-13
3-8
0-0
0-1
1
2
15
0
1
0
0
39
1
Gray, Tiasha
5-17
0-7
3-4
1-4
5
4
13
10
5
0
6
40
11
Alexander, Brianne
3-6
0-0
5-7
5-4
9
4
11
0
3
0
1
24
24
Rates, Beth
5-8
0-0
0-4
3-2
5
2
10
0
3
1
0
19
21
Nwokocha, Jennifer
2-7
0-0
2-2
4-2
6
0
6
1
2
1
0
16
25
Banks, Tearra
4-8
0-0
0-0
0-1
1
0
8
0
0
0
0
11
12
Rich, Madison
2-4
0-2
0-0
0-0
0
1
4
0
0
0
0
15
23
Gooch, Sydney
0-1
0-0
0-0
0-5
5
2
0
0
2
1
0
18
44
Scott, Jacey
0-1
0-1
0-0
1-3
4
0
0
1
2
0
1
18
0
TEAM
0-0
0-0
0-0
2-3
5
0
0
0
0
0
0
0
Totals
27-65
3-18
10-17
16-25
41
15
67
12
18
3
8
200
Percentages
41.5%
16.7%
58.8%
SIUE 87
##
Player
FGM-FGA
FGM3-FGA3
FTM-FTA
OFF-DEF
TOT
PF
TP
A
TO
BLK
STL
MIN
Butts, Shronda
7-15
2-4
3-3
2-5
7
1
19
3
0
0
2
30
24
Austin, Tierny
6-15
1-3
2-4
1-4
5
0
15
5
1
0
2
35
11
Jones, Micah
6-12
0-0
1-2
5-3
8
3
13
3
3
1
2
33
1
Moore, CoCo
2-5
0-0
0-0
1-2
3
0
4
2
3
0
3
19
44
Adams, Gwen
0-3
0-0
4-4
2-1
3
2
4
0
1
0
0
15
33
Smith, Sidney
5-10
3-7
4-4
0-1
1
1
17
0
0
0
0
16
31
Beck, Donshel
3-5
0-0
0-0
2-1
3
4
6
0
0
1
2
14
23
Chappelle, Alexis
2-5
1-2
0-0
1-2
3
1
5
3
1
0
0
18
55
Warford, Raven
2-4
0-0
0-0
0-4
4
2
4
2
1
5
0
17
10
Kelley, Erin
0-0
0-0
0-0
1-1
2
0
0
0
1
0
0
3
TM
TEAM
0-0
0-0
0-0
2-2
4
0
0
0
0
0
0
0
Totals
33-74
7-16
14-17
17-26
43
14
87
18
11
7
11
200
Percentages
44.6%
43.8%
82.4%