Written by Brad Kirtley
APSU Sports Information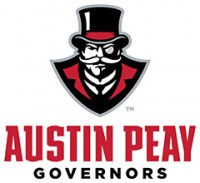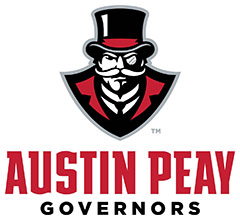 Clarksville, TN – It's a long way from Carnegie, PA, to Tucson, AZ, in more ways than one. Raised by his grandparents, Ed Bunio needed an athletic scholarship if he wanted to attend college. After his outstanding prep career, Michigan came offering so did Miami…but Bunio chose Arizona.
Some 2,100 miles from home, Bunio literally went from a small town of barely 5,000 people to a campus of 15,000. Bunio loved the campus, the city and all the extracurricular activities that were available. In fact this new world was eye opening, except during the daytime…during class time.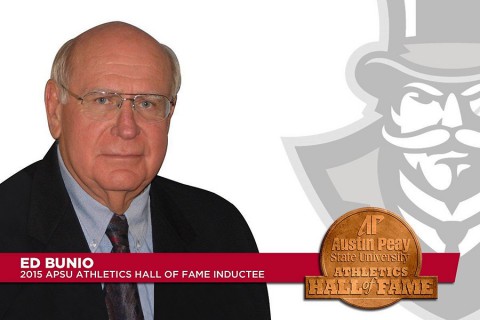 Luckily for Bunio he met a graduate assistant coach during the initial recruiting process, Jack Bushofsky, who also hailed from Pennsylvania. Bushofsky told Bunio if things didn't work out in Arizona, let him know.
A lot of schools exist between Pennsylvania and Arizona but that is how Bunio ended up in Clarksville.
He arrived at Austin Peay during Fall 1962 with a new focus and purpose as the Governors were concluding their stay in the Volunteer State Athletic Conference. An offensive and defensive lineman, Bunio started the next three seasons for APSU, suffering through an 0-10 final VSAC campaign and 1963 1-9 season–APSU's first in the OVC.
His leadership qualities emerged from the outset to first-year coach Bill Dupes—he was elected one of three co-captains for that first OVC season.
Then in 1964 Bunio was part of a complete turnaround. After a 0-7 first season and last-place finish in the OVC, the Govs reversed their fortunes finishing second in the OVC at 5-1-1 and going 8-1-1 overall.  Considered the team's heart and soul because of his toughness, Bunio was credited with 39 tackles on the defensive side while earning All-OVC as an offensive lineman.
After receiving his bachelor's in health and physical education in 1965, Bunio next turned to coaching, staying in Clarksville and serving seven seasons as an assistant coach at Clarksville High School.
He returned to APSU to achieve his master's degree in 1971-72, serving as a graduated assistant, before resuming his duties as coach/teacher at Clarksville High School in 1972-73.
Then in 1973 Bushofsky was brought back to campus to replace Bill Dupes as head coach. One of the first calls he made was to Bunio, who was hired as a defensive assistant and coordinator, a position he remained in for four seasons. But after four straight losing seasons, Bushofsky was not rehired for the 1977 season.
New head coach Boots Donnelly knew defense was not the Govs problem—they allowed just 166 points (15.1 points per game) in 1976—and retained Bunio as defensive coordinator. As a result that group grew to be the OVC's best in 1977, allowing only 12 points per outing and only 10 per contest in league play.
That defensive group proved instrumental leading APSU to its first and only OVC championship. Four defensive Govs (defensive lineman James Green, defensive end Ron Sebree, defensive back Mike Betts and linebacker Bob Bible) earned first-team All-OVC honors, with Bible becoming the first Governor to capture OVC Defensive Player of the Year honors. Bible also became Bunio's first All-American.
Although the Govs fell short of winning a second OVC title the following year, Sebree and Betts repeated as All-OVC selections along with defensive backs Lynn Hailstock and Joe Grimsley. Betts, duplicated both Bible feats from 1977 in being name OVC Defensive Player of the Year and first-team All-America.
When Donnelly was named head coach at Middle Tennessee in 1979, Bunio left his alma mater and followed him to MTSU to revive the Blue Raider football program, starting a 16-year run as MTSU defensive coordinator and linebacker coach until he retired after the 1994 season.
He was a driving force in the rebuilding of the Blue Raiders' football fortunes with his great defenses in the 1980s. He was defensive coordinator for four MTSU league championship team. While there, MTSU advanced to the NCAA 1-AA quarterfinals on five occasions and the semifinals in 1984.
Among the players Bunio sent to the pros were Don Griffin, Marty Carter and Mike Caldwell. He also coached the OVC's Defensive Player of the Year in 1982 (Dennis Mix), 1985 (Griffin), 1988 (Don Thomas), 1989 (Anthony Coleman) and 1990 (Carter) and had five players who earned All-America honors.
Bunio is one of a trio of former Governors who will be inducted into APSU Athletics Hall of Fame this weekend. He along with Grant Leaver and Bob Bradley will be honored in a breakfast, 9:00am, Saturday, breakfast ceremony. They also will be introduced during halftime ceremonies of the Governors' contest with Southeast Missouri. They will become the 108th, 109th, 110th members of APSU's Athletic Hall of Fame.