APSU Sports Information

Evansville, IN – Austin Peay State University women's tennis team gained an early lead but couldn't hold on against Evansville, Friday, losing 4-3 to the Purple Aces at Tri-State Athletic Club.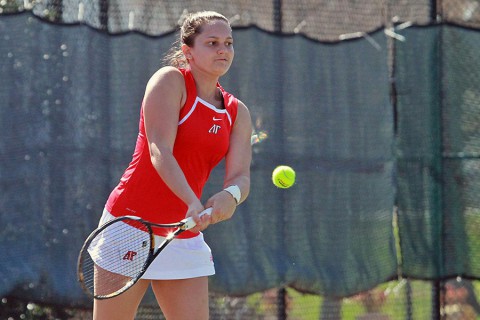 In doubles action the Austin Peay (0-3) duo of senior 
Ornella Di Salvo
and sophomore
Hannah Tatlock
earned a 6-3 victory against the Evansville (1-0) No. 1 team of Natasha James and Mina Milovic.
At the No. 2 position, the pairing of senior Vanessa Tavares and freshman Brittney Covington gained a 7-6 (4) win against the team of Marketa Trousilova and Marina Moreno, clinching the doubles point for the Lady Govs for the first time in 2015.
In singles play, Di Salvo completed an undefeated evening with a 6-2, 6-3 victory against Trousilova in the No. 1 position. At the No. 3 slot, Tavares earned a hard fought 6-4, 7-5 win against Andjela Brugljan.
Both Tatlock and senior Jovana Karac were able to force a third set against their opponents, but were unable to earn a victory in challenging matches.
The Lady Govs return the court when they open the home portion of their schedule noon, Sunday February 1st, against East Tennessee at the Austin Peay Indoor Tennis Center.
Singles
No. 1 –  Ornella Di Salvo (APSU) def. Marketa Trousilova (UE) – 6-2, 6-3
No. 2 –  Natasha James (UE) def. Hannah Tatlock (APSU) – 6-1, 5-7, 6-1
No. 3 –  Vanessa Tavares (APSU) def. Andjela Brguljan (UE) – 6-4, 7-5
No. 4 –  Marina Moreno (UE) def. Brittney Covington (APSU) – 6-3, 6-1
No. 5 –  Kennedy Craig (UE) def. Isabela Jovanovic (APSU) – 6-4, 6-0
No. 6 –  Mina Milovic (UE) def. Jovana Karac (APSU) – 6-7 (4), 6-3, 6-3
Doubles
No. 1 – Di Salvo/Tatlock (APSU) def. James/Milovic (UE) – 6-3
No. 2 –  Tavares/Covington (APSU) def. Trousilova/Moreno (UE– 7-6 (4)
No. 3 – Brguljan/Craig (UE) def. Jovanovic/Karac (APSU) – 6-0