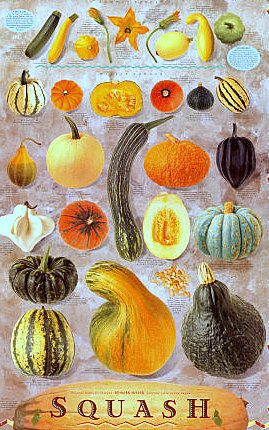 Clarksville, TN – Squash is a vegetable you either love or hate—or sometimes both by the end of the growing season. Where else can you plant a few vines and get an ever-flowing bounty of edible vegetables that can be cooked in so many delicious ways?
Two basic types of squash are the "summer" and "winter" varieties. Summer squash include yellow crooked neck and straight neck, zucchini, cocozelle, caserta, patapan or scallop, butter blossom, golden globe, and sun drops. Winter squash are acorn, delicata (also called sweet potato squash), spaghetti, butternut, and "true" winter squash.
Squash are members of the gourd family. Some winter squash are actually listed as "pumpkins" by some seed companies. Winter squash are harvested when the seeds are mature and the rinds hard; most can be stored for a prolonged time.
One of the amusing things that can happen, especially with zucchini, is that some people don't know when enough of a good thing is enough. When your zucchini gets longer than your hand, it's time to pick it. You know someone has not visited the garden often enough when you see him walk in with an 18-inch zucchini!
Summer squash are my favorites. The only problem is that by the end of the growing season, you usually have so many that it takes a truly creative mind to cope with the bounty. Of course, you can start with raw slices to eat with your favorite dip, but you soon are ready to move to the cooked variations.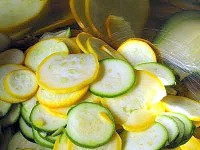 Most Southerners prefer "stewed" squash. Small slices of yellow squash are boiled with diced onion, salt, pepper and butter until tender. Then the squash is transferred to a greased black skillet, dotted with lots of butter, and placed in a hot oven until all the water is evaporated. The results are "mighty good eating!"
A variation of this recipe is to add the "stewed" squash to a can of cream of mushroom (or cream of celery, or cream of chicken) soup, about a half can of milk, cheddar cheese, and a topping of bread crumbs or Ritz crackers—and after baking it for a half hour or so in a 400 degree oven, you have squash casserole. (I have actually served this to certified Yankees who thought they had tasted a truly exotic dish!)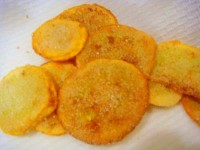 Fried squash is another favorite. Here you slice the squash and batter it with either corn meal or flour. Salt and pepper to taste and then fry in a skillet until lightly browned. You can get fancy and add egg, seasonings of all varieties, onion, cheeses, and all kinds of other things to the batter if you want. It still is a great side dish during the summer.
When these three recipes get so you can't look at them again for a while, you can resort to squash patties. Here you grate two cups of summer squash, add salt and pepper, about six tablespoons of flour, an egg, some chopped onion, and a couple of tablespoons of melted butter or margarine. (If you like them sweet, you can add a couple of teaspoons of sugar.) Then you drop patties of a tablespoon each of this batter into a greased skillet and brown until done. You can eat them like they are or add maple syrup. Either way, they are great for breakfast, lunch or dinner. You can even refrigerate the leftovers and warm them up the next day.
If you are really desperate to use up some of the hundreds of squash that eventually turn up on your vines, you can make squash relish. This is a great delicacy and much to be enjoyed throughout the next winter. Just be sure you grow some green and/or red and/or yellow peppers to go along with the recipe–or be prepared to pay dearly for the peppers in the grocery store.
You need eight cups of small, sliced squash, two cups of chopped onions, four cups of peppers (you can use all green, or a mixture of various colors), with salt to taste. You let this mixture stand for one hour so that a bit of liquid forms in the bottom of the pan. Cook over high heat just until the liquid boils and then drain all the liquid off.
Make a syrup of three cups of sugar, two cups of vinegar, two teaspoons of dry mustard, two tablespoons of mustard seed, and two tablespoons of celery seed. Pour this syrup over the vegetable mixture and boil for five minutes only.
Fill four or five pint sterilized jars with this luscious concoction and seal. Chill the squash relish before topping beans or peas with it.
By the time you have made all these squash recipes and a score of others your friends have shared with you, you may be getting tired of squash.
Share your bounty with anyone who will take them and remember not to plant so many next year!