Nashville, TN – The application period deadline of February 4th is nearing for the Tennessee Wildlife Resources Agency 2015 Spring Turkey Quota Hunts are now being accepted. The application period began December 17th.
Applications are available and will be accepted at any TWRA license agent, TWRA regional office, or online at the TWRA website at www.tnwildlife.org
Applications can be accepted until 11:59pm (CST) on February 4th. Mailed applications will not be accepted. «Read the rest of this article»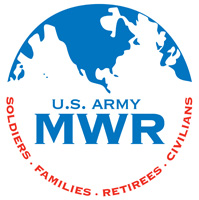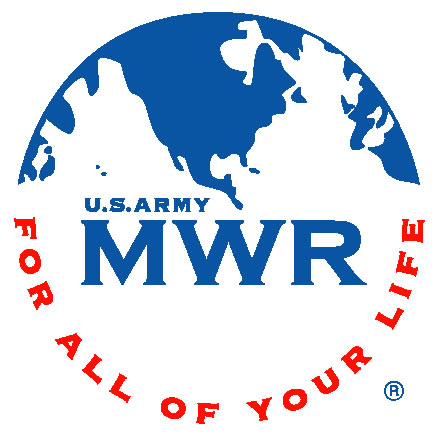 Fort Campbell, KY – Are you looking for something fun and different yet still romantic to do for Valentine's Day? Join MWR at the Fort Campbell Riding Stables for a Sweetheart Trail Ride.
We'll hold the rides on February 7th and 8th from 1:00pm to 4:30pm. The cost is $100.00 per couple and this includes a romantic two hour trail ride through the woods followed by a hay ride to scenic Lake Taal for fresh hot cocoa, a box of chocolates and a warm fire.
Each ride is limited to six couples so don't delay – make your reservation now. You must pay at the time of reservation.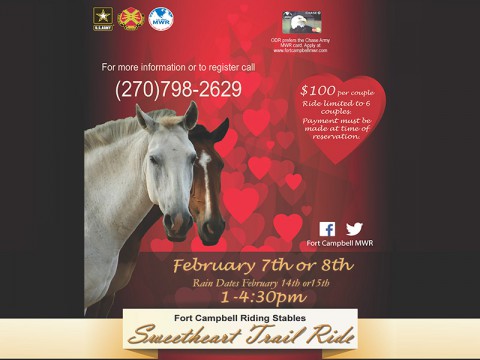 «Read the rest of this article»
Nashville, TN – The National Weather Service (NWS) reports clouds across the Clarksville-Montgomery County area as well as Middle Tennessee today are expected to clear out tonight.
With high pressure settling over the area and winds becoming light or calm. Patchy freezing fog is possible around rivers, lakes, and low lying areas tonight into early Tuesday morning.
With temperatures falling into the upper teens and lower 20's tonight, any fog that develops may cause some slick spots to form on area roadways. Use caution if driving tonight into Tuesday morning, especially when encountering areas of fog. «Read the rest of this article»
Nashville, TN – Nashville Zoo is hosting a job fair on Tuesday, February 24th for those interested in working at the Zoo during the 2015 summer season.
Representatives from the Zoo's food, retail, maintenance, and guest services departments will be available from 9:00am to 4:00pm to answer questions and receive resumes and job applications.
Seasonal positions include: guest services associates; retail and concessions cashiers; short order cooks; retail and concessions stand supervisors; concessions stand attendants; groundskeepers; and housekeepers.
«Read the rest of this article»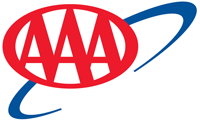 Tampa, FL – The national average price for gasoline rose last week for the first time in four months, snapping the longest streak of declines at the pump on record. The U.S. average for a gallon of regular unleaded declined 123 consecutive days, from September 26th-January 26th, delivering a discount of $1.31 during that period. The average price has risen 2 cents since Tuesday.
"Gasoline prices have finally adjusted to the plunging price of oil," said Mark Jenkins, spokesman, AAA – The Auto Club Group. "Wholesale gas prices rose last weekend, resulting in mild increases at the pump." «Read the rest of this article»

Clarksville, TN – The Clarksville Police Department conducted impaired saturation patrols on January 30th and January 31st, which was partially funded by the Governor's Highway Safety Office.
During this time, there were 201 vehicles stopped and 181 individuals charged.
«Read the rest of this article»

Clarksville, TN – The Monestere de la Visitationhon and the small order of nuns who reside there are the subject matter of the new exhibit in the Customs House Museum's Planters Bank Peg Harvill Gallery.
The artist, Anne Goetze, began going to the Monastery to visit her aunt Helen.
«Read the rest of this article»
February ArtWalk to benefit American Heart Association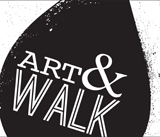 Clarksville, TN – Produced by The Downtown Clarksville Association, First Thursday Art Walk is a free, self-guided tour spanning a 5-block radius that combines visual art, live music, engaging events and more in the heart of Downtown Clarksville.
With February being American Heart Month, several businesses will be supporting the American Heart Association with donations or a percentage of sales going to the association.  In addition, we encourage people to participate in National Wear Red Day on February 5th and wear red to promote awareness of heart disease in women.
«Read the rest of this article»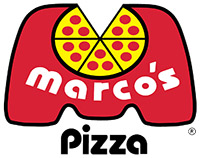 Clarksville, TN – On Monday, February 2nd, 2015, owners Matthew Buehrle and Ben Diquattro will be opening Clarksville's first Marco's Pizza at 1761 Tiny Town Road. Marco's is the only national pizza chain founded by a native Italian and takes pride in making fresh ah!thentic italian handmade pizza.
"I saw a need in the Clarksville market for better pizza," stated Buehrle. "We chose the Exit 1 area because of the growth in this part of town. Also, other pizza places have to drive from Exit 4 and we are here to service them direct."
«Read the rest of this article»

Clarksville, TN – On Saturday, January 31st, 2015 at 4:06pm, the Clarksville Police Department responded to a crash near the 700 block of Needmore Road.
A 2004 Mercury Mountaineer, driven by 34-year-old Clarksville resident Deborah J. Moore, left the roadway on the right-hand side hitting a ditch, which caused the vehicle to go airborne.
During the vehicle's uncontrolled travel, it struck two mailboxes and knocked down a tree before coming to rest on the driver's side.
«Read the rest of this article»