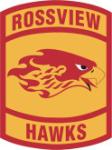 Clarksville, TN – Like thousands of high school athletes across the country, three Rossview Hawks' football players, Jim Irwin, Tristan Luke and Charles Talleyrand, signed their letter of intent in a ceremony at Rossview High School Wednesday morning as part of National Signing Day.
"The three guys that signed today, Charles Talleyrand, Tristan Luke and Jim Irwin, all quality kids. Great opportunities for them. Certainly proud of them," Rossview Hawks football head coach Ron Lambert said. "This is just a reward for those guys and their teammates, really the whole school."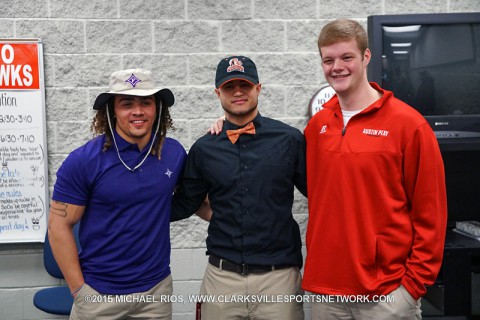 Irwin was a four year starter who played on the offensive and defensive line for the Hawks. He was all smiles after signing his intent to Austin Peay State University, relieved the whole process was done.
"It was a long run, but it feels good to get it off my shoulders," Irwin said. "It hit me hard, but I am ready to get the next step started."
Irwin said what he is looking forward to most at APSU is "just getting started and playing football."
Tristan Luke also can't wait to start playing football at his next school. Luke committed to continue his running back duties at Furman University in South Carolina.
"I'm ready to put those pads on and start playing football," Luke said. Luke was a Fort Campbell Falcon before he transferred to Rossview. Like Irwin and Talleyrand, he was part of the historic team that finished the 2013 regular season 9-1 and won their first playoff game.
Luke said he made his decision to commit to Furman when he visited last weekend. He said he felt "really comfortable" there and appreciated the interest they expressed in him. For Luke, the best part is being able to enjoy playing football.
"There is a lot more to it, but if your not having fun while your playing, there is not really a point to playing football," Luke said.
Charles Talleyrand looked like he was having fun putting on his cap after signing his intent to play for the Georgetown Tigers in Kentucky. Talleyrand played quarterback and safety four years for the Hawks. After leading the team to its first playoff win in 2013, Talleyrand's ACL was torn after a hit in the second game this season.
"A lot of colleges started falling off. They weren't talking to me as much," Talleyrand said. "The off-season came, coach Owens came in and told me he didn't care about my knee. He wanted me to be a Tiger and play football for him. He was the only coach that really did that. "
Talleyrand added that on his visit to Georgetown, he liked how the organization focused on him being able to play football and not his injury. "I'm excited to be a Tiger and just ready to go down there and ball," Talleyrand said.
Coach Lambert said he is proud of the trio and thinks more players will commit to play at the next level as well.
"I think they all made good decisions to be honest with you. They made decisions that was best for them and their families. I couldn't be more proud of them as a head coach," Lambert said. "I take very little credit in this whole deal. It's not about me and its never been about me. It's about our program, our kids, our administration and our teachers. I just think they do a phenomenal job of making sure our kids are prepared to tackle the next part of their lives. This is just the beginning of it. We certainly look forward to these guys doing great things."
"Me, Charles and Jimmy were able to sign, ensuring we are going to get that extra four years of education and get to play football at the same time," Luke said. "It was a good day at Rossview."