Austin Peay Sports Information

Clarksville, TN – Austin Peay State University men's tennis team remains undefeated as it defeated Southern Illinois, 5-2, Friday, at the Austin Peay Indoor Tennis Center.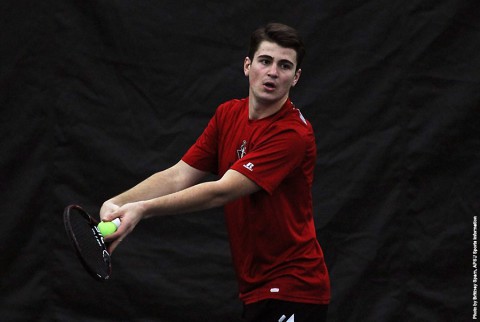 In doubles action, Austin Peay (3-0) gained victories from the pairing of seniors
Dimitar Ristovski
and
Iago Seffrin
at the No. 1 position and the duo of freshman
Oleg Drobysh
and sophomore
Manuel Montenegro
at the No. 3 slot.
In singles play, the Govs were led by Montenegro who picked up a 6-4, 6-2 victory against Daniel Martinez at the No. 5 position and sophomore Aaron Jumonville who earned a 7-5, 6-0 victory over Szymon Opieczonek at the No. 3 spot. Seffrin and Drobysh also picked up singles victories on the afternoon.
The Govs won't have long to celebrate the victory, as they return to action with a noon, Febaruary 7th, contest against Lipscomb at the Austin Peay Indoor Tennis Center.
Singles
No. 1 – Jonny Rigby (SIU) def. Dimitar Ristovski (APSU) 6-3, 3-6, 6-4
No. 2 – Michal Kianicka (SIU) def. Aleksas Tverijonas (APSU) 7-5, 6-4
No. 3 – Aaron Jumonville (APSU) def. Szymon Opieczonek (SIU) 7-5, 6-0
No. 4 – Iago Seffrin (APSU) def. Max Phipps (SIU) 7-6 (3), 6-2
No. 5 – Manuel Montenegro (APSU) def. Daniel Martinez (SIU) 6-4, 6-2
No. 6. – Oleg Drobysh (APSU) def. Pete Molloy (SIU) 1-6, 6-3, 10-6
Doubles
No. 1 – Ristovski/Seffrin (APSU) def. Rigby/Kianicka (SIU) 6-4
No. 2 – Martinez/Phipps (SIU) def. Jumonville/Tverijonas (APSU) 6-2
No. 3 – Oleg Drobysh/Montenegro (APSU) def. Molloy/Opieczonek (SIU) 6-4