Austin Peay Sports Information

Brentwood, TN – Austin Peay State University's baseball team was picked to finish fourth in the Ohio Valley Conference's preseason poll of head coaches and sports information directors, Friday. Sophomores Ridge Smith and Alex Robles were named to the league's 15-man preseason squad.
Austin Peay, which begins its 75th baseball campaign in one week, received 149 total points and was picked behind preseason favorite and defending regular-season champion Southeast Missouri which received 12 first-place votes and 187 total points.
Defending OVC tournament champion Jacksonville State was picked second with seven first-place votes and 171 points while Tennessee Tech received the remaining three first-place votes and 160 points.
Behind the Govs and finishing out the six-team tournament field were Morehead State (134 points) and SIU Edwardsville (92 points), selected in fifth and sixth place, respectively. However, SIUE barely edged out Eastern Illinois (7th, 91 points) and Belmont (8th, 87 points) for the final spot. Farther back in the preseason poll were Eastern Kentucky (9th, 59), Murray State (10th, 56) and UT Martin (11th, 24).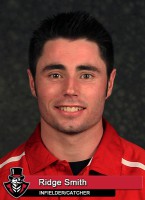 "While I don't put a lot of stock into preseason rankings due to the number of unknown factors that crop up every year, I do feel like us being picked fourth is logical especially when you look at where we finished during the 2014 season and the number of players returning from that team," said Governors head coach Gary McClure. "We have been picked to finish first some years and didn't end up there, and we've been picked as low as sixth or seventh and won the league."
The Govs fourth-place preseason nod is a significant nod toward a squad that missed qualifying for the six-team OVC Baseball Championship on the season's final day. However, the 2014 Govs were a freshman-laden team with eight rookies playing significant time during the campaign.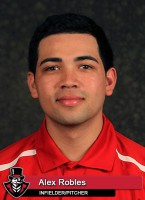 "I do believe that being picked fourth after last season does show that we have the respect of the other teams in the OVC and for that reason, we will always get everyone's best shot when we play them," said McClure.
Sophomore utility man Ridge Smith and two-way man Alex Robles led that group of freshman last season. Smith, who played left field and caught last season, returns after earning first-team All-OVC honors last season – the first Austin Peay freshman since A.J. Ellis in 2000 to receive first-team honors.  Robles, the Govs starting third baseman and No. 1 starting pitcher last year, returns after notching becoming the first Governor to receive OVC Rookie of the Year honors since Rowdy Hardy in 2004.
Robles and Smith also were among a record group of five Austin Peay freshmen to receive Louisville Slugger Freshman All-America honors last season. Sophomore outfielder Cayce Bredlau and sophomore infielders Logan Gray and Dre Gleason also were recognized as Freshman All-Americans last season.
That entire group of starting freshmen will return for the 2015 campaign and that year of experience under their belt should prove beneficial as the Govs seek to return to the OVC Baseball Championship. The Govs return six starting position players from last season's squad with sophomore infielder Garrett Copeland also returning after being the only Govs player to start all 56 games last season.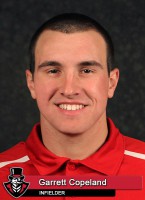 Four newcomers will bolster the Govs returning position group. Junior transfer Clayton Smithson and freshman Imani Willis will add depth to the infield while freshman Kyle Blackburn and junior transfer Patrick Massoni will join a sophomore-laden outfield unit.
However, it is a rejuvenated Austin Peay pitching staff that holds the most promise for the upcoming campaign. The Govs 35-man roster is dominated by a 20-man pitching staff that features eight left handers.
Thirteen pitchers return from the 2014 squad, including five pitchers that recorded three or more starts.
Zach Hall, last season's opening day starter, returns after missing the bulk of the 2015 campaign. He pitched the first two weekends before suffering an arm injury, but his offseason recovery went as planned and he is penciled in as the Govs No. 1 starter again this season.
Hall will be joined in the starting rotation by junior Jared Carkuff, who flourished after moving to the Govs starting rotation in 2014 – closing the season with allowing just one run in his final 15 innings pitched. Robles also is battling for a weekend spot along with sophomore Caleb Powell, who started 10 games last season, including the regular-season finale.
The Govs bullpen also will get a boost with the return of utility pitcher
Kacy Kemmer
. The Clarksville native returns after he also missed the bulk of last season following an injury during the second weekend. Also adding depth to the bullpen will be senior
A.J. Gaura
who will look to build off a strong finish to the 2014 campaign that saw him allow three runs in his final nine outings.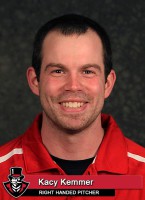 "Truthfully my thought process when I look at the season ahead is we need to play with the idea of controlling what we can control as we play and try to win baseball games," McClure said. "Like every year, we need to work toward establishing a high level which we expect ourselves to play and play at that level on a daily basis. My belief is that if we do that, we'll be very successful because we have some very talented players on this team."
Austin Peay begins the 2015 campaign when it hosts Niagara in a 3:00pm, Friday, February 13th, contest as part of the Governors Challenge. The Govs will also face Northern Illinois and South Dakota State in the three-day event at Raymond C. Hand Park.