APSU Sports Information

Clarksville, TN – Austin Peay State University women's basketball team came out on the wrong end of an offensive slugfest, dropping a 98-84 Ohio Valley Conference decision to Murray State, Saturday, at the Dunn Center.
Austin Peay (8-16, 5-6 OVC) got off to a quick start, scoring the game's first six points over its opening two minutes.
However, Murray State quickly responded with the game's next seven points – Ajee Smith's three-pointer giving the Racers a 7-6 lead with 16:11 left.
The Lady Govs would regain the lead on a pair of Kristen Stainback free throws and built a four-point, 13-9, advantage with 13:54 left thanks to Tiasha Gray's traditional three-point play.
Murray State (7-17, 2-9 OVC) again countered with the game's next seven points, Keiona Kirby's layup at the 12:43 mark ending the burst with the Racers holding a 16-13 lead.
Austin Peay would rally to tie the game one last time, 23-23 with 8:23 left,  when April Rivers converted a four-point play. Netanya Jackson scored on the Racers ensuing possession to take the lead for good.
Murray State extended its first half lead to seven points twice in the final eight minutes. Austin Peay cut the deficit to three points several times in the final 4:06, but could not get a key stop to help it get closer. Murray State entered halftime with a five-point, 43-38 lead.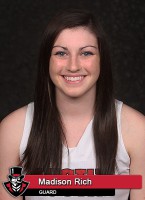 Austin Peay had a handful of opportunities in the second half when it cut the deficit to a point or two. However, each time Murray State responded on its next possession, keeping Austin Peay at arm's length.
The Lady Govs made one final push with an 8-0 run, spurred by a pair of three-pointers by Madison Rich, to get within a point, 75-74, with 8:12 left. However, they Lady Govs committed a foul and Keiona Kirby converted both of her free throws to start a 9-2 run, extending the Racers lead to eight points with 4:43 left.
From there, the Racers closed the game with a 14-6 run to seal the victory.
Gray led Austin Peay with 31 points, her fifth 30-point performance this season, five assists and four steals. Rich added 14 points, Brianne Alexander chipped in 12 points and Kristen Stainback supplied 11 points.
Austin Peay shot 47 percent (32-of-68) from the floor and 78 percent (13-of-18) from the free-throw line. However, it could not keep up with a surging Murray State offense that made 49 percent (32-of-65) of its shots and an impressive 81 percent (25-of-31) from the free-throw line.
Ke'Shunan James led Murray State with 31 points, nine rebounds and six assists.
Keiona Kirby added 19 points and six rebounds.
Netanya Jackson chipped in 16 points and six rebounds.
Austin Peay closes its four-game homestand when it hosts Eastern Illinois in a 7:30pm, Thursday, February 12th contest at the Dunn Center.
Video – Coach Carrie Daniels
Box Score
Austin Peay 84 (8-16 5-6 OVC) vs Murray State 98 (7-17 2-9 OVC)
| | 1 | 2 | Total | Records |
| --- | --- | --- | --- | --- |
| Murray State | 43 | 55 | 98 | 7-17 (2-9 OVC) |
| Austin Peay | 38 | 46 | 84 | 8-16 (5-6 OVC) |
Murray State 98
##
Player
FGM-FGA
3FGM-3FGA
FTM-FTA
OFF-DEF
TOT
PF
TP
A
TO
BLK
STL
MIN
20
James, Ke'Shunan
12-17
0-4
7-7
1-8
9
3
31
6
6
1
3
34
23
Wright, LeAsia
4-7
1-3
2-2
2-3
5
1
11
0
1
0
0
28
24
Cunningham, Olivia
1-4
0-1
4-6
0-3
3
1
6
1
1
0
0
16
30
Gulledge, Kyra
0-0
0-0
0-0
0-1
1
3
0
0
0
0
0
6
40
Hosey, Chanyere
0-0
0-0
0-2
0-0
0
2
0
0
1
0
0
6
13
Kirby, Keiona
4-14
3-9
8-9
3-3
6
2
19
2
2
0
3
31
0
Jackson, Netanya
6-13
0-0
4-5
3-3
6
1
16
3
1
1
0
27
21
Fox, Julia
3-4
3-4
0-0
0-1
1
3
9
0
0
0
0
14
1
Smith, Ajee
1-2
1-2
0-0
1-1
2
1
3
1
0
0
0
20
42
Lee, Jashae
1-3
1-2
0-0
0-2
2
0
3
0
0
0
1
14
5
Borders, Jasmine
0-1
0-1
0-0
0-0
0
0
0
0
0
0
0
2
25
Cassell, Lexii
0-0
0-0
0-0
0-0
0
0
0
0
0
0
0
2
0
TEAM
0-0
0-0
0-0
2-3
5
0
0
0
1
0
0
0
Totals
32-65
9-26
25-31
12-28
40
17
98
13
13
2
7
200
Percentages
49.2%
34.6%
80.6%
Austin Peay 84
##
Player
FGM-FGA
FGM3-FGA3
FTM-FTA
OFF-DEF
TOT
PF
TP
A
TO
BLK
STL
MIN
1
Gray, Tiasha
13-22
2-6
3-5
1-3
4
5
31
5
4
1
4
38
11
Alexander, Brianne
5-12
0-0
2-4
4-2
6
5
12
0
2
0
1
28
4
Stainback, Kristen
2-10
1-6
6-6
0-3
3
0
11
3
3
1
0
39
24
Rates, Beth
3-7
0-0
0-0
2-4
6
4
6
1
2
0
0
26
21
Nwokocha, Jennifer
2-4
0-0
0-0
2-5
7
4
4
1
1
0
1
18
12
Rich, Madison
5-7
2-3
2-2
1-1
2
1
14
1
1
0
0
25
3
Rivers, April
1-4
1-3
1-1
0-0
0
3
4
0
1
0
1
9
23
Gooch, Sydney
1-1
0-0
0-0
1-2
3
4
2
2
1
0
0
13
25
Banks, Tearra
0-1
0-0
0-0
0-1
1
0
0
0
0
0
0
3
42
Norton, Symantha
0-0
0-0
0-0
0-0
0
0
0
0
0
0
0
1
TM
TEAM
0-0
0-0
0-0
0-3
3
0
0
0
0
0
0
0
Totals
32-68
6-18
14-18
11-24
35
26
84
13
15
2
7
200
Percentages
47.1%
33.3%
77.8%