APSU Sports Information

Clarksville, TN – Austin Peay State University men's tennis team saw its season opening unbeaten streak end as the Govs lost 4-3 to Lipscomb, Saturday, at the Austin Peay Indoor Tennis Center.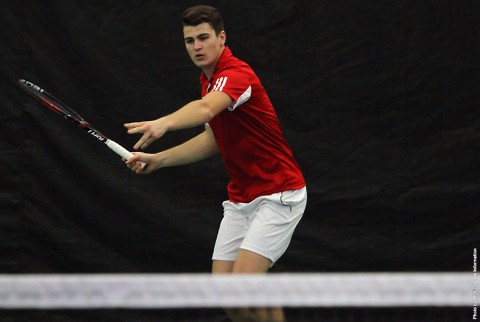 In doubles play, Austin Peay (3-1) gained victories from the pairing of seniors
Dimitar Ristovski
and
Iago Seffrin
at the No. 1 slot and the duo of senior
Aleksas Tverijonas
and sophomore
Aaron Jumonville
at the No. 2 position.  The Govs have not surrendered the doubles point since the season-opener against Chattanooga, January 24th.
In singles action, the Govs were led by Ristovski, who picked up a 6-3, 1-6, 6-3 victory against Rob Mitchell at the No. 1 position and sophomore Aaron Jumonville who earned a 6-2, 6-2 victory over Alex Pavel at the No. 3 spot. Unfortunately, Lipscomb (6-2) claimed the remaining four singles matches to hand the Govs their first loss on the young season.
The Govs return to action with a 5:00pm, February 14th road contest against Louisville at the Bass-Rudd Tennis Center.
Singles
No. 1 – Dimitar Ristovski (APSU) def. Rob Mitchell (LIP) 6-3, 1-6, 6-3
No. 2 – Alejandro Manzanares (LIP) def. Aleksas Tverijonas (APSU) 4-6, 7-6 (3), 2-6
No. 3 – Aaron Jumonville (APSU) def. Alex Pavel (LIP) 6-2, 6-2
No. 4 – Philippe Courteau (LIP) def. Iago Seffrin (APSU) 4-6, 6-2, 7-5
No. 5 – Daniel Hernandez (LIP) def. Manuel Montenegro (APSU) 6-3, 7-5
No. 6. – John Tougher (LIP) def. Oleg Drobysh (APSU) 6-3, 6-1
Doubles
No. 1 – Ristovski/Seffrin (APSU) def. Pavel/Courteau 6-4
No. 2 – Jumonville/Tverijonas (APSU) def. Tougher/Mitchell (LIP) 6-2
No. 3 – Hernandez/Thais Minet (LIP) def. James Mitchell /Montenegro (APSU) 6-4