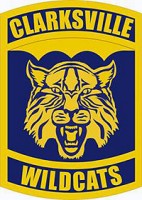 Clarksville, TN – It was Senior's Night at Clarksville High School Friday, February 6th, and the Clarksville Wildcats basketball team gave its seniors a lot to cheer about at their last home game of the regular season. The Wildcats pounced on the Henry County Patriots and thoroughly brought them down with a 62-35 victory.
The Patriots struggled to execute their offense and make baskets all night. While a lot of the Patriots struggles were due to the Wildcats active defense, a lot of their open shots rolled off the rim as well. It was one of those nights where almost everything went wrong for one team and nearly everything went right for the other.
The Wildcats came out running and shooting well. They stunned the Patriots early and they never recovered. The Wildcats scored at least 20 points in two of the four quarters. Conversely, the Patriots scored more than 10 points in only one quarter.
The Wildcats outscored the Patriots 13-7 in the first quarter and led 33-16 by halftime. A 13-0 run in the third quarter put them up by 30 points, 51-21. The Patriots would get no closer than 24 points before the end of the game.
Teal Young led all scorers with 17 points. He was one of nine Wildcat scorers. J.J. James was right behind Young with 15 points.
Connor Boley led eight Patriot scorers with 10 points. The rest of the team scored six or less. The Patriots made only five goals from the field in the second half of the game and shot 8-of-14 from the free throw line.
The Wildcats won the last three games of the season, finishing with a 12-11 (9-5 District 10-AAA) record. That also puts them in a three way tie with the Kenwood Knights and the Northeast Eagles. However, the Knights swept the Wildcats, giving them the tie-breaker and second place in the district.
The Eagles and Wildcats split games this season. As a result they will get a home game in the first round of the District 10-AAA Tournament next week, finishing with the third or fourth place ranking.
Box Score
Clarksville High 62, Henry County 35
| | | | | | |
| --- | --- | --- | --- | --- | --- |
| | 1 | 2 | 3 | 4 | Final |
| Clarksville High | 13 | 20 | 22 | 7 | 62 |
| Henry County | 7 | 9 | 11 | 8 | 35 |
Clarksville
Teal Young 17, J.J. James 15, Cameron Stiff 7, Tyriek Cheatham 6, Avery Bates 6, Tariq Silver 4, Brevon Johnson 3, Jamir Webb 2, Chris Trice 2.
Henry County
Connor Boley 10, Blake Milliken 6, Duke Ward 5, Jamison Hayes 4, Zach Word 4, Malik Russel 3, Josef Neumair 2, Cole Culpepper 1.
Clarksville High Seniors Celebrated on Senior Night
JROTC – Fatima Tatyana Johnson, Samantha Sager
Cheer – Jasmine Page Gardner, Jade Harvey, Tracie Murray, Kelsey Nussbaumer, Erin Reese, Marisa Rios
Dance – Sunny Hyde
Announcer – Aaron King
Girls Basketball Manager – Dairismarie Rodriquez
Lady Wildcats – Haley Bearden, DeeDee Carter, Tomea Hagewood
Wildcats – Avery Montell Bates, Tyriek Cheatham, Cameron Stiff