Clarksville, TN – Austin Peay State University's baseball team opens its 2015 regular season Friday, February 13th versus Niagara looking to get off to a good start in what hopes to be a return to the top of the Ohio Valley Conference after suffering growing pains and injuries in 2014.
The Governors had 13 freshmen on last years' squad, including eight that played significant time, which led to some growing pains for a team that had won the conference's tournament the three previous seasons.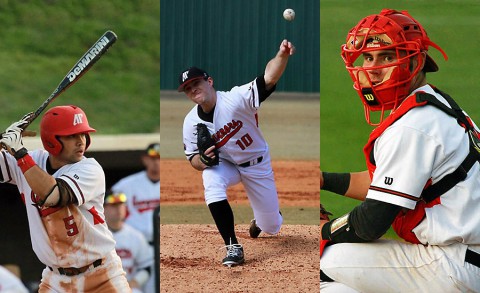 Along with their youth, the Governors also suffered several key injuries to its pitching staff – including seniors Zach Hall and Kacy Kemmer – who both missed most of last season's action and causing a drastic loss in experience on the mound.
But the good news for Austin Peay as it begins its 2015 season is that all of those freshmen return – with a year of experience under their belts – while Hall and Kemmer are also back, looking to return to form.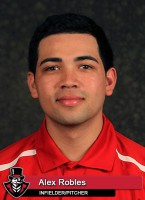 And with all of those returnees, OVC coaches expect much more from the Governors in 2015 picking them fourth in the preseason poll and naming sophomores Alex Robles and Ridge Smith to the All-OVC preseason team.
Robles led the Govs last year with a .349 batting average, which included 14 doubles, two triples and a home run, while also being tops on the team in pitching with a 6-2 win-loss mark and a 3.63 ERA in 84.1 innings of work.
He was named OVC Rookie of the Year for those efforts.
Smith was a utility player in 2014, playing left field and behind the plate, earning first-team All-OVC honors, after batting .310 with 14 doubles, two triples and six home runs. He also drove in a team-best 44 RBIs.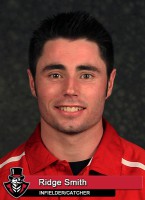 Those two will be joined by fellow sophomores Cayce Bredlau (.331 BA, 2 HR, 21 RBI), Logan Gray (.249 BA, 6 HR, 36 RBI), Dre Gleason (.261 BA, 4 HR, 29 RBI) and Garrett Copeland (.228 BA, 3 HR, 25 RBI), who also started in 2014 as freshmen.
That core group will be joined by some new faces, with transfers Clayton Smithson (Hopkinsville, KY) and Patrick Massoni (Danville, CA) joining freshmen Imani Willis (Marietta, GA) and Kyle Blackburn (Camden, TN).
But as exciting as the prospects of having that core group of young position players back, it may be the pitching core that could hold the key for APSU 2015.
With the return of Hall and Kemmer, the Govs will boast 20 pitchers on this years' squad, with 13 of those seeing action last year to go with five freshman left handers.
Hall (8-2, 4.53 ERA in 2013) will be a probable weekend starter, with junior Jared Carkuff (3-3, 4.31 ERA) and sophomores Caleb Powell (0-1, 7.26 ERA) and Robles battling for the other two slots.
Kemmer (6-0, 3.31 ERA 2013) will join fellow senior A.J. Gaura (3-1, 3.09 ERA) as a solid one-two punch in anchoring the bullpen.